Does your company need to backup all files, settings, applications, profiles for Windows Server 2019, 2016, 2012 (R2)? AWS, Amazon Storage Service, is a practical storage service. All enterprise users can store large amounts of data, such as databases, application data, data analysis, security, and can optimize, organize, and match data. If the company plans to do a backup with a cloud server, it is better to check this article to know more details on AWS Server backup. Moreover, not just cloud backup, we also provide another backup option to industries - backup and restore to another Windows Server computer. Read on to check each solution's features.
Quick Navigation of AWS Server Backup:
AWS Server Backup: How It Works
Another Backup Option - EaseUS Todo PCTrans Technician
Access to Efficient and Secure Backups
AWS Server Backup: How It Works
Storing and managing all that data is a big challenge for companies. Large amounts of storage are required to run applications, back up critical files, and provide services to customers. Managing such an extensive database can be expensive, and your team may have to buy hardware, components, etc. If you consider data security requirements, it is even necessary to find a team of experts. That's why your company needs a solid solution. If you type Windows Server backup on Google, the backup cloud way is seen many times. Let's check what you can use with this cloud service.
What Is Amazon Backup?
Backup is an administration-related service that makes it easier to protect data. With backup, you can log in to AWS anywhere to back up resources and monitor data. Data centralization and automation at all times. 
If your business or clients need a centralized, end-to-end solution, we recommend AWS backup.
Features of AWS:
The advantages of AWS include low cost, durability, security, simple management, and flexible monitoring. After uploaded files, you can customize bucket features, such as bucket policies, lifecycle management, data protection (encryption, versioning, cross-region replication, transfer acceleration), and version control. 
Price of AWS S3:
Cloud services charge for storage space, and the more room you need, the higher the cost. Here we list the standard controls. 
First 50 TB/ Month - $0.023 per GB.
Next 450 TB/ Month - $0.022 per GB.
Over 500 TB/ Month - $0.021 per GB.
You can choose to pay for what you store, manage, or deliver on a monthly plan. For more pricing information, check out: https://aws.amazon.com/s3/pricing/
In-Depth Tutorial - How to Use AWS S3:
Step 1. Log in to Amazon Storage Service.
Step 2. Go to the Storage section and select S3.
Step 3. Then you can see the backup bucket - blank for first-time users. Click "Create bucket" to create backups.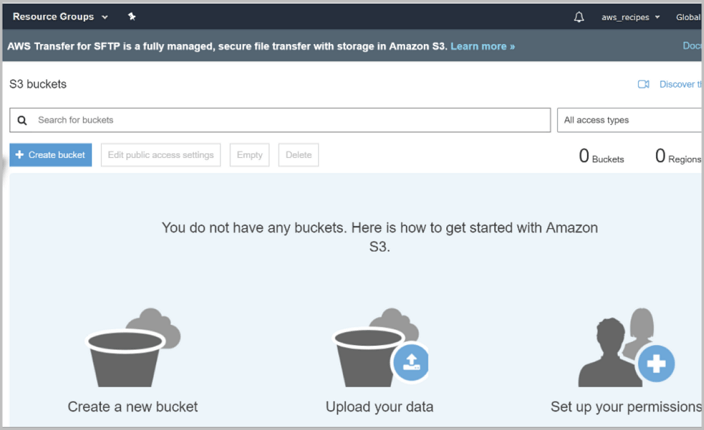 Step 4. Set up Name and region, properties, permissions to create a bucket. Once completed, click "Create."
Step 5. Select the created bucket. 
Step 6. Under the Overview section, click "Upload" to choose what you want to add. Select files from 
Step 7. Then you can check data at any time.
Another Backup Option - EaseUS Todo PCTrans Technician
Besides AWS backups, if your company or client's PC does not decide to backup via Cloud service, it is recommended to run another Windows Server backup software - EaseUS Todo PCTrans. This part will demonstrate how to use an intelligent server backup software to build a full backup, which can compress data and save your space. Later, it supports restoring any devices quickly. It is OK to keep a backup file on the same server PC. You are free to add it to AWS for data saving. 
Get A Quick Download of EaseUS Todo PCTrans:
How to Backup and Restore Data on Windows Server:
Step 1. Create a backup file to transfer
Launch EaseUS Todo PCTrans on the source PC. Click "Backup & Restore" and click "Start" to go on.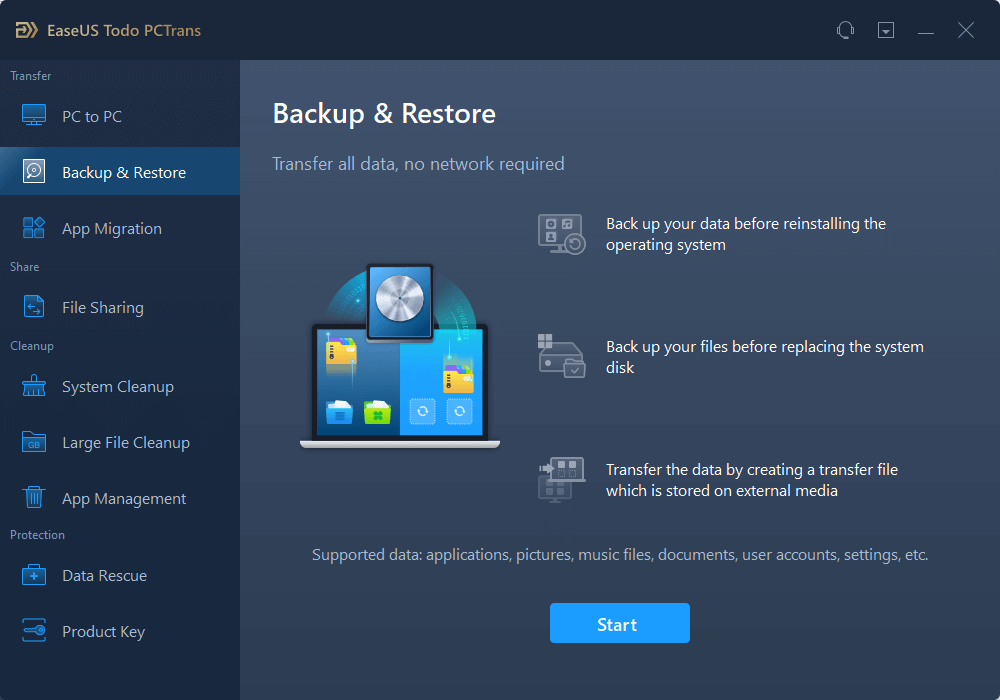 Choose "Data Backup" and click "Next". Name the backup file, and set the external USB drive as the backup location.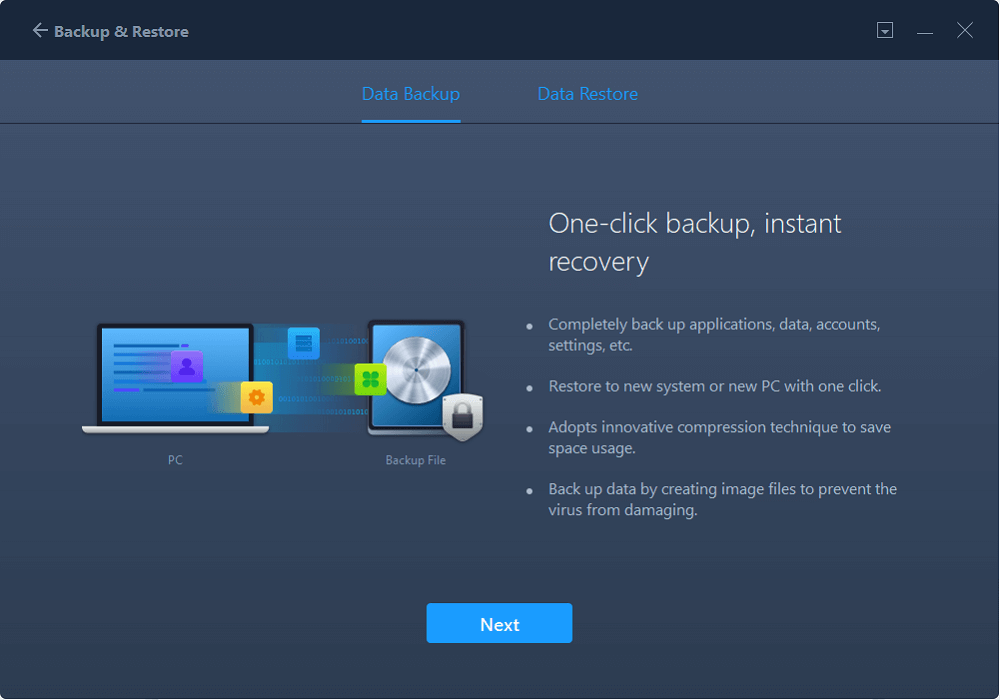 Click the "Files" section to choose files. Then, click "Backup" to wait for the process to complete.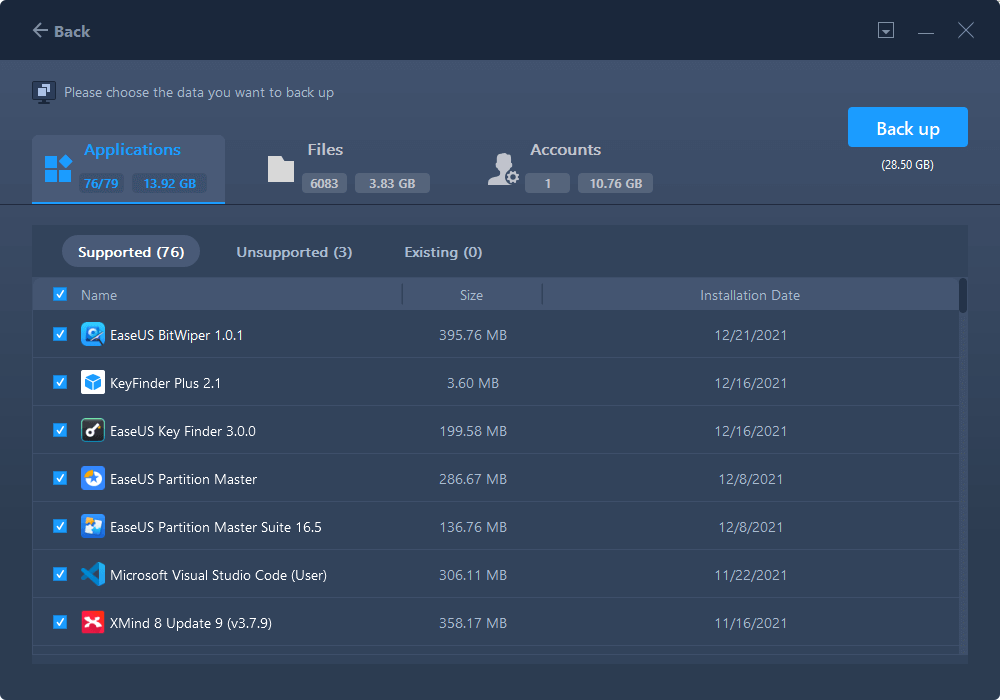 When the creating process has completed, click "OK" to confirm. Safely eject the USB drive and connect it to the target PC. Move to recover the backup of files to the new PC using USB.
Step 2. Restore and transfer backup files to PC without network
Connect the external USB drive with the file created from the source PC to the target PC. Launch PCTrans, click "Backup & Restore" > "Start" > "Data Restore" > "Next".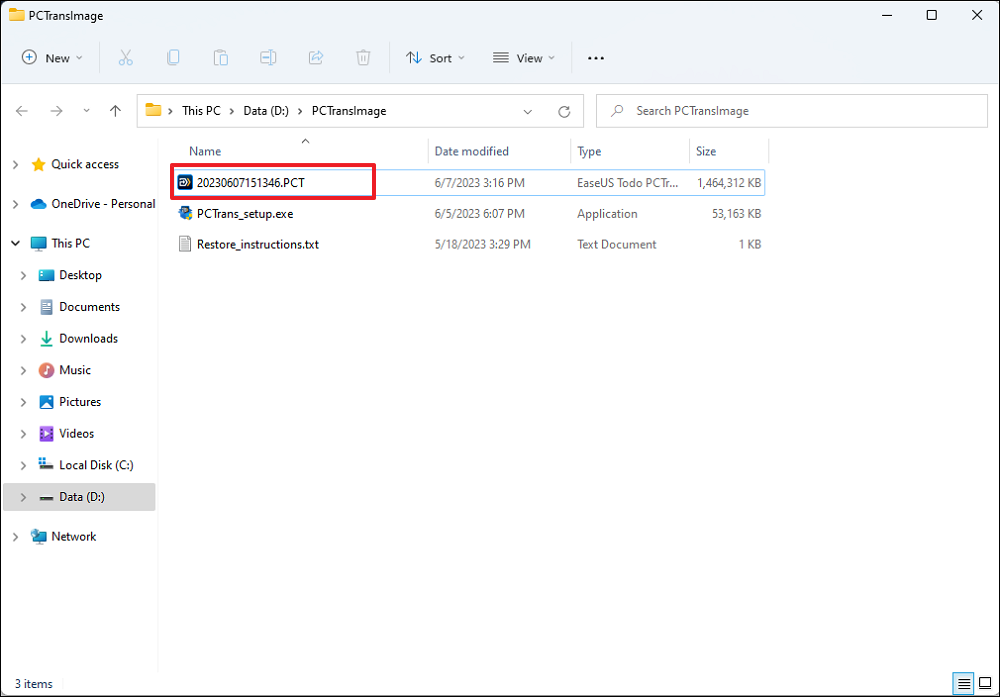 Click "Browse" to find the image file in your USB drive. Then, choose the correct backup file and click "Restore" to continue.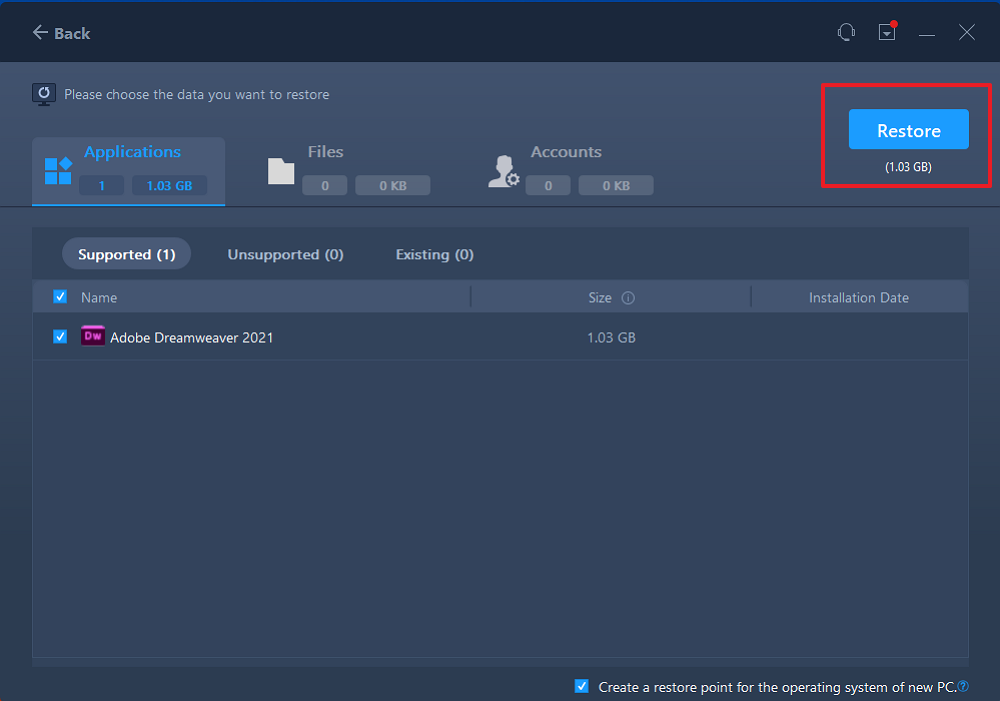 Choose specific files and click "Restore".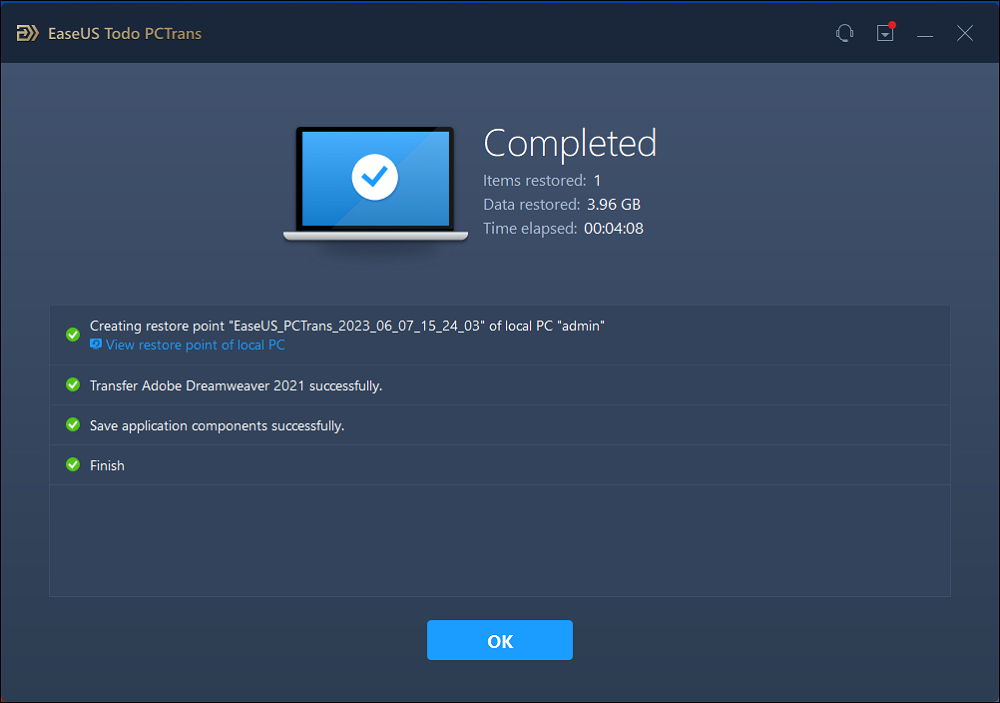 More Features of EaseUS Todo PCTrans Technian:
Transfer all files, applications, settings from one Server to another. (Such as copy database from one Server to another.)
Support 24/7 tech support; minimum cost.
Find product keys for personal computers or bulk PCs - ASP required. (Please get in touch with us via online chat.)
Quickly move large files and applications from one drive to another.
Access to Efficient and Secure Backups
How to back up Windows Server data? This article focuses on backing Windows Server data to Amazon Storage Service. We hope the features and tutorial of AWS S3 are apparent for your company. It is safe and space-saving to backup on Cloud.
We also mentioned another software that makes it easy for enterprise users to back up and transfer data. If you want to back up files to another device or transfer files, programs, and Settings between two or more server computers in real-time, this software, EaseUS Todo PCTrans, is the best choice. If you have any questions about using EaseUS data backup software, don't hesitate to contact us in time. We are happy to provide more services.
About the Author
Updated by Tracy King 
Tracy joined in EaseUS in 2013 and has been working with EaseUS content team for over 7 years. Being enthusiastic in computing and technology, she writes tech how-to articles and share technical solutions about Windows & Mac data recovery, file/system backup and recovery, partition management and iOS/Android data recovery.

Roxanne is one of the main contributors to EaseUS and has created multiple posts on digital devices like PCs, Mobile phones, tablets, Mac, etc. She loves to share ideas with people of the same interest.
Reviews and Awards
EaseUS Todo PCTrans Free is a useful and and reliable software solution created to serve in computer migration operations, be it from one machine to another or from an earlier version of your OS to a newer one.

 Read More

EaseUS Todo PCTrans is by the folks at EaseUS who make incredible tools that let you manage your backups and recover your dead hard disks. While it is not an official tool, EaseUS has a reputation for being very good with their software and code.

Read More

It offers the ability to move your entire user account from your old computer, meaning everything is quickly migrated. You still get to keep your Windows installation (and the relevant drivers for your new PC), but you also get all your apps, settings, preferences, images, documents and other important data.

 Read More