"Hi, I wonder if the Windows Easy Transfer still exists in Windows 10, so it will be easy to migrate Windows profile as in the past. If not, is there any alternative software to Windows Easy Transfer?"
Windows Easy Transfer Is NOT Available in Windows 10
Many people feel sad when heard about that Microsoft decided to remove Windows Easy Transfer from Windows 10. Windows Easy Transfer software indeed gains high popularity among Windows 7/8.1 users for transferring selected files, folders, and more from an old PC to a new PC without any hassle.
Users are suggested to turn to File History (for Windows 10/8.1/8 users) or use Windows Easy Transfer alternative software for transferring data in Windows 10. However, File History is not a straightforward choice. It's more like a process of manual copying and pasting your User folder, being similar to doing a backup and restore.
The other option that you can try is to select a third-party Windows 10 easy transfer tool to transfer data, files, folders, applications, and everything between computers in Windows 10/8/7. Safe, fast, efficient and easy-to-use Windows Easy Transfer alternative wizard, obviously, is the most ideal tool.
Recommended: EaseUS Todo PCTrans - Best Alternative to Windows Easy Transfer
It's always undeniable that what the majority of people's choice should be the best. According to this saying, we recommend you try EaseUS Todo PCTrans to transfer computer data, applications, files, folders, games, media files.
It allows people to do the transfer via the network connection, via image file and transfer local application, it meets various demands of data transfer between computers and within a computer.
Transfer Between PC and OS

1. Transfer from Windows Vista to Windows 10
2. Transfer from Windows XP to Windows 10
3. Transfer from Windows 7 to Windows 10
4. Transfer from Windows 8/8.1 to Windows 10
5. Transfer from Windows 10 to Windows 10

Transfer within a Computer

1. Transfer from in-place Windows 10 upgrade.
2. Transfer after Windows 10 clean installation.
3. Transfer from Drive C to Drive D (between partitions).
4. Transfer to an external hard drive or USB.
How to Use Windows 10 Easy Transfer Alternative (EaseUS Todo PCTrans)
With EaseUS Todo PCTrans, you can effectively transfer files, programs or settings via its three major features. Also, you can take it as the best Windows Easy Transfer alternative in Windows 10/8/7 on your PC for data transfer now:
PC to PC Transfer: Transfer Files, Programs via Network Connection
With this feature, you can either transfer files, installed programs, applications and even personal settings to a new PC or a new computer with different OS. You may refer to the below example of transferring files from PC to PC so to selectively transfer whatever you want to a new PC.
 Notice:

Note that the PC to PC transfer feature in EaseUS Todo PCTrans only supports to transfer data, programs, and settings between Windows OS from a lower version to a higher version or same Windows OS.
Step 1. Open EaseUS Todo PCTrans on both of your computers. Choose "PC to PC" to go to the next step.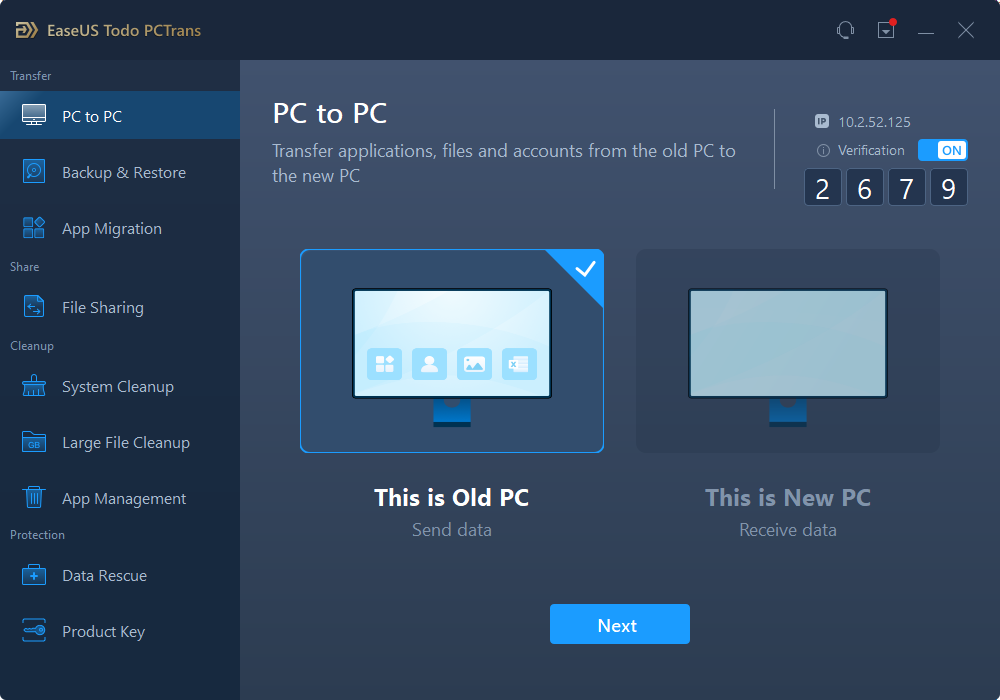 Step 2. Connect two PCs via the network by following the simple interface guides. Besides, make sure you have chosen the right transfer direction.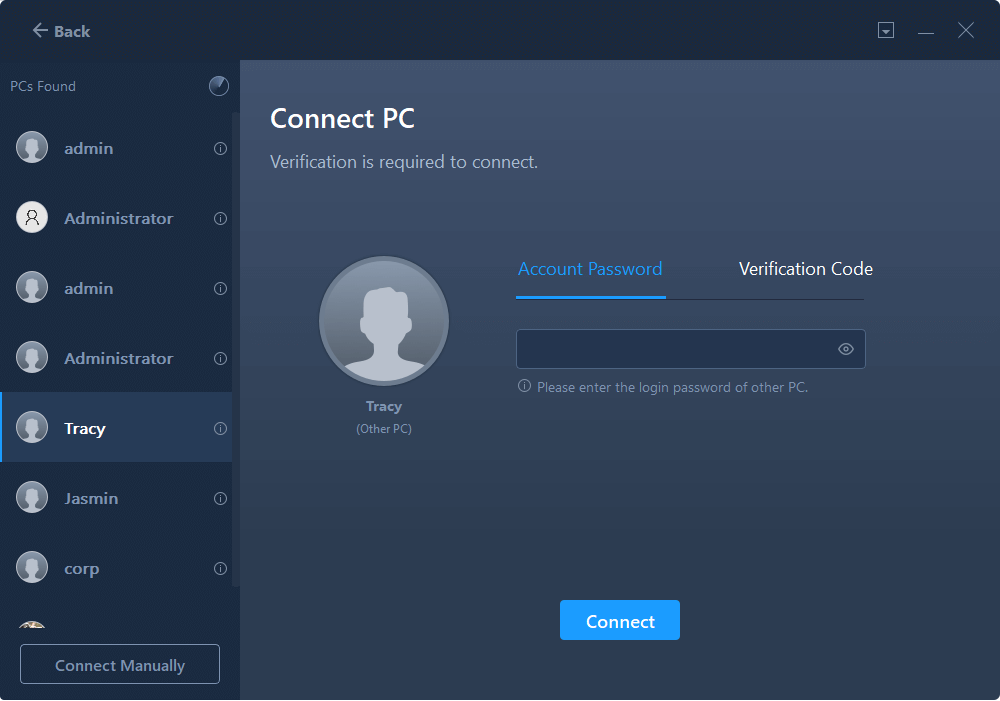 Step 3. Then, choose "Files" and click "Edit" to select files to transfer.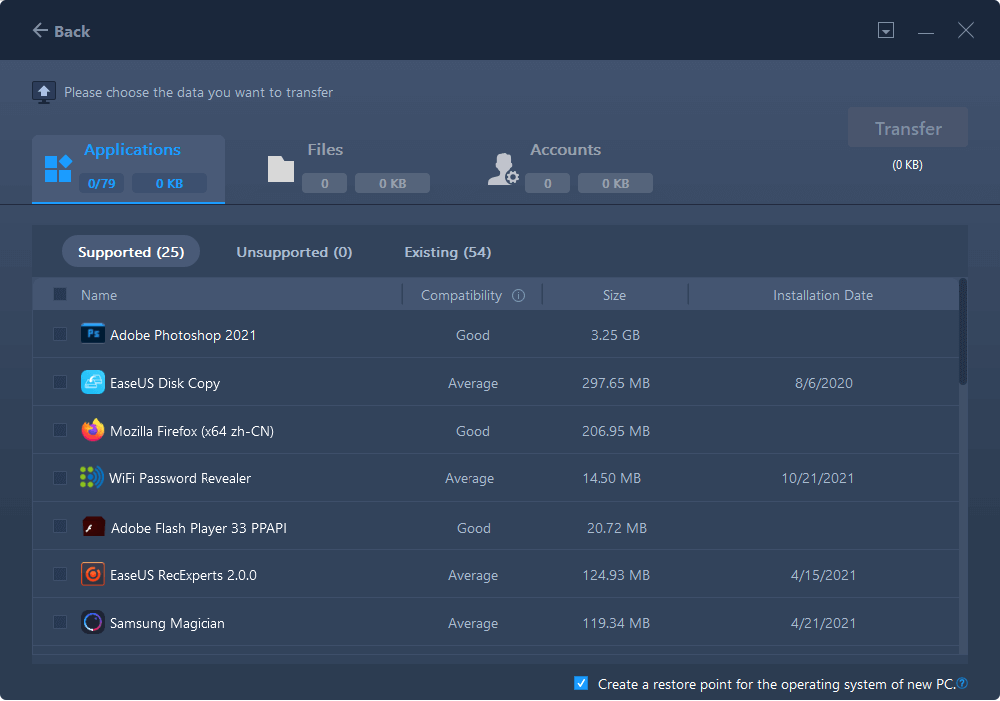 Step 4. Select the specific files as you want. What's more, you can click the Edit icon to customize the storage path for transferred data.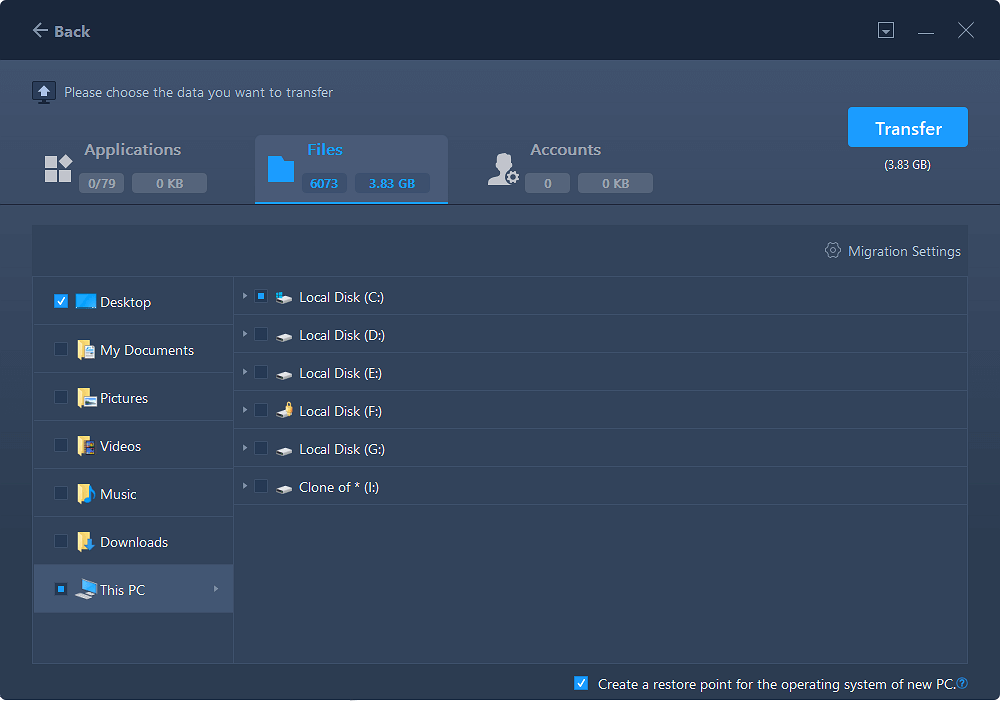 Step 5. Now, click "Finish" and "Transfer" to begin to transfer files from PC to PC. The size of the file determines the transfer time. Wait patiently.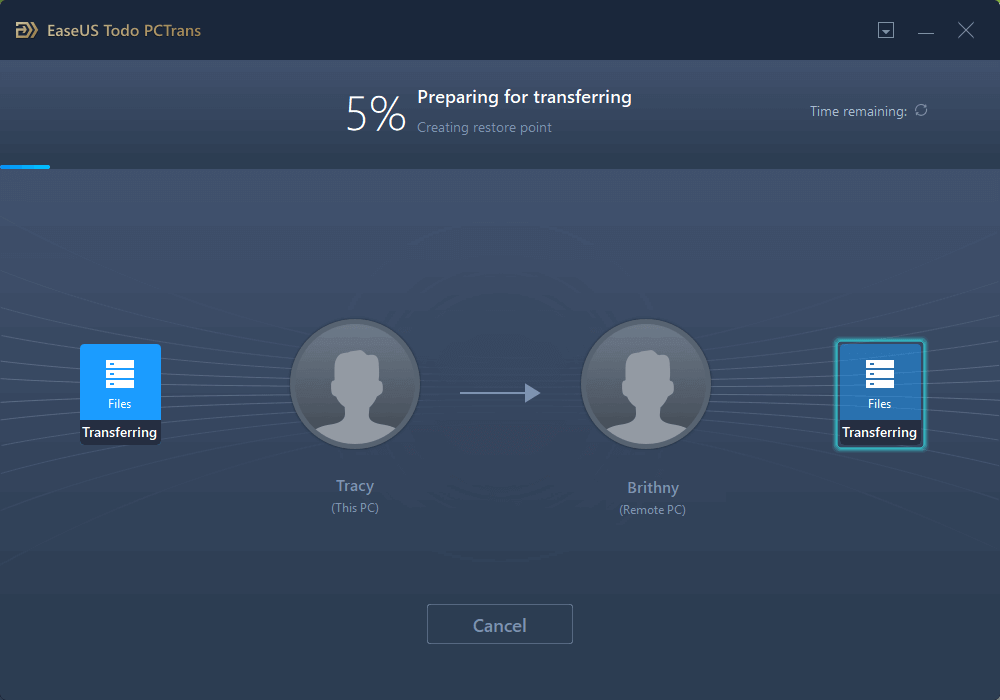 Image Transfer: Transfer Files via Image File (without Network/Internet)
The Image Transfer is a PC to PC transfer feature which enables you to create the image file to an external storage device and restore the image to the target computer. The whole transferring process can be done offline, without a network connection. It's fast, safe and confidential.
You can refer to this page for a guide: Transfer files from PC to PC without internet.
App Migration: Transfer Local Applications/Change Program Install Location
The App Migration feature allows you to move installed application listed as "Yes" in EaseUS Todo PCTrans to another local drive, another hard drive or SSD, and even an external hard drive.
Also, you can refer to this page for a tutorial guide: Transfer programs from C drive to D drive in Windows 10.