"How to wipe data off the Windows 10 hard drive and make them unrecoverable? I would like to completely wipe my desktop hard drive as it goes so unhappy with the new Windows 10 OS. As for wipe hard drive in Windows 10, do you have any suggestions about the best way? I don't want it simply reformatted or have data deleted. I need wipe data off so that they can never be recovered if I reinstall a new Windows system."
Probable Ways to Obliterate Data from Hard Drive & Check The Results
We always want to get rid of old computers, but how to keep our privacy if we decide to discard them or for the case we have to completely destroy all data from the computer hard drive?
You may have the following options:
Select all the data on hard drive, and delete permanently;
Empty all the deleted data from Windows recycle bin;
Format partitions on a hard drive
Repartition a hard drive
What are the results?
Do you think the data has been thoroughly wiped out? The answer is no. Data removed by means of standard deleting and formatting can be easily recovered if utilize a data recovery program. So what's the best way to wipe a hard drive and clear all the data away and make sure they are unrecoverable by no means.
Completely Wipe Hard Drive in Windows 10 with EaseUS Partition Master for Free
Don't worry, EaseUS free partition software provides a one-click method to wipe hard drive in Windows 10 and the old data won't be recovered at all if you set the wiping degree to the utmost 10. Let's download EaseUS Partition Master Free Edition, and start out with the following guide.
1. launch EaseUS Partition Master and then select the hard disk you want to wipe.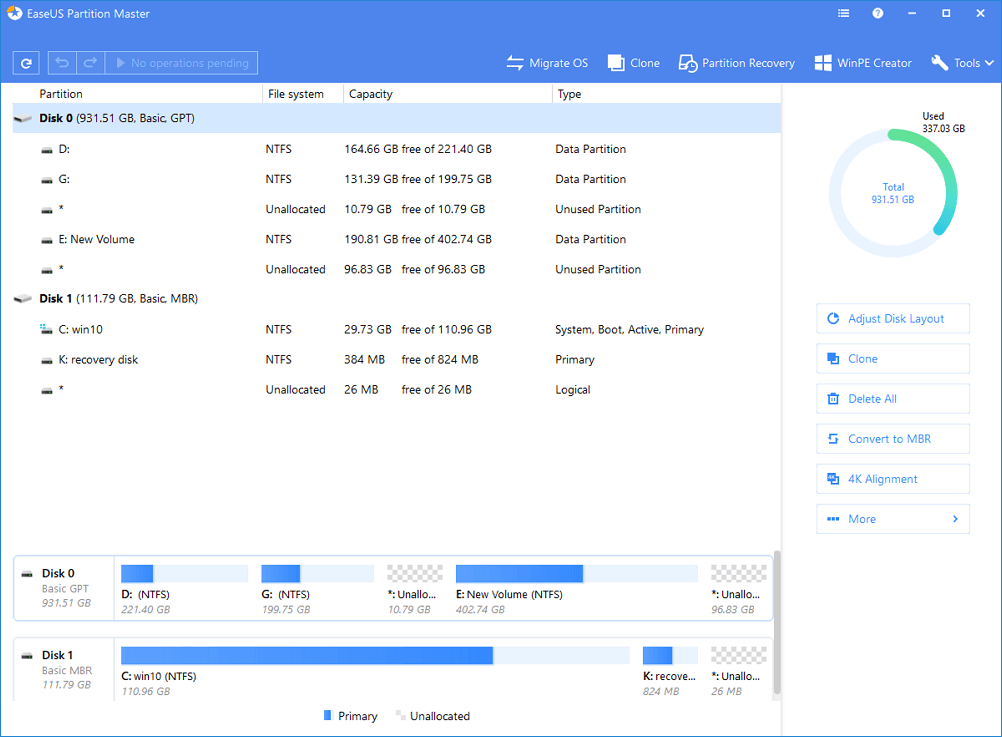 2. Right-click the hard disk and choose "Wipe data".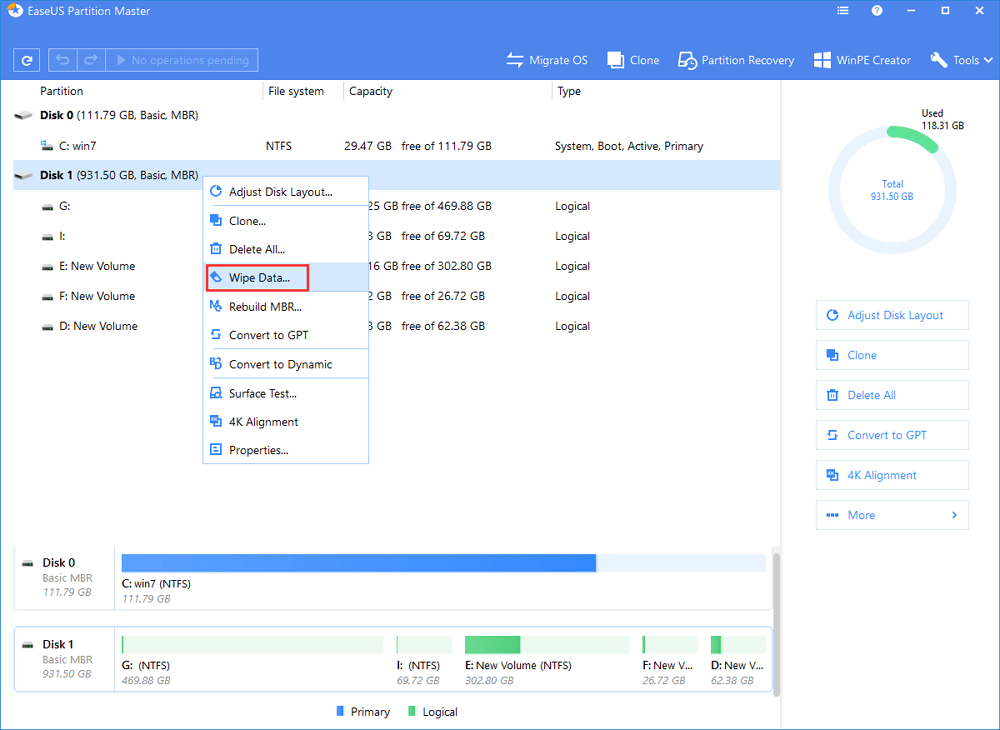 3. Set the number of times from 1 to 10 to wipe the hard disk. If you set to 10 times, the hard drive data has no way to be recovered by any recovery solutions.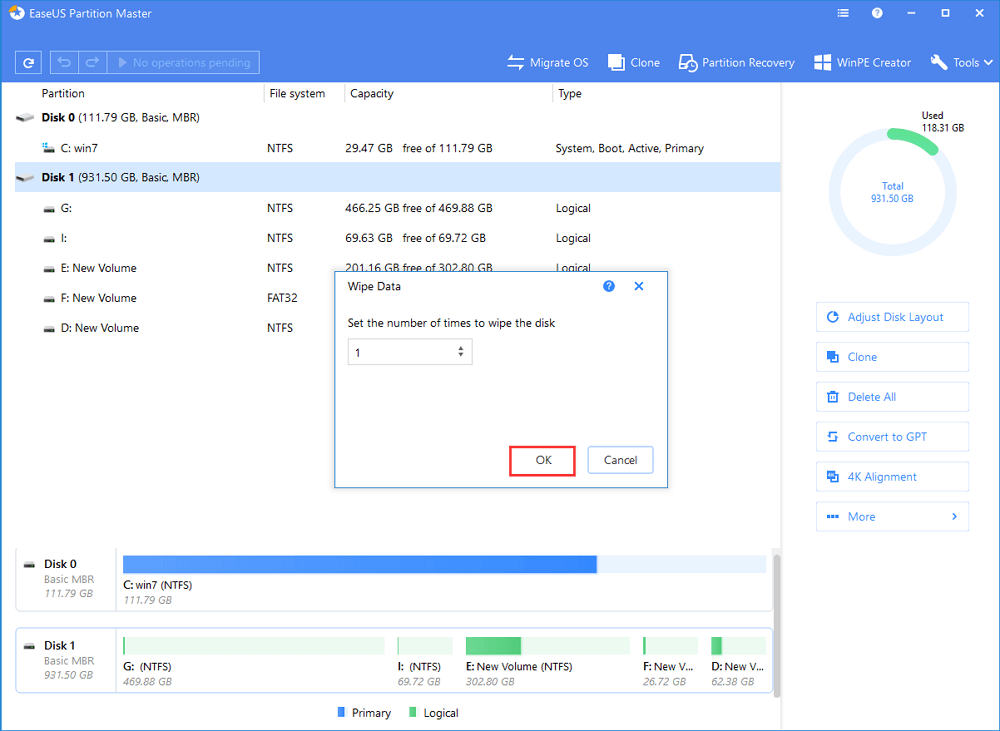 4. Click "OK". If the hard disk contains system partition, your system will fail to boot after wiping the disk.
5. A dialog box will pop up as "A computer restart after disk erase is recommended".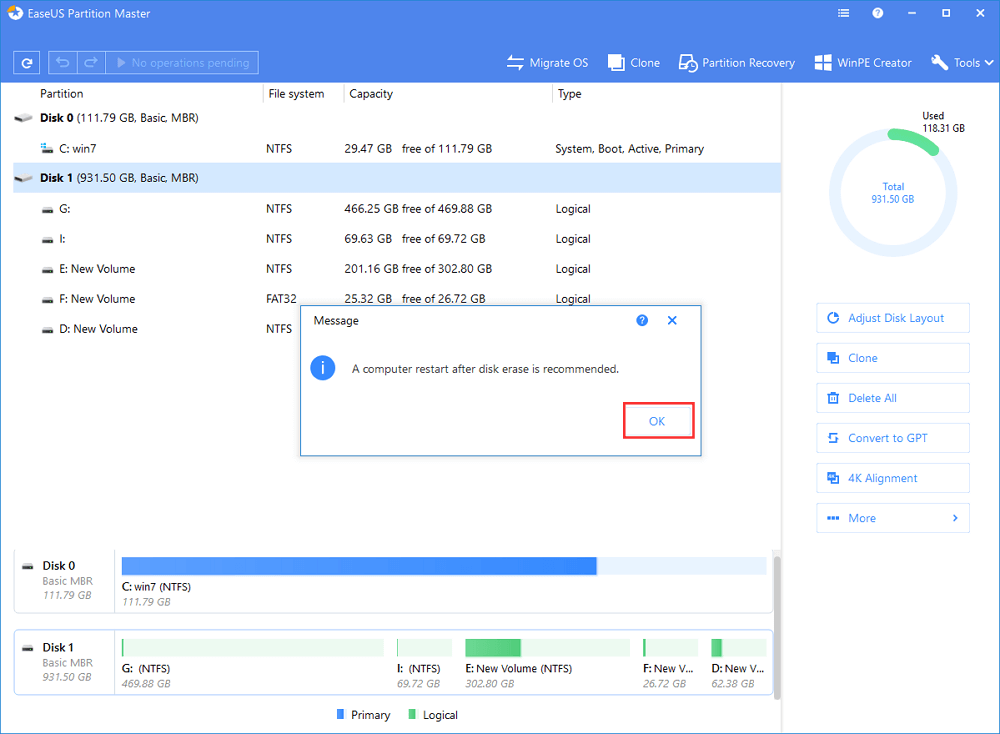 6. Click "OK". You will see the wiped hard disk becomes unallocated space on the disk map.
7. Click "Apply" to apply the changes.