With fast writing speed, stable calculating ability, low temperature and reliable working efficiency, SSD is becoming a rising start in serving computer manufactures to produce more fabulous computers, laptops or tablets as a system disk. More computer users are preferring to use SSD to replace their HDD in computers to install systems on SSD. However, when unexpected problems such as partition loss issue occur, serious troubles will come after.
Here below in this article, you'll find some major reasons for partition loss, methods to avoid partition loss issues and solution to fully recover lost partitions under Windows 10/8/7 etc systems.
SSD partition lost reasons
The reasons why we lost partitions on SSD under Windows 10/8/7 etc. systems are exactly the same on HDD. Here below are some major reasons that cause partition loss troubles in computers, laptops or tablets:
1. Deletion: accidental deletion is the top one reason how people lose partitions on SSD or HDD. Of course, some delete partition with intents, causing data loss troubles.
2. Formatting: format or not formatted error may cause partitions inaccessible or even RAW.
3. System crash or system error: system crash or system error may result in serious data loss trouble and partition lost/disappeared problems in computers.
4. Virus attack: virus attack may lead to partition loss issue in PC.
Other unknown reasons such as improper operation may also cause partition disappear, loss or hidden in PC. So how to avoid these issues?
Tips to avoid partition loss problems: backup data regularly on Windows SSD partitions, operate computers with awareness, think twice before deleting partitions, clean up junk files or virus frequently.
How to recover lost SSD partitions under Windows 10?
So when you lose partitions on SSD under Windows 10, 8 or 7, what will you do? Do you have any reliable suggestions to get all lost partitions recovered? Or do you even know how to repair damaged or raw partitions? Relax! Free and effective methods for SSD partition recovery are available now for Windows 10/8/7 etc users.
If you happen to lost whole partitions in PC, professional partition manager software shall be your best shot. Follow below-recommended methods to recover all SSD partitions and get all lost data back with ease now.
Method 1. SSD partition recovery for Windows 10/8/7 users
If you lost whole partitions by deleting or other reasons, professional partition wizard software - EaseUS Partition Master will help. Magic partition recovery feature in this software will assist you free restore whole lost SSD partition under all Windows systems such as Windows 10 SSD recovery. And the good news is that you can use this software for free now. You can free download this software - free partition manager - EaseUS Partition Master to recover all lost partitions completely with simple clicks:
1. Launch EaseUS Partition Master, select SSD and click Wizard > Partition recovery wizard.
2. Enter Partition recovery wizard and click Next > Select recovery mode: Automatic or Manual > Click Next.
Usually, manual mode is recommended.
3. Select unallocated space and click Next > Choose complete > Tick listed partitions that are found and click Proceed.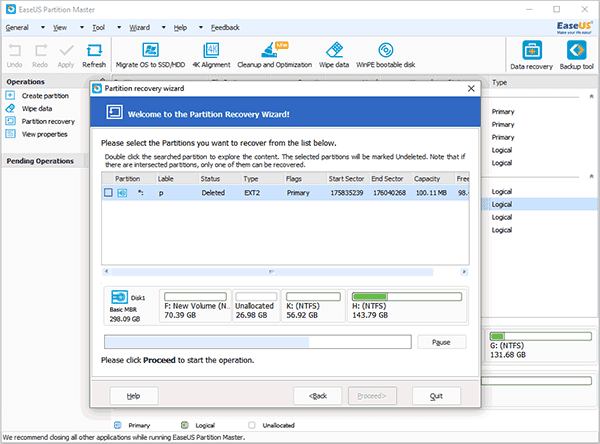 Then all you need is to wait patiently till all lost partitions were restored on your SSD in Windows 10/8/7.
Method 2. Repair Windows 10 SSD partition
When your Windows 10 SSD partitions become inaccessible or raw, don't delete the partition. You can repair the partition by formatting partitions. There are two methods for you to repair Windows 10 SSD partitions: use Windows disk management tool or EaseUS Partition Master to format Windows 10 SSD partition to reusable again.
Format SSD partition in Windows 10 with Disk Management Tool
1. Right-click This PC > Manage > Tap Disk Management under Storage.
2. Right-click inaccessible or raw partitions on SSD and choose Format;
You can rename Volume label, file system or allocation unit size of the partition.
3. Click OK.
Format Windows 10 SSD partition with free partition manager
EaseUS Partition Master support to help you format partition to reusable again with simple clicks. And you can even select to format partition into several file systems with different needs: NTFS, FAT32, EXT2, EXT3 etc.
1. Launch EaseUS Partition Master and right-click the raw or inaccessible partition on SSD by choosing "Format partition".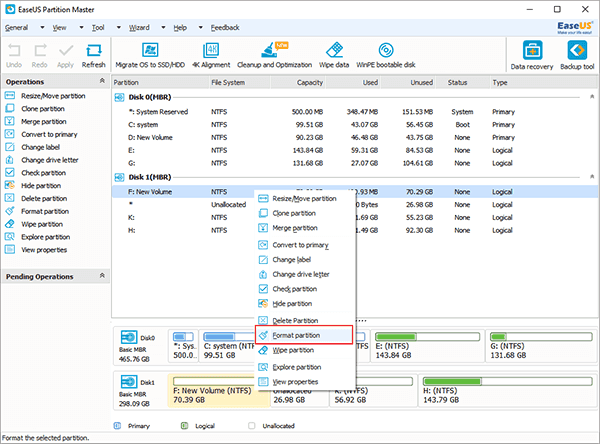 2. Specify partition and give it a new label, file system, and size. Click OK.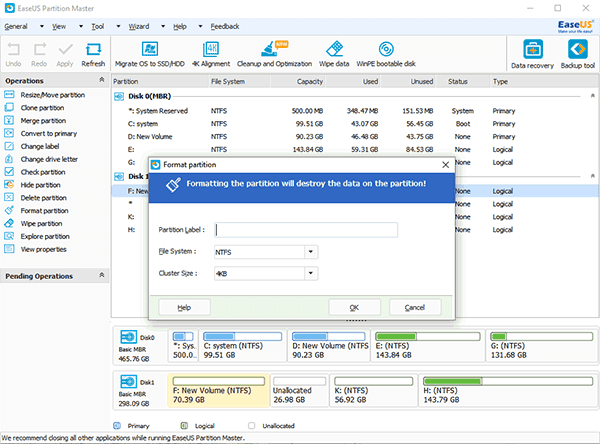 3.Click Apply.
If you happen to get important partitions deleted, raw, disappeared from your computer SSD, professional free partition manager software is ready to help. Windows 10 SSD partition recovery will just be as simple as clicks with your fingers.