Finally, Windows 10 comes into our eyes and it's quite necessary to find a Windows 10 partition manager to help manage Windows 10 data. Windows 10 benefits us with its fabulous new features. It's so amazing to have the start menu back. Since Windows 10 brings many new features and functions for great Windows 10 users, it can be very easy met partition management problems under new Windows 10.
Resizing, extending, shrinking or converting partitions are all unavoidable problems that all users have to face when they are using computers. Every time when users change or install new Windows OS, they all have to resize their computer partitions. How to manage computer partition then?
Overview of Windows 10 partition manager
Windows 10 manager usually serves users as a partition management tool. It usually offers professional options for helping users solve different partition requirements such as resizing, moving, deleting, merging and even converting partitions. Does there really exist one Windows 10 partition manager? Sure! But do not misunderstand. It's a professional partition management tool, not a person!
How to use a Windows partition manager to help you out of partition problems? Here we'll recommend you two methods to help manage the new Windows 10 partition.
Two Recommended Windows 10 Partition Manager Tools
No.1 Disk Management
This is an effective but sort of complex for ordinary computer users who are not experienced in making commands with Windows system. Disk management enables users to delete, convert and extend partition under Windows 10. But it requires deleting volume before changing partition size. This can cause data loss trouble. If you wanna try this partition manager tool, do remember to backup important data on your computer before doing so.
No.2 Windows 10 Partition Manager Tool - EaseUS Partition Master
EaseUS Partition Master is a Windows partition management software which supports to making any changes on your computer partitions including to resize, merge, extend partition or convert mbr to gpt etc. This software enables you effortlessly do all partition jobs with simple operations. It's 100% secure and clean for managing and protecting your partition data security under Windows 10. Complex partition management cases like resizing and moving partition or converting mbr to gpt Windows 8 can also be solved by this tool.
Follow steps to Manage Partitions with EaseUS Windows 10 Partition Software
Here we take extend partition as an example. Follow next steps and see how this Windows 10 partition manager works for managing Windows partitions now:
Step 1. Launch EaseUS partition tool. Choose the partition you want to change and select the right option to extend, shrink, move, copy or merge the partition.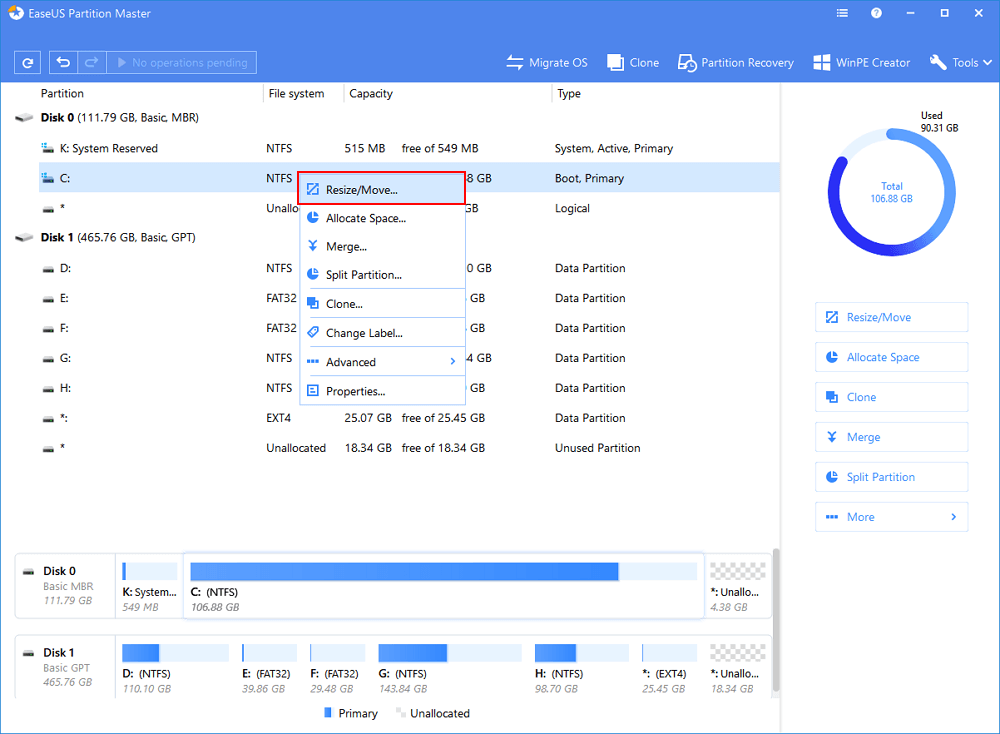 Step 2. Drag the arrow towards right hand to resize the partition.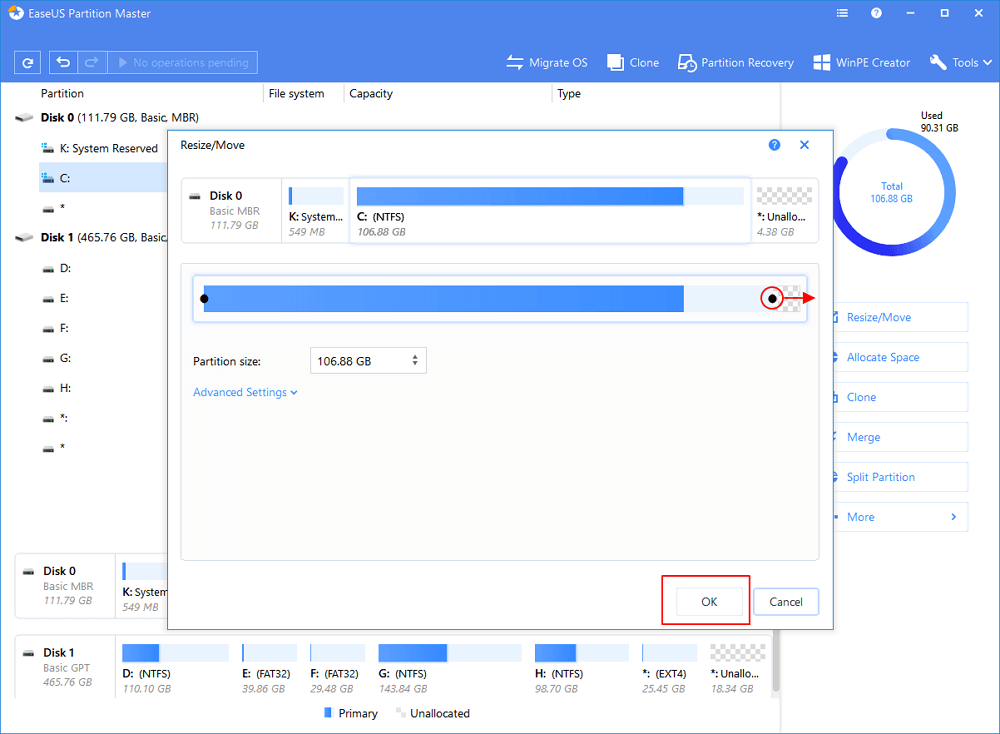 Step 3. Then click Apply to confirm all your operations.
Do not bother anymore. You can simply try the above recommended two Windows 10 partition manager tools to help you manage your Windows data. And then you can enjoy amazing life with Windows 10.