With hard drive now larger than ever, it makes sense to use partitions to divide them up. This makes it much easier to organize documents and files on different drives, but also makes it easier to reinstall Windows without the need to create a new backup of data. Partitioning is also useful if you intend to install more than one operating system on the same computer. However, you don't need to purchase expensive partitioning software. Here's five free partition software that helps you manage your hard drive partitions.
Top 1: EaseUS Partition Master Free
EaseUS Partition Master Free is a great freeware which is designed to be an All-IN-ONE disk partition management solution. It provides the users to extend partition, shrink partition, merge partition, split partition, resize/move partition, convert dynamic disk to basic disk, convert FAT to NTFS, clone disk, copy partition, recover deleted or lost partition, among other things. It has a simple and user-friendly interface that is easy for navigation.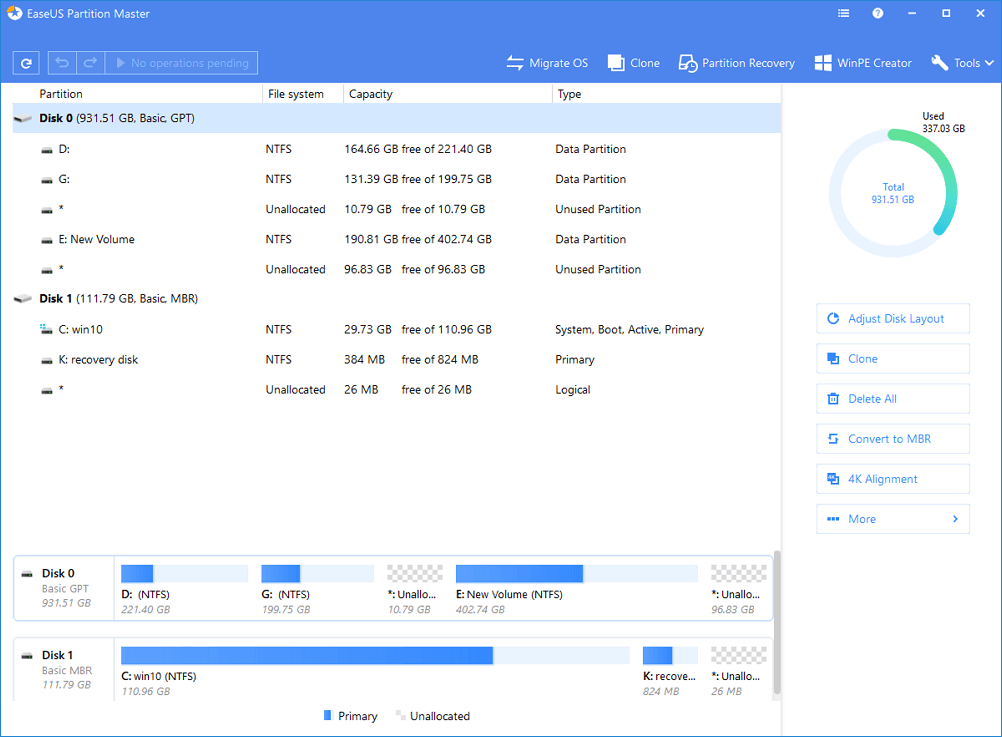 Pros: Intuitive and user-friendly interface with great functionalities; constantly being upgraded and improved with each new release.
Cons: no available recovery cd.
OS: 32 bit and 64 bit Windows 8/7/Vista/XP/2000.
File System: FAT12/16/32, NTFS, EXT2/3.
Top 2: GParted
GParted is a GNOME partition software for resizing, creating, deleting, moving or copying partitions on a hard disk. You can also create a partition table and enable or disable partition flags such as boot and hidden.
Pros: Great user interface with powerful features; can be used to make a dual boot machine with Windows XP and Windows 7;
Cons: Not easy-to-use for beginners.
OS: All Windows, Linux, Intel based Mac OS
File System: FAT12/16/32, NTFS, EXT2/3/4.
Top 3: Partition Logic
Partition Logic is a free disk partitioning and data management tool. It can create, delete, erase, format, defragment, resize, copy, and move partitions and modify their attributes. It can copy entire hard disk from one to another.
This partition software is based on the Visopsys operating system that can be booted from a CD or floppy disk and runs as a standalone system.
Pros: Has the basic features like other free disk partition software.
Cons: Has many limitations for system and hardware requirements.
OS: All Windows, Linux, Mac OS
File System: FAT12/16/32, NTFS, EXT2/3/4 (Cannot format partitions as NTFS or EXT3 and cannot resize FAT or EXT file system).
Top 4: Cute Partition Manager
Cute Partition Manager is using DOS interface to add, edit, delete and manage the partitions in your computer, but merging or resizing existing partitions is not supported.
Pros: Easy-to-use, preview the changes before saving.
Cons: Doesn't provide advanced partitioning features, like merging, resizing existing partitions; Has not been updated for many years.
OS: All Windows, Linux, DOS, etc.
Top 5: Ranish Partition Manager
Ranish Partition Manager is a free hard disk partitioning tool runs in command line mode and allows you to create, copy, and resize primary & extended partitions, clone disk.
Pros: Gives a high level of control for creating multi-boot systems.
Cons: Not easy-to-use for beginners; Has not been updated for many years.
OS: Linux, Windows 98/XP, FreeDOS, FreeBSD, etc.
File System: FAT16/32, Swap.