About 'There is no disk in the drive' error
In many situations, especially when you start a computer or run some add-on programs such as Spotify, MS Office, QuickBooks, NVIDIA software or some drivers, you will unfortunately receive the error with the full message in below.
There is no disk in the drive. Please insert a disk into drive \Device\harddisk\Dr1
There is no disk in the drive. Please insert a disk into drive [drive letter], such as e, g, etc.
In conclusion, there are mainly 3 reasons that lead to such a no disk error in some removable storage devices.
1- You have a removable drive, such as an Iomega Zip drive, configured as drive letter C.
2- You do not have a removable disk in the removable disk drive.
3- The disk drive in question has some health issues and needs repair.
How to solve 'There is no disk in the drive' error on USB, pen drive or memory card?
In light of these potential factors that cause this irritating error, we decide to assist you with the best resolution. Aside from the most practical troubleshooting step, which is to insert a removable disk in the removable drive before you start the computer, only with a piece of free partition software, the problem of there is no disk in the drive can be perfectly solved.
At this moment, EaseUS Partition Master Free is required for all the upcoming 3 fixes, with this powerful yet free disk/partition management utility for Windows 10, 8.1, 8, 7, XP and Vista, you can remove 'there is no disk in the drive' error by changing drive letter and paths, checking and repairing bad sectors and force formatting a specified removable drive.
Fix 1- Change drive letter from C to others
The change drive letter feature within allows users to fix 'there is no disk in the drive' problem by changing the mismatched drive letter C to others, such as F, G, etc. In fact, you can freely use the software to change, add or remove a drive letter in Windows 10/8/7 at any time, even when Windows system was unable to change letter nor assign a drive letter.
Step 1. Launch EaseUS Partition Master, right-click on the target disk partition and select Change drive letter.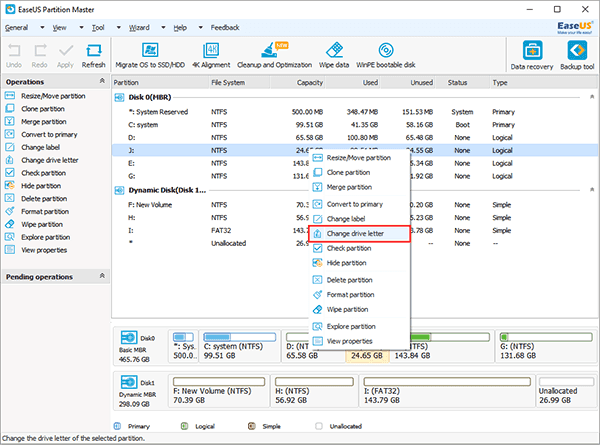 Step 2. On the window of Change drive letter, you can start freely and choose any other letter from D to Z in the given alphabet in order to change the current drive letter. Now, click OK.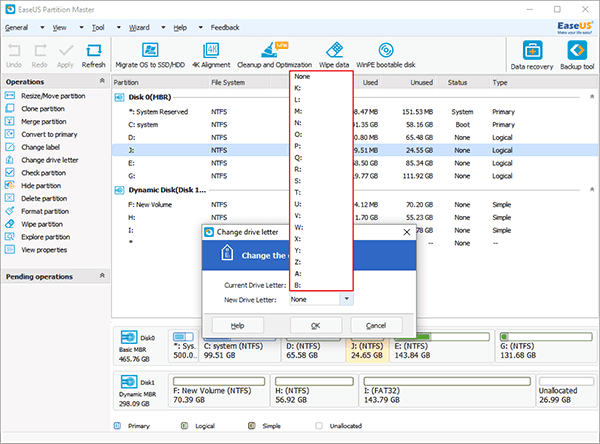 Step 3. Click Apply on the home interface to confirm the operation.
Fix 2- Check and repair disk partition errors
Besides, there is "check partition" feature available in EaseUS partition software as well. By which users can check disk errors, if any errors were found, the software can also automatically fix them.
Step 1. Right-click a disk and a partition -> Check partition. In the Check Partition Box, you got three options to choose: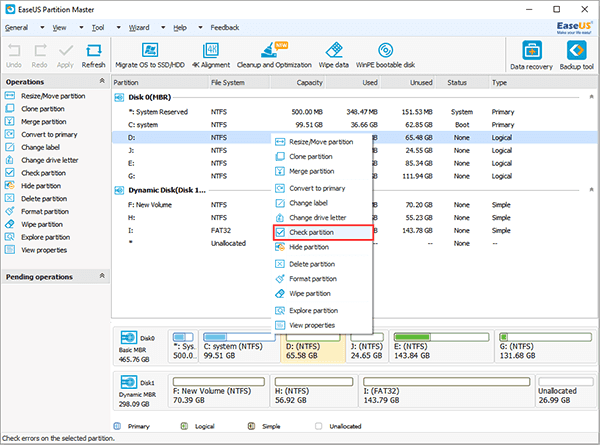 Check Partition Properties: for checking file system errors.
Call Windows Chkdsk.exe to fix errors if there are errors; Call windows Scandisk application to fix these found errors. (Only for windows version)
Surface Test: Make detection of a disk or partition for sector errors. After the test completes, a report will be produced.
Step 2. Click OK, the program starts running partition error checking.
Fix 3- Quick format USB, pen drive or SD card that is unreadable, unformattable and sending no disk errors
In the end, we'll introduce another widely applied feature in the software called format partition. Formatting is helpful and necessary when your removable hard disks become corrupted, unreadable, inaccessible so that 'there is no disk in the drive' error occurs, or when you're trying to restore USB flash drive to full capacity.
Step 1. Right-click the drive partition that reports no disk error and choose "Format partition".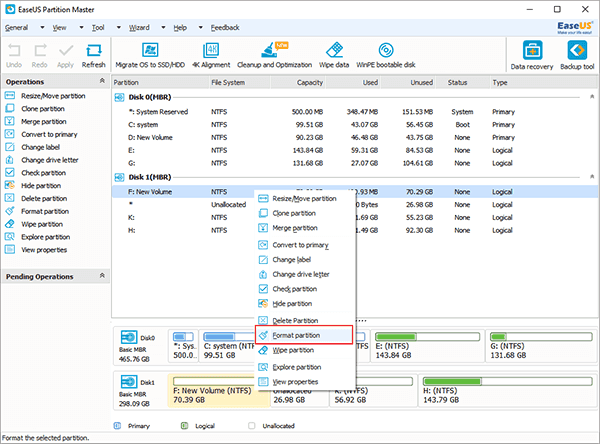 Step 2. A mini window pops out, on which you can edit the partition label and choose a file system that works best for you.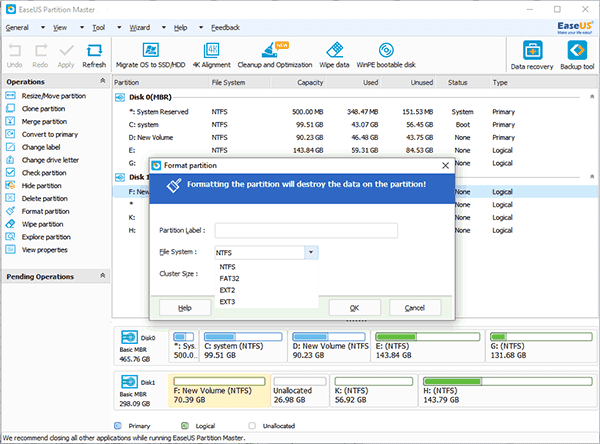 Step 3. Click "Apply" to confirm the operation.
All the recommended 3 troubleshooting methods are accomplished with the help of EaseUS Partition Master Free, the best disk & partition management software for all Windows platforms. Any other questions out of there is no disk in the drive problem can be easily solved, for example, resize partition, copy partition, recover lost partition, convert disks between GPT and MBR, etc. Why not download the freeware and let it help?