Windows says "The volume is too big for FAT32", how to fix it?
"I'm trying to format a 500GB external HDD to the FAT32 file system so that it can be read by PS3. Now I've been waiting for the formatting for a whole morning. It gets to 99% completion but won't proceed. At last, Windows failed to format the drive and said 'the volume is too big for FAT32'. What's the matter? How can I fix this problem?"
As we all know that PS3 can't read NTFS drives, in order to make your NTFS hard drives usable on a PlayStation, you have to convert NTFS to FAT32. However, the FAT32 file system is pretty old and one shortcoming of FAT32 is that the maximum volume size limit is 32GB.
Bad news is that Windows can't directly format some large hard drives beyond 32GB to FAT32. For example, if you try to format 64GB USB flash drive to FAT32 in Windows Disk Management, it usually goes about 99% but finally ends up with an error message "The volume is too big for FAT32".
How to format large drive beyond 32GB to FAT32 without problems?
To fix "the volume is too big for FAT32" error in Windows 10/8.1/8/7, you need a third-party FAT32 format tool. EaseUS Partition Master is a free partition manager software that allows people to format hard drive partitions larger than 32GB to FAT32 without any hassle.
Just connect your external hard drive with the computer which has the partition software installed and follow the guide below carefully, you can format any NTFS HDD, USB flash drive and SD card beyond 32GB without encountering the error message "the volume is too big for FAT32".
Tip: formatting will erase all data on the drive, so make sure that you created a copy of the important data there.
Step 1. Right-click the drive partition which you decide to format to FAT32, and choose "Format partition".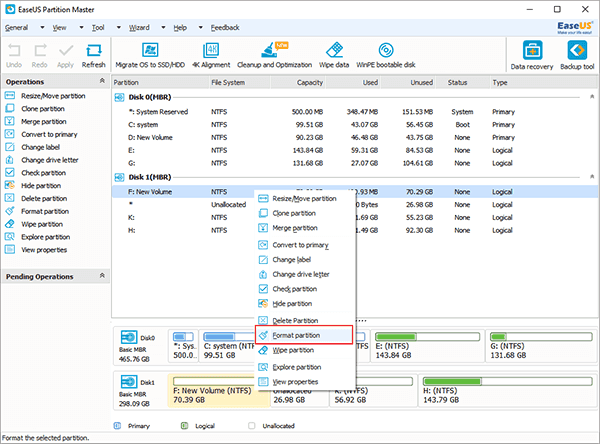 Step 2. A mini window pops out, on which you can edit the partition label and choose a file system. Here you should select FAT32. Click "OK".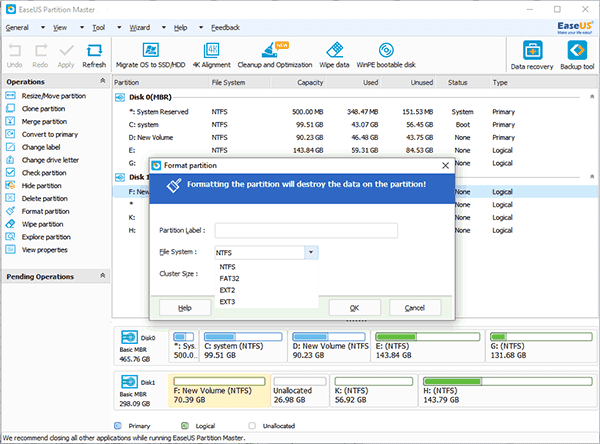 Step 3. Click "Apply" to confirm the operation.