In the vast sea of memory cards, how do you tell which memory card you should buy, or put it in use for a certain type of digital device? Given that you've been already mixed up in your mind with their names, e.g. CF card, TF card, SD card...
Don't worry, we know exactly what you want to know. So, in this article, we'll revolve around two types of memory cards: TF card and SD card, to make a profound comparison, and answer the most frequently asked questions for you.
CF Card vs. SD Card FAQs:
1. What Is A TF Card
2. What Is An SD Card
3. What's The Difference Between TF Card and SD Card
4. How Does TF Card Work on Mobile, GPT, Dash Cam, etc.
5. How to Take Care of Your CF Card in Daily Use
What Is A TF Card
For mobile phone users, it's not strange to see a very tiny and thin extensible memory card, and that' s called a TF card.
A TF card is the smallest memory card in size, we can say that. TF represents TransFlash, which was jointly developed by Toshiba and SanDisk in 2004, and later the name was changed to micro SD card after the acquisition of the SD Association at the end of the same year. TF card then officially became a member of SD products.
You see, Motorola was the first mobile phone to contain a TF card. A few years later, its competitors began using microSD cards as well. The modern Android phones are gradually giving upon such expandable storage, but Samsung still adopts a micro SD card these days. Though the TF card is rarely seen on mobile phones, it shows up on other compact digital devices, such as dashcams, flying drones, or GPS devices.
Thereof, the following names/texts all suggest the very type of TF card:
TF card = T-Flash = TransFlash = micro SD = microSD
What Is An SD Card
Earlier born than the TF card, the SD card (namely Secure Digital Card) is released in August 1999, by Panasonic, Toshiba, and SanDisk. It's a new generation memory device based on Semiconductor Flash memory.
When it comes to talking about how to choose an SD card, many of us tend to include a microSD card in this category. You should not mix the two concepts again because the microSD card is a de-facto TF card, and it differentiates the SD card by the heading "micro" in the first place.
Admitting that SD card is ultra-small, portable and lightweight, it outranks TF card in dimensions and generally fits itself in some bigger digital devices, such as digital cameras, digital personal assistant (DPA), multimedia players, and sometimes a desktop or laptop has a slot for an SD card!
What's The Difference Between TF Card and SD Card
To get you quickly understand TF card vs. SD card, we reviewed 10 aspects to distinguish the two types of memory cards by their storage, size, price, etc. By figuring out the difference between TF card and SD card, you can decide which memory card applies to your case, and how to use it properly on your digital device.
1.Different Names
Indeed, either type owns its unique identity.
TF card is a flash memory card, with other names that are familiar to us, T-Flash, TransFlash, and microSD.
SD is the abbreviation of Secure Digital, and it is a proprietary non-volatile memory card format. Due to many capacity standards up till now, there developed its derivatives, including SDHC, SDXC and SDUC.
2.Different Origins
TF card was originally put into the market in 2004 and it was not a member of SD products then. SD Association acquired it from Motorola and SanDisk in the same year. Other memory cards taken by SD Association include miniSD and SD cards.
Nowadays belongs to the same SD products of SD Association, but SD card is initially carried out by Panasonic, Toshiba, and SanDisk in August 1999.
3.Different Size and Appearance
On one hand, we can find out the difference by dimension.
The standard size for a TF card/microSD is 15mm x 11mm x 1mm;
And the measured size of a standard SD card is 32mm x 24mm x 1.4mm.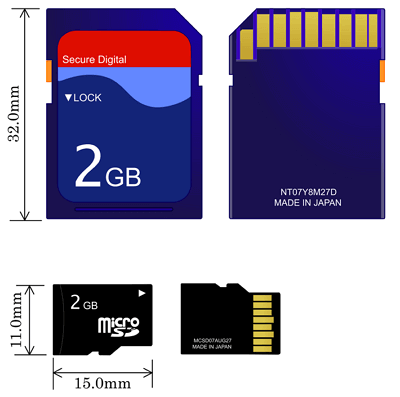 4.Different Structure
On the other hand, when you carefully look into the whole design you'll see the ribs* on the backside are also structured in a different distribution way. (Ribs can protect metal contacts to reduce the possibility of damage caused by static electricity or contact damage such as scratches)
5.Different Security
Back onto the card design again. The prevalent SD card is usually designed with a lock switch while the TF card is not. It's called a write protection switch. By sliding the switch to the "Lock" position can protect data from being modified or erased by others.
Hence, due to the lock switch design, the SD card is much more secure for data security. Nevertheless, if you want to secure the TF card which does not directly support a write protection notch, you can insert it into a full-size adapter which does.
You may be interested in how to format a write-protected SD card
6.Different Definition
SD card is a new generation of memory cards based on Semiconductor flash memory. Whereas the TF card a relatively small flash memory card that adopts the latest NAND MLC technology and controller of SanDisk.
7.Different Conversion
Can you use an SD card instead of a TF card? No way. You cannot simply use an SD card on a host device that allows for a TF card connection.
On the contrary, you can turn a TF card to an SD card, with the help of a proper card adapter. Put the TF card into an adapter, your device will recognize the TF card without any problem.
8.Different Application
TF card is mainly for mobile phones to expand storage. Thanks to its mini volume and increasingly enlarged capacity, it's more and more popular to see on some GPT devices, portable music players and other flash memory disks.
Being bigger than TF card, SD cards are generally used on quite a lot of portable digital devices, such as digital cameras, DSLRs, handheld game consoles, etc.
9.Different Capacity
So far we can buy TF cards and SD cards on Amazon or other eCommerce websites with a range of capacities:
TF card: 128G 64G 32G 16G 8G 6G 4G 2G 1G 512M 256M 128M
SD card: 512G 128G 64G 32G 16G 8G 6G 4G 2G 1G 512M 256M 128M
10.Different Price
Theoretically, under the same manufacturer, brand, capacity, and speed, the price of an SD card is higher than that of the TF card.
How Does TF Card Work
By walking through the long comparison of 10 primary differences, I believe that you should have a clear brain now. But what is the best TF card on the market?
Basically, keep in mind what your requirement is, and this is an essential step to start browsing a shopping site and search for the desired product. If you're using a card for your mobile phone then it will work with almost all microSD cards, you can find one within budget. Don't deceive yourself buying those cheap and nameless products, or else you'll spend twice money to repair a damaged SD card to save data!
Those brands are renowned and provide you with responsible customer services: SanDisk, Toshiba, Samsung, Lexar, Kingston, Transcend, Sony, etc.
Another noted point to choose a satisfactory TF card is the "class speed". TF cards and SD cards have a different class rating from 1 to 10. The higher speed cards signify higher speed and performance. If you're not recording in 4K, the speed might not be so important, but a faster-fated card will still be useful if you're using the card to expand the storage in a smartphone or a camera because faster read and write speed means fluent performance, and that will make the device more responsive.
Considering the price and purpose of how to choose a right SD card, here comes the most critical process, how does TF card work on a certain type of digital device?
To make your phone, dashcam, drone or a GPS device correctly detect, read and write data on the microSD card, you need to format it to a proper file system. A file system controls how data is stored and retrieved. Without a file system, information placed in a storage medium will exist without significance.
What file system should you allot to a new card? SD Association offers a format utility for users to format a memory card, and you can refer to this classification to achieve the best performance regarding different capacities of the microSD card.
Up to 2GB: FAT12/16
More than 2GB and up to 32GB: FAT32
More than 32GB and up to 2TB: exFAT
So far, the most commonplace microSD card is within 32GB on a phone, and a 2GB microSD card is for a dashcam. Extreme large size cards are usually for digital cameras. If you prefer a user-friendly, intuitive, and powerful disk format utility that supports all file system formats on a storage medium, EaseUS Partition Master Free is a good assistant.
Step 1: Open EaseUS Partition Master. Find your SD card and right-click the partition you want to format and choose "Format".
Step 2: Set a new partition label, file system (NTFS/FAT32/EXT2/EXT3), and cluster size to the selected partition, then click "OK".
Step 3: Click "OK" on the pop-up window to continue.
Step 4: Click the "Execute Operation" button on the toolbar, then click "Apply" to start formatting your SD card.
How to Take Care of Your CF Card in Daily Use
Memory cards are portable, which means you can take it anywhere and use it across different devices. In fact, to export pictures, videos or music from the TF card, you have to take it out from your cameras or phones and connect it to a PC/laptop, and most of the time, via a card reader/adapter. Do you know that this tiny card is prone to infect virus or develop bad sectors on it with many factors? Like improper daily handle, vibration, abrupt removal instead of safe ejection. Of cause, when it reaches its lifespan.
Those are thinkable factors that would bring your TF card into trouble. Besides, accidental deletion of files, as well as mistaken disk formatting, would cause a miserable data loss moment for you, are you willing to suffer from it?
You don't have to once you know how to take care of those happening events. Human beings are good at using tools to solve problems, so we are not going to suffer from the card corruption or data loss as long as we find the right tools.
1. Check disk errors and auto repair a corrupted TF card
If you don't have any technical know-how and want to minimize data risks, using third-party software could be a better choice. The Command line is suitable for computer professionals since wrong commands can cause severe problems. Therefore, we strongly recommend you to try an automatic command line alternative.
EaseUS Tools M is a practical computer fixing tool that is safe and light-weighted. It's a perfect alternative to CHKDSK command. Use this one-click tool to solve your computer issues.
To fix file system error or disk error:
Step 1:  DOWNLOAD EaseUS Tools M for Free and install it.
Step 2: Open the software and select "File Fixing" on the left pane.
On the right pane, choose the drive and check off the box at the bottom - "Check and fix file system error". Then, click "Fix" to start repairing the error.
Step 3: Wait until the operation completes. Wait until the operation completes. After the operation completes, click the "View" button to check the drive.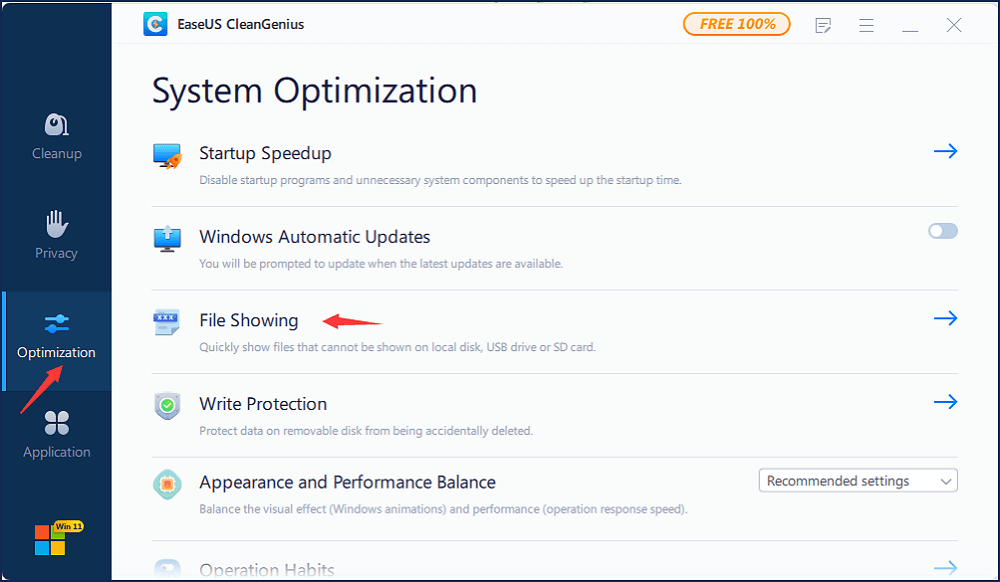 2. Recover deleted or formatted data from a TF card
EaseUS Data Recovery Wizard is recognized as the first-class TF/micro SD card recovery software on the market for over ten years. It's been optimizing the data scanning and analyzing technology since the first release in 2004, and thanks to its advanced algorithm of tracking data files on every sector, it has helped millions of customers all over the globe retrieve lost files with the highest success rate.
Step 1. Select the CF card.
Run EaseUS CF card recovery software - Data Recovery Wizard on your PC. Choose your CF card and click "Scan" to start finding lost files on the CF card.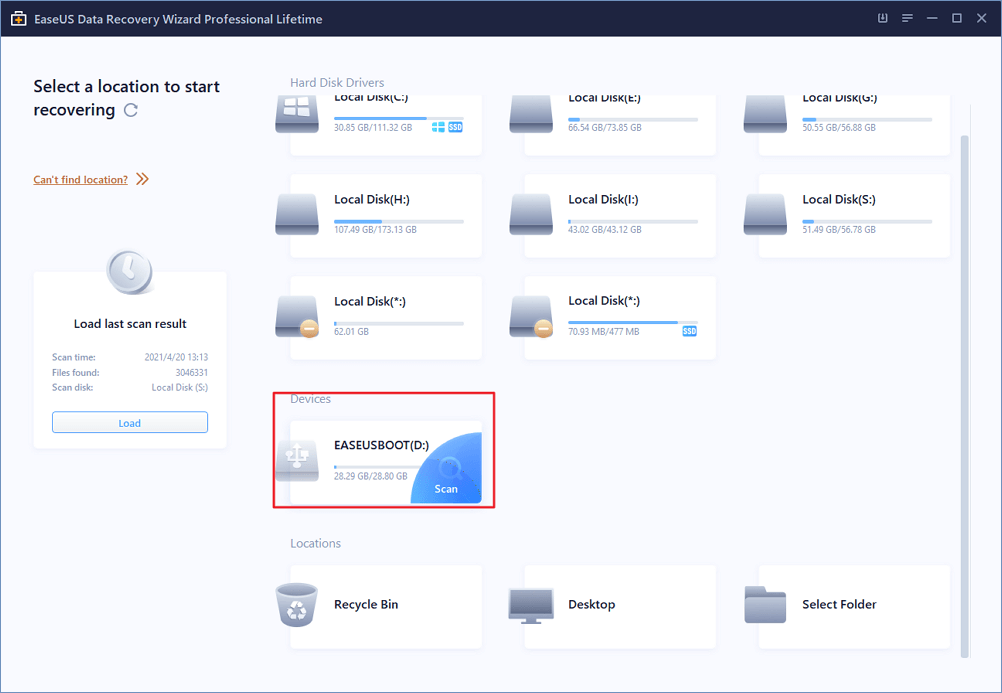 Step 2. Choose files to restore.
After the scanning process, you can quickly find your lost CF card files by clicking "Filter".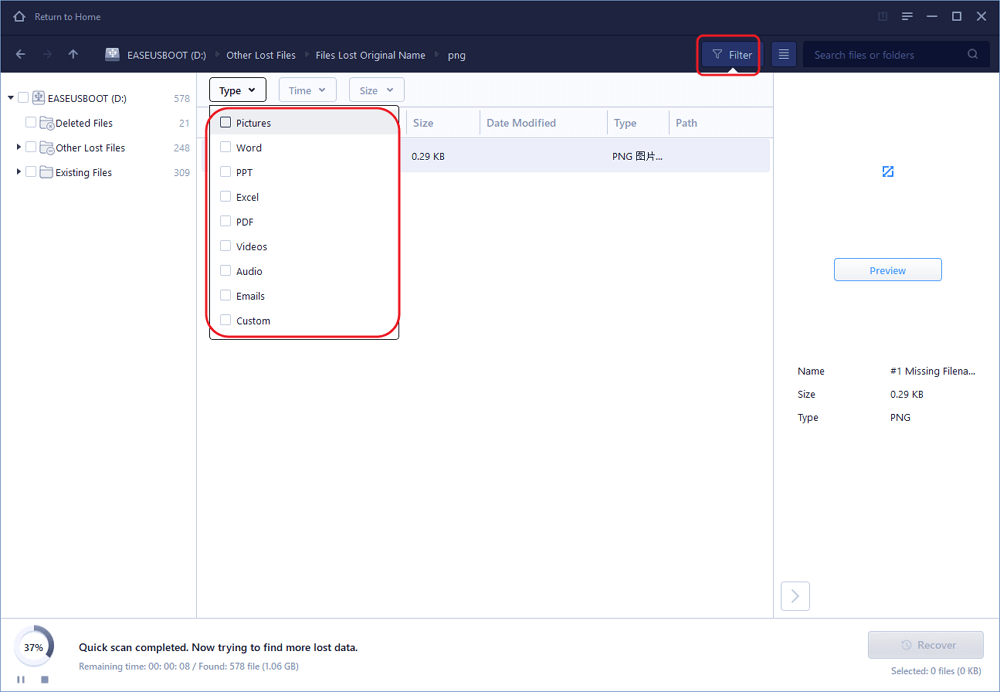 Step 3. Preview and recover files.
You can choose found files and double-click on them to preview. Last, select your desired CF card files, click "Recover" and save them to a safe path on your PC or external storage device.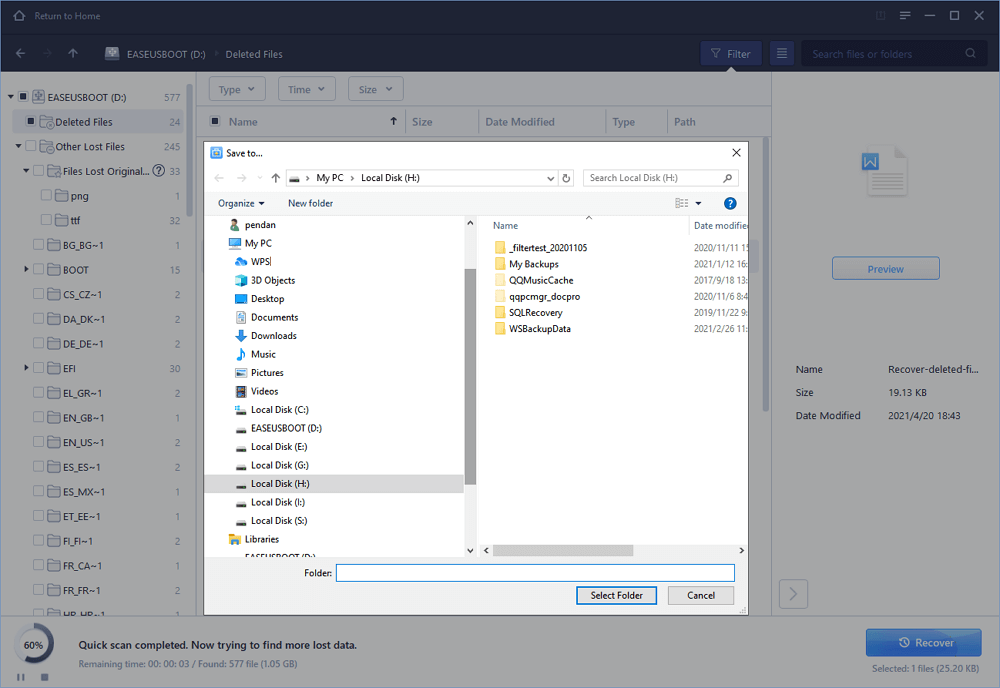 100% of people found this article helpful.
Frequently Asked Questions
Why Choose EaseUS Partition Master?

"I've used Partition Master Professional many times to create, delete, format, move, rename, and resize partitions." —PCWorld

"Partitioning tools have come a very long since the days of complicated command line utilities and EASEUS Partition Master is one of the most advanced programs available." —TECH ADVISOR

"I love that the changes you make with EaseUS Partition Master Free aren't immediately applied to the disks. It makes it way easier to play out what will happen after you've made all the changes." —Lifewire
Will the "Migrate OS" feature transfer the Windows system files only or the whole C drive?

To ensure that the migrated system will boot normally, the Migrate OS feature will transfer all the files in the system and the boot partitions. Generally, the boot partition is the C drive so the transfer will include all the files in C.
Does EaseUS Partition Master license apply to multiple computers?

The license of Partition Master Professional and Server editions can be used on 1 computer only, while that for for the Technician and Unlimited editions can be used on multiple machines.
What is the difference between EaseUS Partition Master Trial version and the Free version?

Free is for home users only, with most basic functions available such as partition resize and clone. While trial can help you understand how this product works and test what a full license can do on a business or server OS machine.
Will it cause any data loss after resizing the partition in EaseUS Partition Master?

Generally, it will not cause any data loss or boot issue by resizing a partition. However, in order to protect your data, we suggest that you backup the partition before resizing, in case of any unexpected situations such as power outages, computer hardware failures, etc. You can use EaseUS Todo Backup to backup the partition and its trial version is fully functioned for 30 days.
What should I prepare before resizing the partition?

On the partition that is going to be operated, there might be some files being occupied by other programs. To ensure a successful operation, we suggest that you close all the unnecessary software before resizing that partition. Otherwise, EaseUS Partition Master will detect the partition being locked by the other software and require a reboot to resize the partition under boot mode.
About EaseUS Partition Master
All-round disk & partition management software for personal and commercial use. Let it manage your storage drive: resize, format, delete, clone, convert, etc.