Finding no easy way to set up BitLocker partition in Windows 10 to protect important data? Or are you looking for a way to manage your BitLocker partition in Windows 10 so to get a bigger space for storing important data? Here below, you'll find detail methods to set up BitLocker partitions or manage BitLocker partition in Windows 10 without losing any data.
Why is it necessary to set up BitLocker partition
Windows can encrypt an entire drive or removable device with its built-in BitLocker encryption feature. BitLocker is widely used for protecting data or resist private exposure in PCs or data loss problems. BitLocker will encrypt all users files in the partition so that the data will only be accessible with the passcode. In this way, you'll minimize the risks of losing important data and files on your PC. So how to set up BitLocker partition in Windows 10? Or how to set up and manage a Windows 10 BitLocker partition? Let's see how to make it now.
How to set up BitLocker partition in Windows 10
1. Open Windows Explorer/File Explorer and click This PC.
2. Right-click on a partition or drive and select Turn on BitLocker.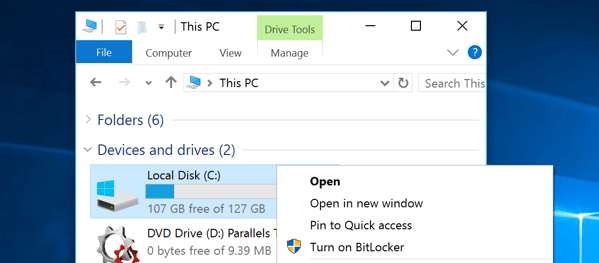 3. Enter a password to unlock the drive and click Next;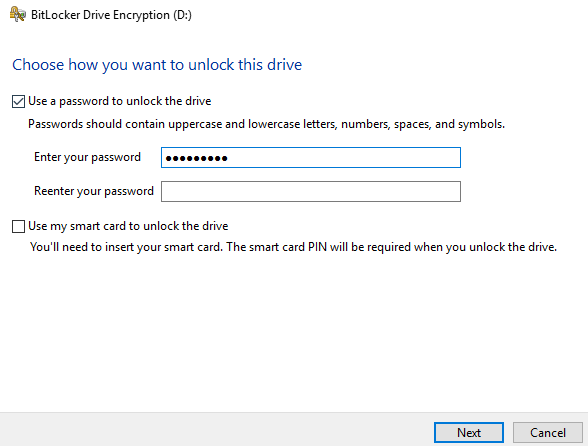 4. Specify a way to back up your recovery key in case that you forget the code to unlock BitLocker partition and click Next;
5. Choose how much of your drive to encrypt: Encrypt used disk space only or Encrypt entire drive and then click Next;
6. Select encryption mode to use: New encryption mode or Compatible mode and click Next;
7. Click Start Encrypting.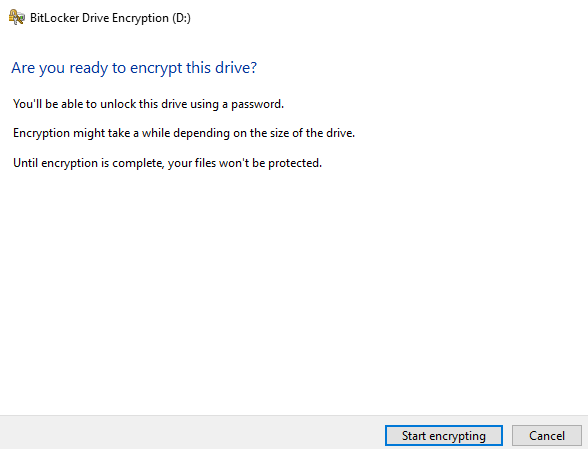 After following these steps, you'll be able to use the BitLocker partition to protect important data in Windows 10 now. But how about to manage the partition? What if you want to erase the whole BitLocker partition to re-save data in it or to extend the partition to leave more space in the BitLocker partition? Here below, we have an effective method for you to fully manage BitLocker partition in Windows 10.
An easy way to manage BitLocker partition in Windows 10
To manage BitLocker partition may be a little bit different for that you have encrypted it, which means that if you directly delete or format the BitLocker partition, you'll fail the task. Fortunately, it's easy to manage Windows 10 BitLocker partition with a professional partition manager software. Here we'd like to recommend you try EaseUS Partition Master which allows you to directly manage BitLocker partitions by resizing/moving partition, erase the partition, clone partition or even delete the partition.
Free download this software and you'll see an example for how to resize or extend BitLocker partition in Windows 10:
Unlock Windows 10 BitLocker partition with the passcode before you resize the partition.
Step 1: Locate the drive/partition
Step 2: Resize the partition
You can either shrink the selected partition or extend it.
To shrink the partition, simply use your mouse to drag one of its ends into unallocated space. Expand the "Advanced Settings" list, where you can see the exact disk space for each partition. Once done, click "OK".
Fig. 1 Unallocated space before the drive.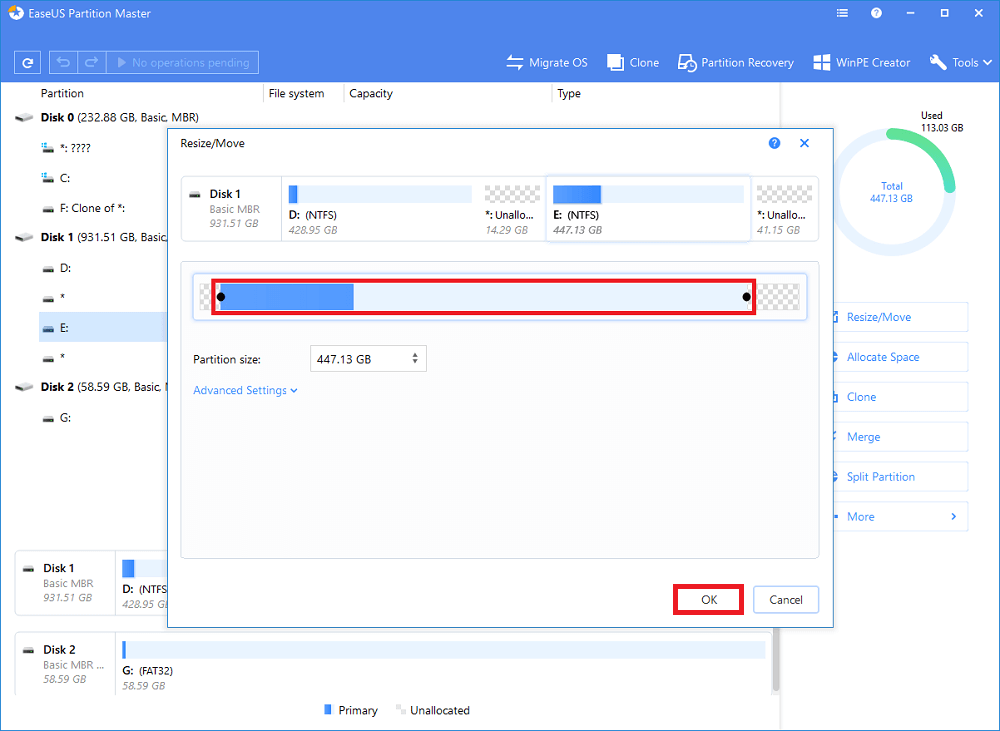 Fig. 2 Unallocated space after the drive.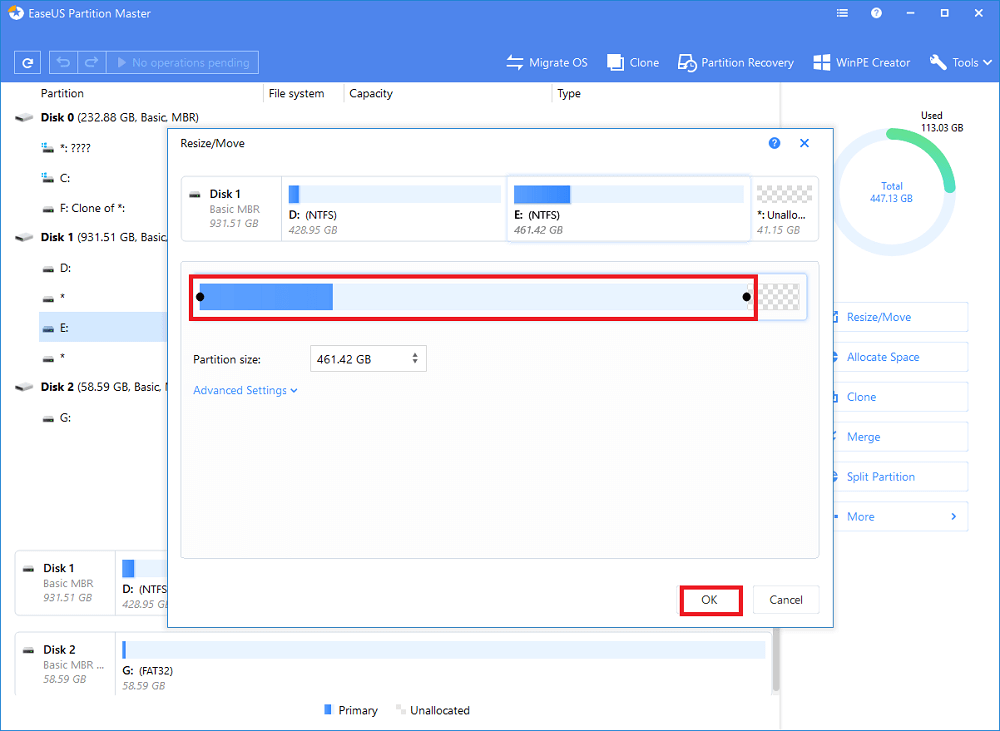 To extend the partition, make sure that there is unallocated space aside (if there isn't, follow the above steps to create some). In the same way, drag your mouse towards the unallocated space. Click "OK".
Fig. 3 Add unallocated space into the partition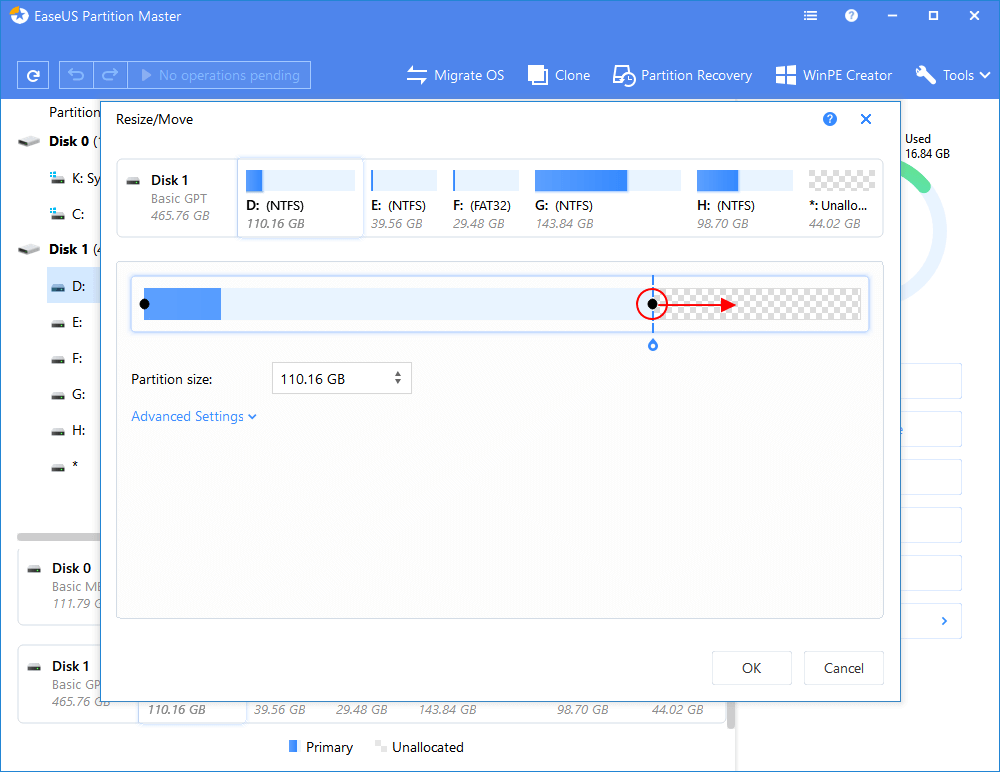 Step 3: Apply changes
After doing so, you can choose to reboot PC and let the system remember all changes in your PC. Then you can install more data in the BitLocker partition for better data protection in Windows 10.