How to Restore Start Button in Windows 8
The improvement in Windows 8 UI:
Microsoft users get a huge surprise when released Microsoft 8 Consumer Edition that it came with no Windows Start Button. Replaced in Windows 8 by the user interface formerly known as "Metro". Microsoft spent a long time taking Windows in a different direction. Microsoft's vision is that all desktop computing will one day be touchscreen. So the decision has been made to remove the Windows Start Button and replace it with what looks like the new Microsoft Xbox dashboard. However, this significant change was not expected by anyone. People think that the new interface without Start Button looks weird and new users can't decide where to go and open their favorite programs.
Although start button and start menu have been permanently removed from Windows 8, there are ways to get them back. Now we are going to tell you how to bring the good old start button and start menu back in Windows 8:
2 Methods to Restore Start Button and Start Menu in Windows 8
Method 1: To use New Taskbar Toolbar
This method shows you the same way that you can get the classic start menu back in Windows 7. We need the help of built-in Taskbar toolbar feature of Windows.
Step 1: Right-click on "Taskbar" and select "Toolbar" > "New toolbar".
Step 2: When it opens the Browse dialog box, you need past the string in the "Folder":
%ProgramData%\Microsoft\Windows\Start Menu\Programs
Then press "Enter" and click on "select folder" button
Step 3: Right-click on "Taskbar" and uncheck "'Lock the taskbar" option
Step 4: When you see a placeholder to drag the toolbar, click and hold the drag-handle and drop it just after and "Start" Button.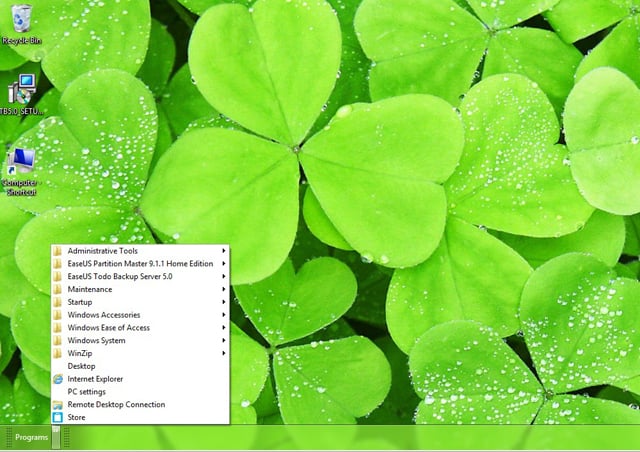 Method 2: To use Third Party Software
The other way that you can get access back to Start Button is to install third-party software. With its help, you will never miss Windows 7. Also, you will have the added benefit of the new task manager, the new interface design, and other features that make the operating system run more efficiently without having to use Metro.