Why you need to partition a removable storage device
USB flash drive and memory card are the most ordinary removable storage devices. They are widely used for storing important data and files. The main reason for using removable storage devices is because of its portability. This allows users' data to be transferred between PC and different storage devices smoothly. It is quite important and necessary for the data movement on in some cases on removable storage devices.
Sometimes there do exist some special needs to partition a removable storage device into several partitions for managing different types of data in an easy way. Then is it possible to partition removable storage device like USB flash drive, memory card etc? If yes, how to do it?
How to partition USB flash drive with EaseUS partition software
To partition USB flash drive or SD card successfully with little effort, you should first find a reliable partition manager tool. You can try the Windows built-in Disk Management tool. But it is not the best choice because it provides limited features for USB flash drive management. So, here EaseUS partition tool, a third party partition tool with flexible and advanced features is recommended. It supports to resize/move partition, copy partition, create the partition, delete or wipe the partition. This software works well with the removable storage device. You can enjoy the partition management on the removable storage device as the same as the hard disk. Now you can download it and try the following guide to create a partition on USB flash drive with simple steps.
 Notice:

If you want to create a partition on an empty USB, SD card or external hard drive, connect it to your PC in advance.
Step 1: Launch EaseUS Partition Master
On the main window, right-click on the unallocated space on your hard drive or external storage device and select "Create".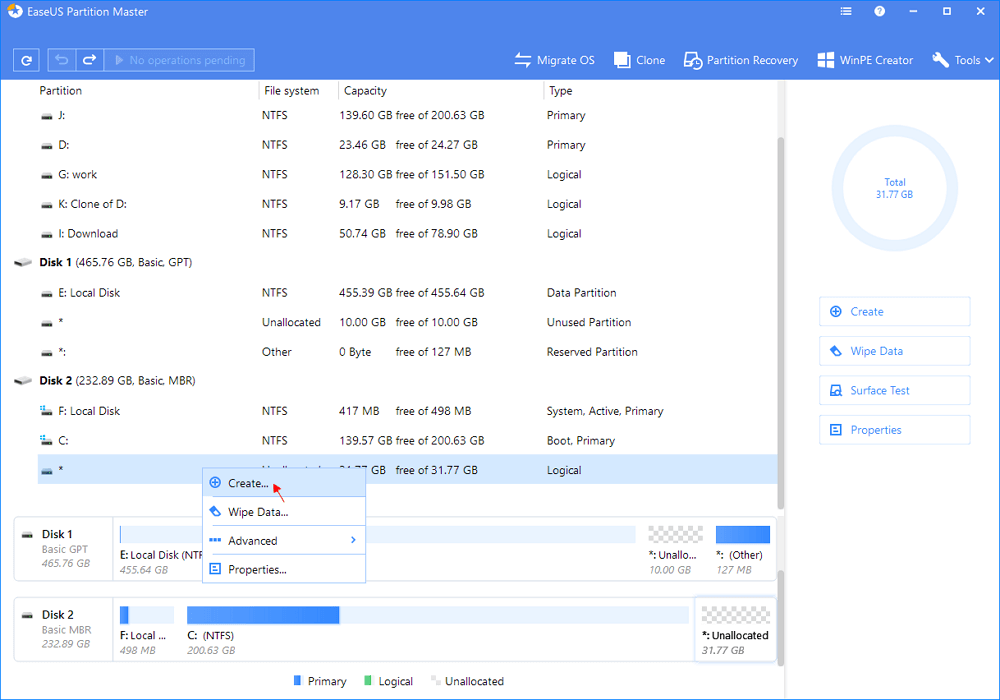 Step 2: Adjust the new partition size, file system, label, etc.
Set the size, partition label, drive letter, file system, etc. for the new partition and click "OK" to continue.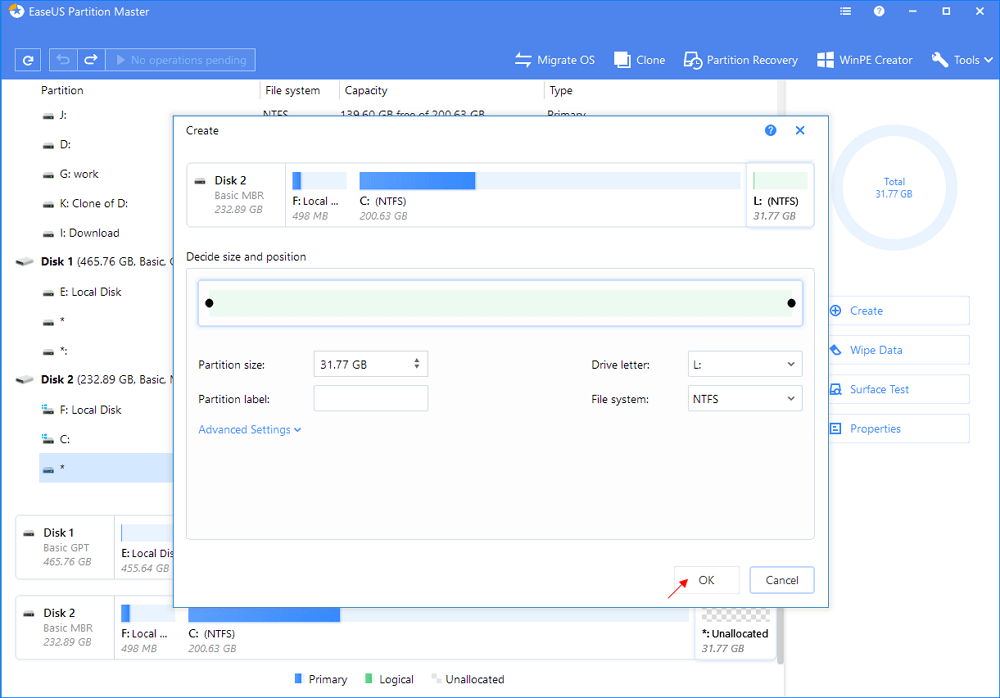 Step 3: Confirm to create a new partition
How to resize a partition on the USB flash drive
And if you want to resize the partition on USB flash drive, you can try the following guide:
Step 1: Launch EaseUS Partition Master
Step 2: Free up space to extend partition
Step 3: Extend partition
Step 4: Keep all changes