"Hi, do you know how to reformat Lacie external hard drive to FAT32 so that it can be used for both Windows PC and Mac? Two months ago, I bought a Lacie external hard drive as a backup drive of my Windows 7 computer. So I formatted it to NTFS initially. Yesterday my father's Mac was damaged by vicious viruses and needed an external drive, and I guess he can use mine as long as the Lacie drive can be formatted to FAT32. However, I tried many times on Mac but it failed. Do you have any other ways to reformat NTFS Lacie external hard drive to FAT32 file system?"
EaseUS Partition Manager allows for reformatting Lacie external hard drive quickly
Most of the time, we come straightly to give people the handiest solution to achieve their goals. In fact there is more than one way to deal with the Lacie reformatting issue, however, we highly suggest them to take a shortcut. EaseUS Partition Master Free is such a practical and reliable hard drive reformatting utility, which allows Windows 10/8.1/8/7/XP/Vista users to freely convert NTFS to FAT32 or convert FAT32 to NTFS by using the "format partition" feature concluded in the free partition manager.
How to reformat NTFS Lacie drive to FAT32 with EaseUS Partition Master?
For a completely safe reformatting procedure, it's necessary for people to back up the drive first if the data inside is mattered. You can learn how to backup Lacie external hard drive by copy partitions with EaseUS Partition Master.
Next, let's focus on how to change an NTFS Lacie external drive on Windows PC to FAT32. Follow the detailed steps below.
Step 1. Launch EaseUS Partition Master Free. Choose the Lacie external drive and right-click it, then select "Format partition".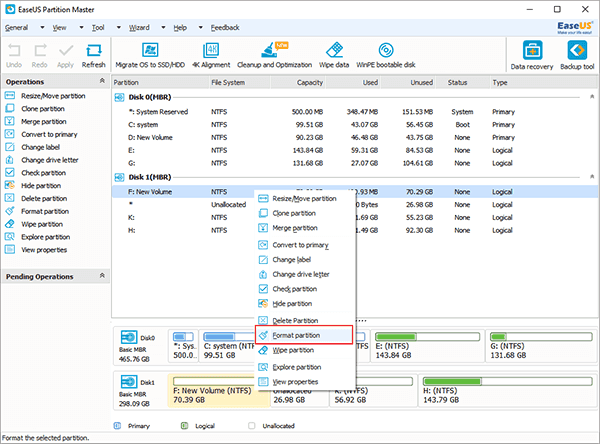 Step 2. A mini window pops out, on which you can edit the partition label and choose a file system. Here you should choose the second "FAT32".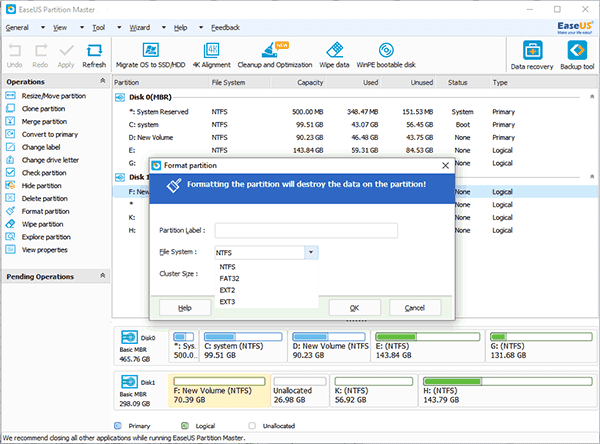 Apply the changes you've made on the Lacie external hard drive. Now you got a more flexible use for the drive which can run both on Windows platforms and Mac OS X.