2 Fixes for SD Card Unallocated Error | Partition Unallocated SD Card

Brithny updated on Dec 11, 2020 Partition Master | How-to Articles
SD Card Unallocated Error
SD card usually is allocated with only one partition which readable by the computer and other devices such as photos or cameras. However, due to different needs, quite a lot SD card users choose to create more partitions on SD card. Indeed, creating more partitions on SD card does bring users great convenience in dealing with their daily jobs and life. 
However, due to careless or improper operations, virus attack, or other unknown reasons, some inevitable problems may still happen to SD card users. The typical problem is that partitions disappear in SD card, which means that SD card becomes unallocated. Then you'll lose all data and partitions in SD card. How to fix such a problem? EaseUS software provides the most complete and securest solution with its professional partition manager software for you here now.
How to Avoid Data Loss Before SD Card Becomes Unallocated
It is highly recommended for you to backup all important data from your SD card to a safe storage device. With SD card data backup, you don't need to worry about losing important files or documents anymore when unexpected troubles happen to your SD card, or SD card becomes unallocated. 
With backups, you can directly fix SD card unallocated problems then. Let's find solutions to partition unallocated SD card right now.
Fix SD Unallocated Error: Partition Unallocated SD Card
Here EaseUS software will provide you with two methods to fix SD card unallocated problem. One is to use EaseUS Partition Master restore or recreate partitions in on SD card. The other one is to use Windows Disk Management too to rebuild partitions on unallocated SD card directly. 
Solution 1. Use EaseUS Partition Master 
EaseUS Partition Master offers two methods to help fix the SD card unallocated trouble: restore partition and recreate partitions on SD card. Now you can either choose to restore the previously lost partitions or to recreate new partitions on your SD card. Free click the download button and install EaseUS Partition Master on your computer. Connect your SD card with computer and follow the next simple steps to fix SD card unallocated case now.
#1. Restore SD Card Partition from Unallocated Space
Step 1: Connect the external storage device to PC
Step 2: Launch EaseUS Partition Master
Step 3: Select the storage device to scan the lost partition
Step 4: Select and restore lost partition.
#2. Create Partitions on Unallocated SD Card
 Notice:

If you want to create a partition on an empty USB, SD card or external hard drive, connect it to your PC in advance.
Step 1: Launch EaseUS Partition Master
On the main window, right-click on the unallocated space on your hard drive or external storage device and select "Create".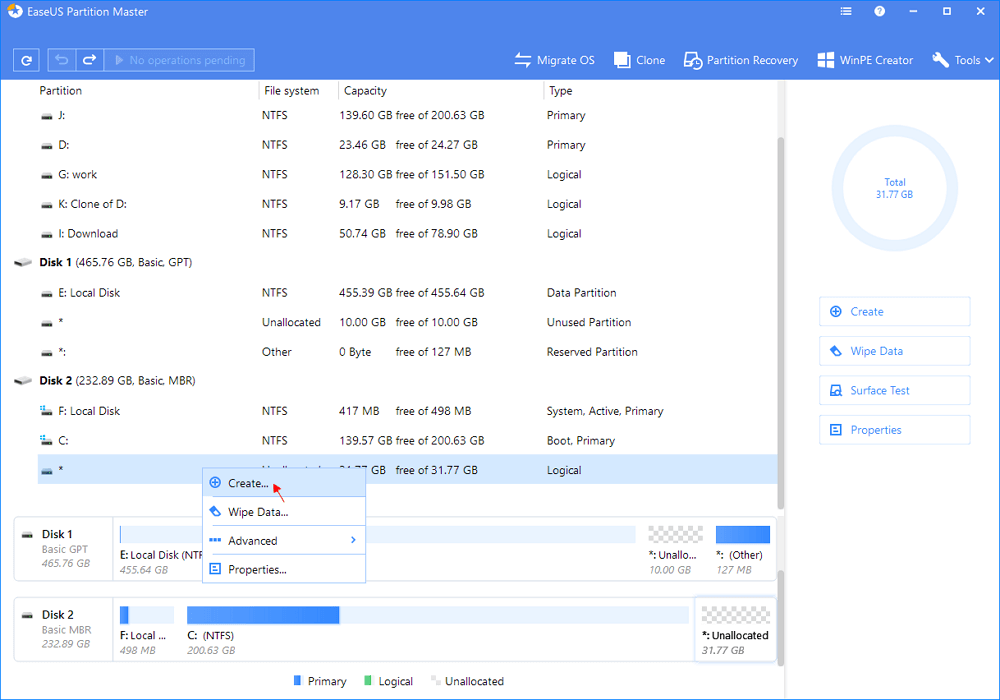 Step 2: Adjust the new partition size, file system, label, etc.
Set the size, partition label, drive letter, file system, etc. for the new partition and click "OK" to continue.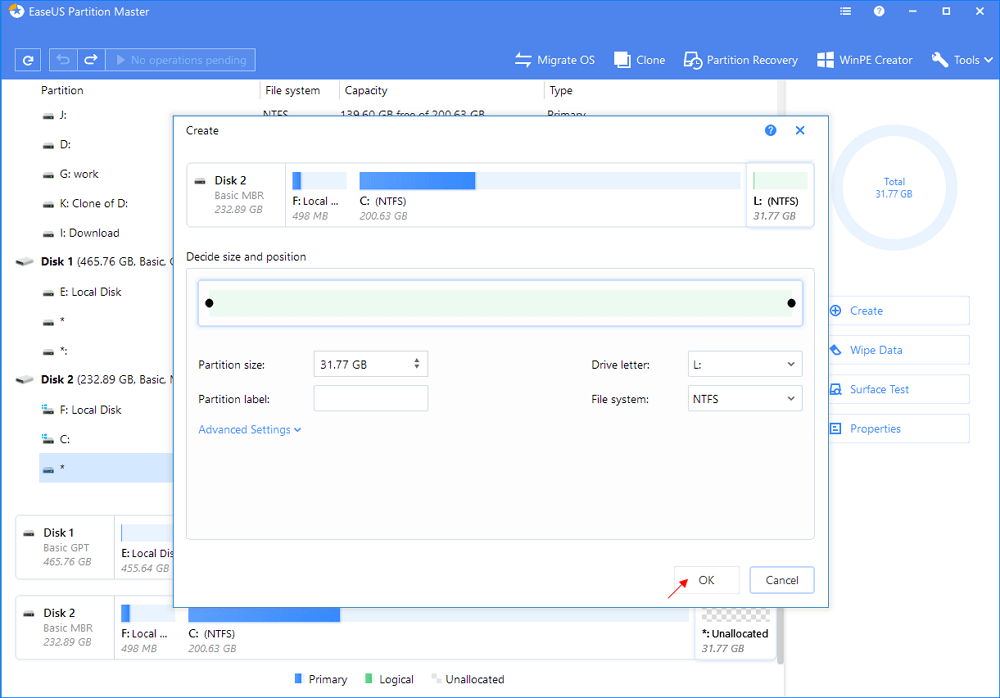 Step 3: Confirm to create a new partition
Solution 2. Free Partition Unallocated SD Card with Disk Management 
If you don't feel like using any software to fix SD card unallocated trouble, Windows Disk Management should help. But the precondition is that you should be familiar with Windows management jobs and be careful while partitioning unallocated SD card. 
Step 1. Connect SD card to PC, right-click "My Computer/This PC" and choose "Manage".
Step 2. Click "Disk Management", right-click SD card unallocated space and choose "New Simple Volume".
Step 3. Enter New Simple Volume and click "Next". Specify Volume Size and then click "Next".
Step 4. Assign drive letter or path, click "Next". Then Format Partition, choose "partition file system, size, label" and click "Next". 
Step 5. Click "Finish" to accomplish the whole process.
Do be careful while using Windows Disk Management to partition unallocated SD card.
About EaseUS Partition Master
All-round disk & partition management software for personal and commercial use. Let it manage your storage drive: resize, format, delete, clone, convert, etc.
Video Tutorial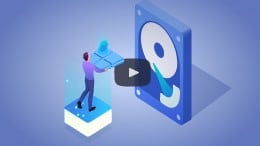 How to Partititon a Hard Drive on Windows 10/8/7
How Can We Help You
Find answers to common questions below.