Is There Any Way to Partition Unallocated Disk Space in Windows 10
"I bought a 3TB hard drive and did a fresh install of Windows 10. Windows 10 install auto created two more volumes; both labeled as Unallocated. However, now I can not create a partition on one of those random Unallocated volumes. Whenever I right-click on one of these two Unallocated volumes, the option creates a simple volume is greyed out and completely not available. Is there any partition magic tool that allows me to create partitions on unallocated disk space?"
I bought a new computer with Windows 10 installed on it. I see in Disk Management that only about 1/4 of the space is being used. The rest is unallocated space. Now I want to move unallocated space to C drive to extend system partition. Any unallocated disk space partitioning solution can help?
How to Partition Unallocated Disk Space in Windows 10 with Easeus Partition Tool
Trying to add unallocated space to system partition? Want to create a new partition on an unallocated space? In some case, you might need to do these jobs for a better performance of your hard drive. So, it is important for you to learn how to partition unallocated disk space. This page introduces you EaseUS partition tool, a professional disk partition management tool and shows you how to partition unallocated space in Windows 10 step by step with the program.
How to Create a New Partition on Unallocated Disk Space
 Notice:

If you want to create a partition on an empty USB, SD card or external hard drive, connect it to your PC in advance.
Step 1: Launch EaseUS Partition Master
On the main window, right-click on the unallocated space on your hard drive or external storage device and select "Create".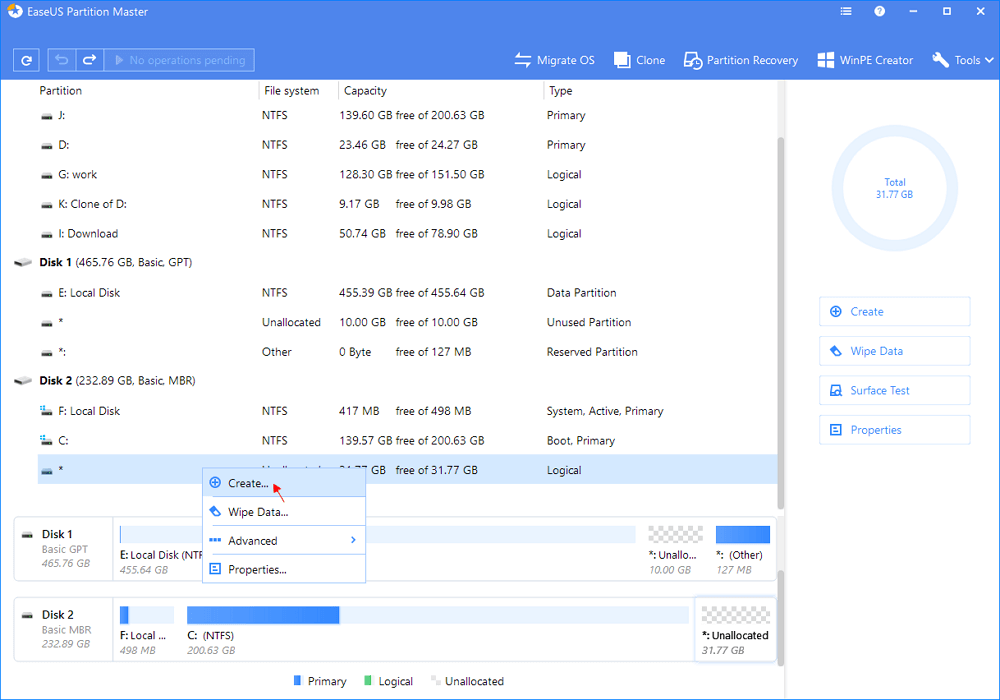 Step 2: Adjust the new partition size, file system, label, etc.
Set the size, partition label, drive letter, file system, etc. for the new partition and click "OK" to continue.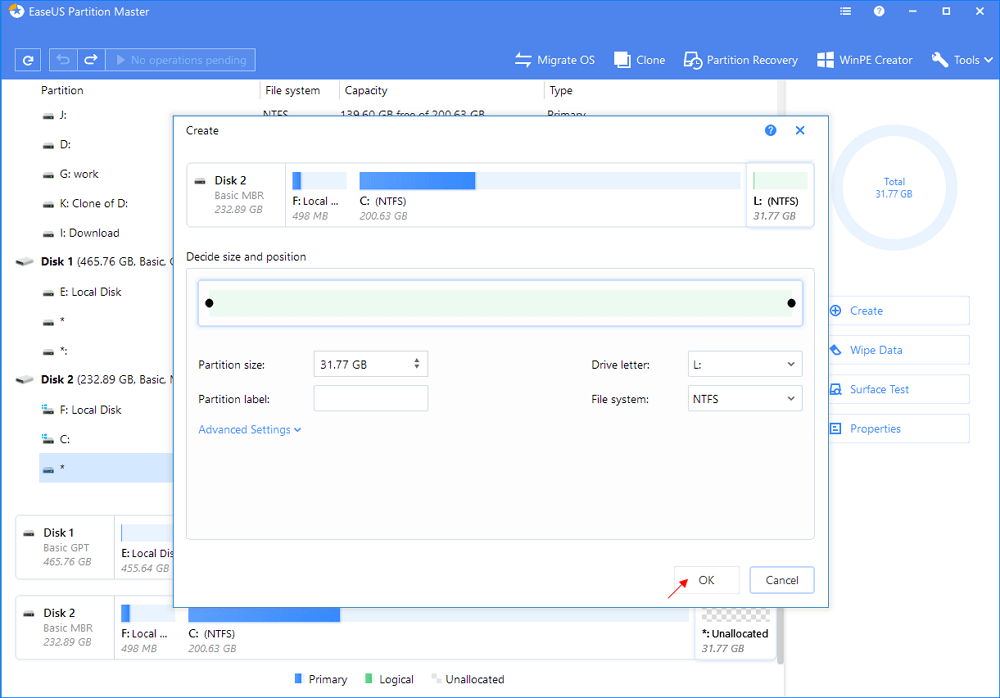 Step 3: Confirm to create a new partition
How to Add Unallocated Space into a Partition
Step 1: Launch EaseUS Partition Master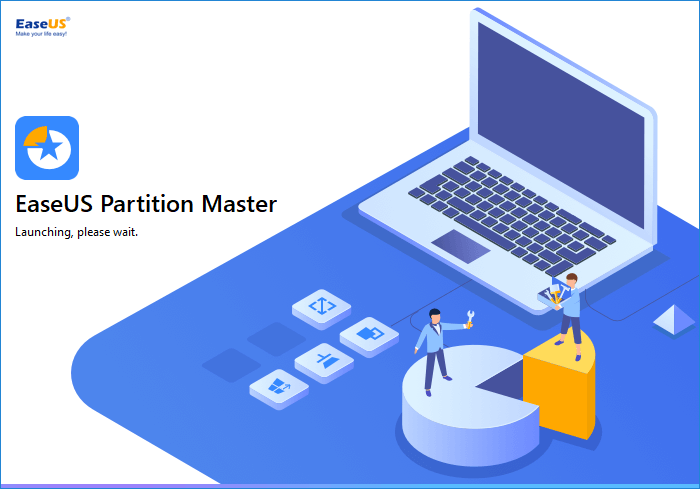 Step 2: Increase C drive space
1. Shrink partition to free up unallocated space:
Right-click on a partition next to the C: drive and select "Resize/Move".
Drag either end of the partition to shrink and leave unallocated space behind the system C: drive and click "OK".
2. Right-click on C: drive and select "Resize/Move".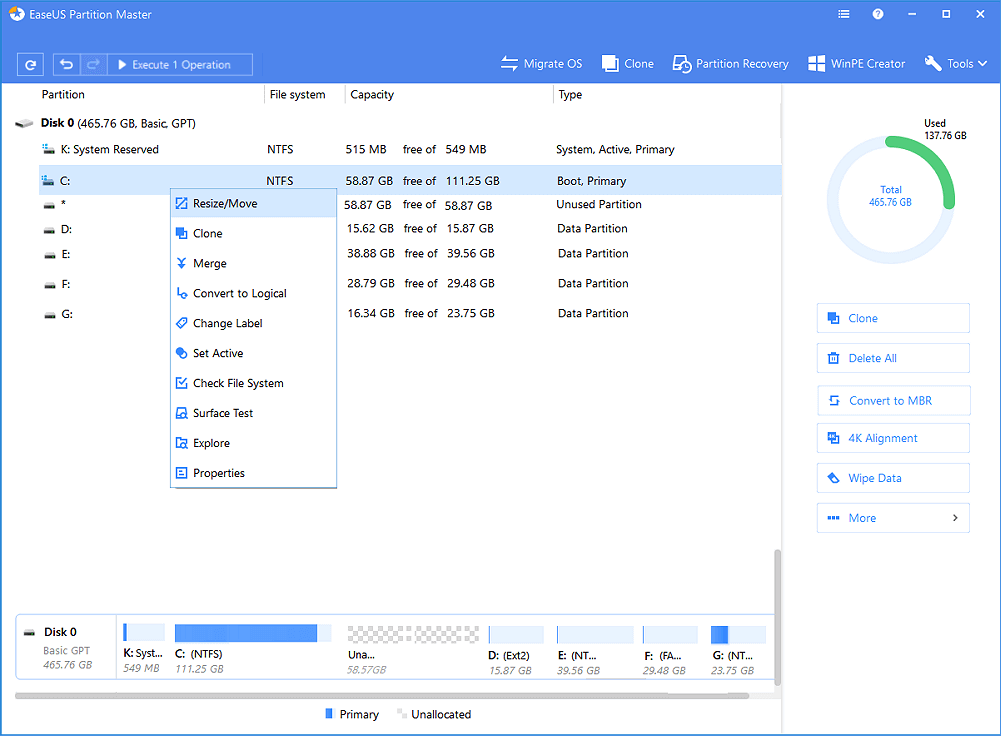 3. Drag the system partition end into unallocated space so to add space to C: drive.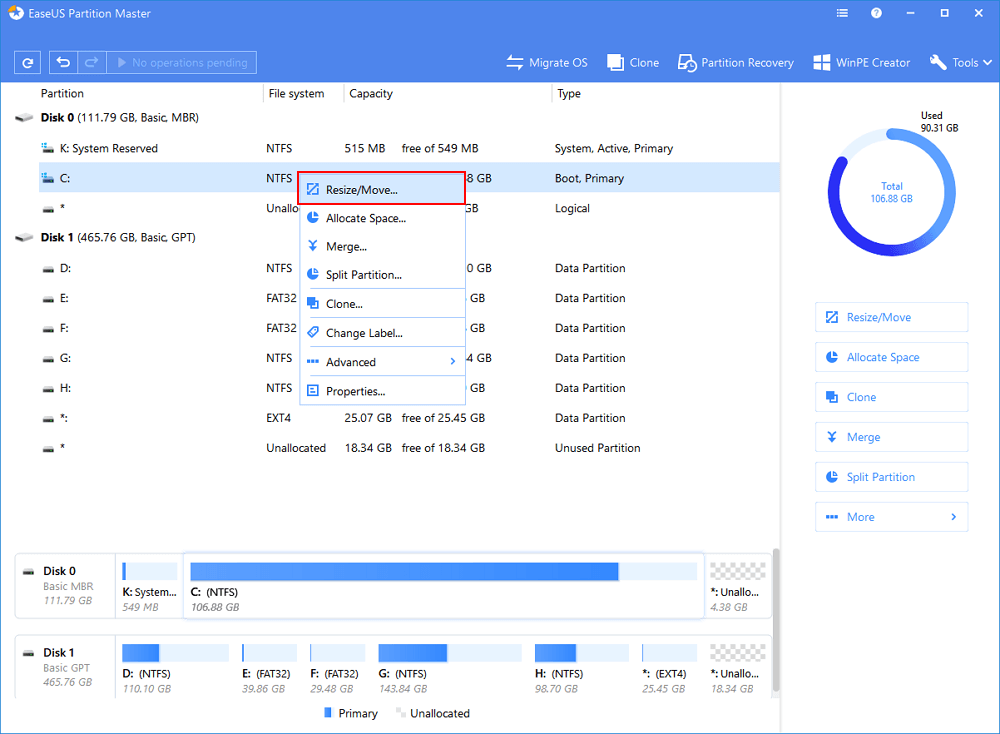 Step 3: Keep all changes to extend C: drive