How to Partition a Sandisk 32GB MicroSD Card Using Windows 10
"Hi, I have a SanDisk 32GB microSD card in the FAT32 format that I use on my Android smartphone. Windows 10 won't help shrink it or resize it. Do you know what SD card partition software would help partition SD card in Windows 10?"
How to partition SD card for Android or digital camera? Usually, Windows allows removable storage partitioning (memory card, USB drive, pen drive, flash drive, etc.) in these steps. For example, in a Windows 10 computer, you can right-click "This PC" created on the desktop and find "Manage" feature. Open "Manage" and navigate to Windows 10 "Disk Management" panel under "Storage". The whole process should be: Go to This PC -> Manage -> Storage -> Disk Management.
By shrinking one SD card partition and creating a new one in Windows Disk Management would realize partitioning an SD card ideally. However, many people find it difficult, and sometimes impossible to perform the task. "the shrink or extend volume option is greyed out", "being unable to change letter nor assign drive letter to the newly created partition on the SD card" and other more issues stopped them from trying to partition SD card in Windows 10.
A Reliable SD Card Partition Tool
Regarding this partitioning fault in Windows 10, we suggest users turn to an alternate solution. EaseUS free partition manager is the best free SD card partition software, SD card partition manager, and SD card partition tool in the world. Most of all, it's incredibly user-friendly and safe, that would do no damage to the existing data when you split a partition into many chunks.
How to Create a Partition on the SD Card
 Notice:

If you want to create a partition on an empty USB, SD card or external hard drive, connect it to your PC in advance.
Step 1: Launch EaseUS Partition Master
On the main window, right-click on the unallocated space on your hard drive or external storage device and select "Create".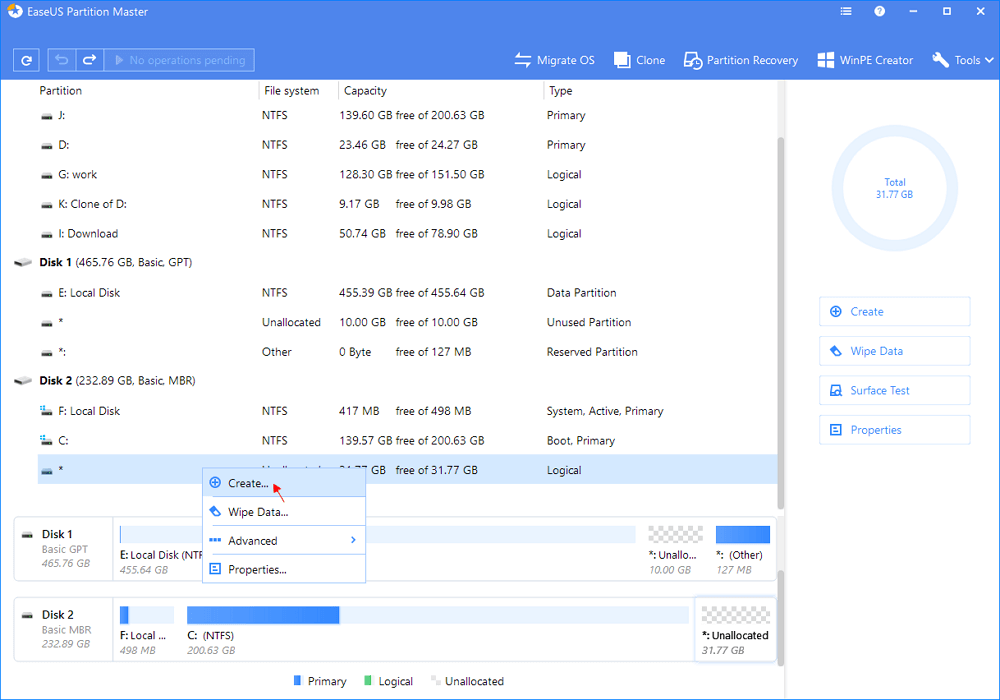 Step 2: Adjust the new partition size, file system, label, etc.
Set the size, partition label, drive letter, file system, etc. for the new partition and click "OK" to continue.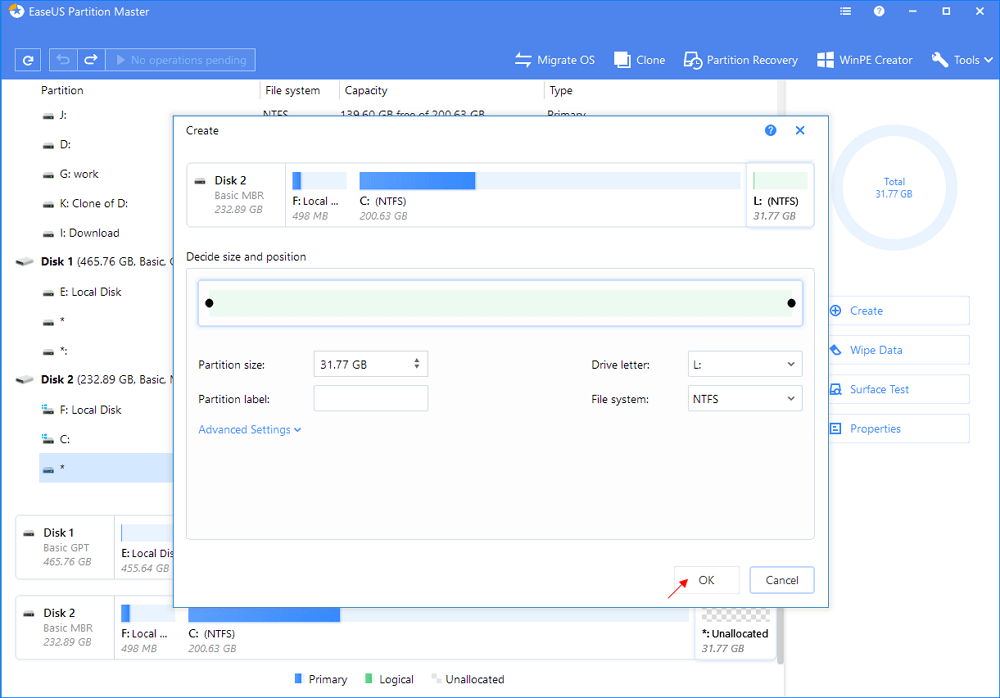 Step 3: Confirm to create a new partition