How Can I Partition Hard Drive on Surface Pro
I just bought a new Surface Pro 3 with Windows 10 and 250 GB hard drive. It's all C: drive, and I want to partition it into four separate ones like C, D, E and F drives. But what makes me surprise is that Windows won't let that happen. I even consulted with Microsoft Tech Support staff and was told it's only possible to choose how many drives you need during the Windows installation process. I need at least two separate drives: one for the system and one for my data. Can someone identify a way to partition hard drive on Surface Pro without obliterating the Windows 10 installation?
Recently, many users ask for help in Surface Pro hard drive management. Most of them report that it is difficult to partition hard drive on Surface Pro. Usually, people can easily partition a hard drive in Windows 10 using free built-in Disk Management tool on other Windows computer with no hassle. But it seems that Surface Pro is an exception. Please don't worry! Here is a solution. You can try a third-party partition magic tool as an alternative to partition Surface Pro hard drive. EaseUS partition tool is our recommendation. It is an all-in-one tool which enables you to view and manage the installed drives and partitions on the computer.
Steps to Partition Hard Drive on Surface Pro in Windows 10
Coming with various flexible and advanced features, EaseUS partition tool is your best choice to partition Surface Pro hard drive. It can also help you handle many other disk-related tasks such as create, delete, format, copy, merge, split and resize a partition on your Surface Pro. As a professional partition software. It nearly satisfies all the demands of the users and is convenient for the users, so the users widely use it. Now you can follow the guide below to partition hard drive on Surface Pro as you desired easily.
 Notice:

If you want to create a partition on an empty USB, SD card or external hard drive, connect it to your PC in advance.
Step 1: Launch EaseUS Partition Master
On the main window, right-click on the unallocated space on your hard drive or external storage device and select "Create".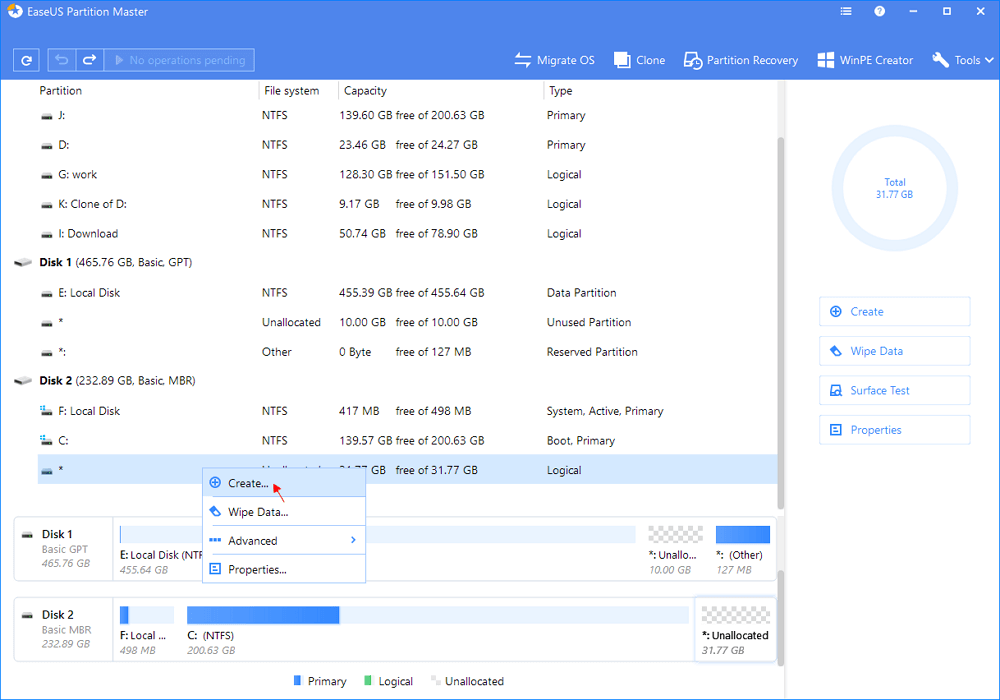 Step 2: Adjust the new partition size, file system, label, etc.
Set the size, partition label, drive letter, file system, etc. for the new partition and click "OK" to continue.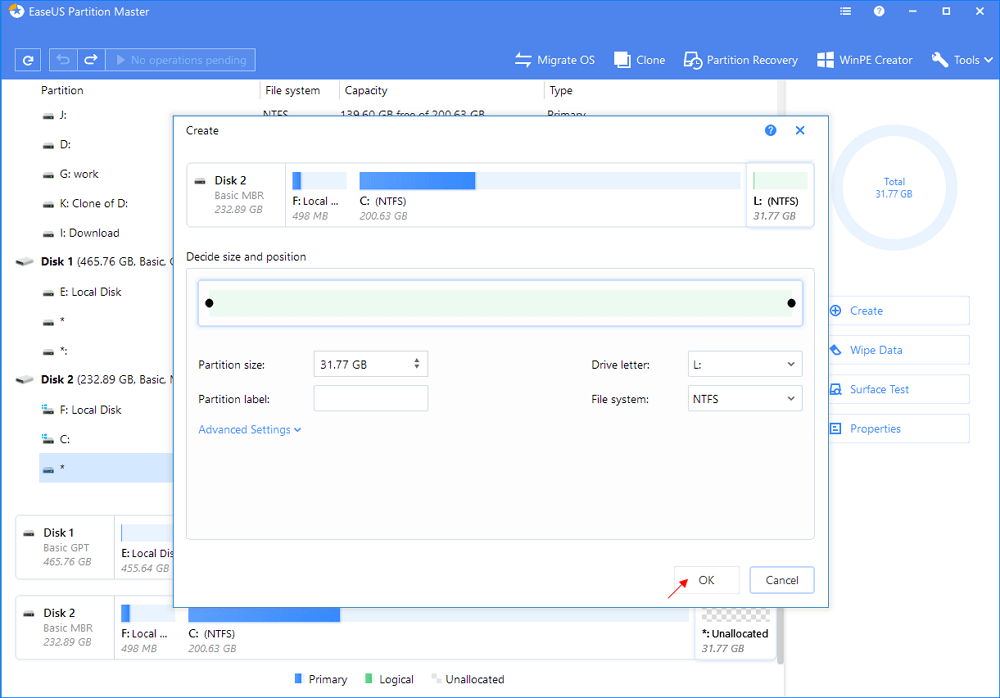 Step 3: Confirm to create a new partition