Why you need OS migration software?
The hard drive of my dell laptop is too old to work normally. So recently I bought a new hard drive to replace it for a better performance. But here a problem comes to me. That is how I can transfer system to new hard drive without reinstalling system and programs?
Many users encounter such a problem when they trying to upgrade system disk to a newer or larger one. But don't worry! A reliable OS migration software can help you solve this problem with ease. Why? Let's talk about it!
As we know, there are two ways to change old hard drive to a new one. The first way is to re-install Windows system and all the programs on the new hard drive. But most users don't want to choose this method because it is really a little bit complicated. And the second way is much easier, you just need to copy or clone system partition from old hard drive to new drive. But to achieve this goal, you have to use an OS migration software.
How to transfer Windows system with EaseUS OS migration software
To ensure that you can successfully transfer Windows system without data loss, you need to find a reliable OS migration software. But which one is the best? Here we recommend you EaseUS partition magic software. The program is an all-in-one disk partition management tool. With a copy partition wizard which can help you migrate OS to SSD/HDD, it usually used by people as a migration software during hard drive upgrade, data migration.
1.Launch EaseUS partition software and click "Migrate OS to HDD/SSD".
2.Select the SSD or HDD you want to use as the destination disk.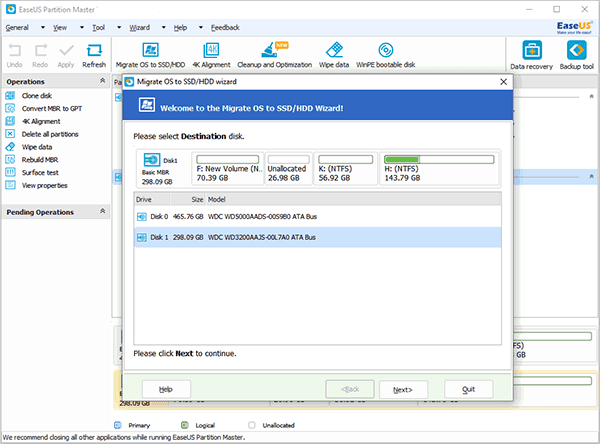 3.Delete partitions on the destination disk. If you have some data on the disk, do remember to backup them before the operation.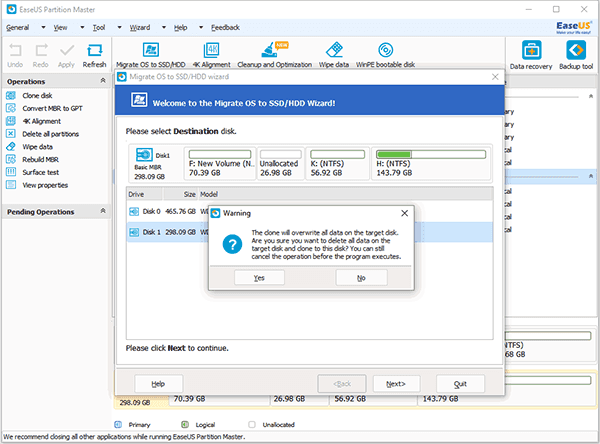 4.Resize or adjust partition size. If you do not adjust the partition size, the system will keep the original partition size by default.
5. Click Finish when the destination disk information is displayed.
You can even preview the result on the left panel "Pending Operations" and if it is right, then click "Apply". Tick the "Shut down the computer after changes are applied."