Lexar is a manufacturer that produces the world's best USB flash drives, and you may find that friends and colleagues around you are using Lexar products. One thing should be noticed. The extensive use of USB flash disks including Lexar will somewhat cause headaches, and that's why you must find a powerful Lexar USB format tool to help reanimate the corrupted, damaged or broken drive to its best state.
What Problems Can Lexar USB Format Tool Fix & Repair?
So, what exactly can Lexar Jumpdrive USB format tool repair? Following are some of the irritating situations that we can remind of. Actually, those examples are far away from what Lexar USB format tool can help troubleshoot.
Lexar USB flash disk doesn't show full capacity in disk utility;
Windows was unable to complete the format Lexar USB flash drive;
Lexar USB flash drive is not formatted, do you want to format it now;
Can't delete partition or copy files, because Lexar USB flash drive is write-protected;
Lexar USB flash drive is not working, detected or recognized in Windows 10/8.1/8/7/XP/Vista.
How to Format Lexar USB Flash Disk with Best Free Lexar Jumpdrive USB Format Tool?
Now it's time to unveil EaseUS Partition Master, the recommended Lexar Jumpdrive USB format utility that is available to free download for every Lexar jump drive, USB flash drive, HDD, SSD and memory card user.
EaseUS free partition manager is selected as the best Lexar USB format software due to its ability to format SD card to its full capacity, fix Lexar USB drive can't format in Windows, format write-protected USB flash drive, pen drive and SD card, format Lexar drive when USB disk storage format tool failed to format the device and more.
Detailed guide to format Lexar USB flash drives, memory cards, HDD & SSD
Download and install EaseUS Partition Master on your Windows PC, and make sure the Lexar drive has been correctly connected to your computer. Launch the Lexar USB format software.
Step 1. Right-click on the Lexar USB flash drives, memory cards, HDD or SSD you're going to format, and select "Format partition" from the multiple disk managing options.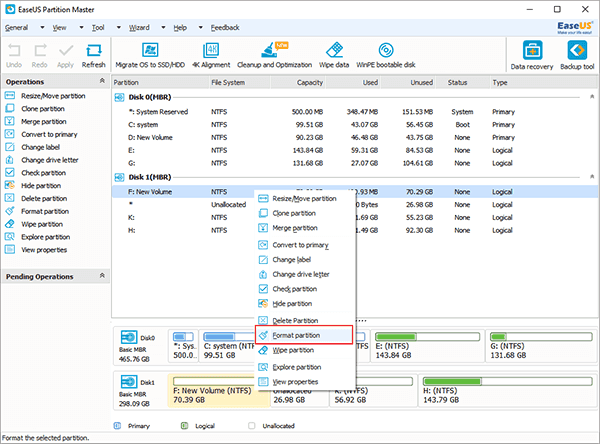 Step 2. On the format partition window, type a partition label like "backup", "work" or "a username" to make the partition be easier to recognize by yourself.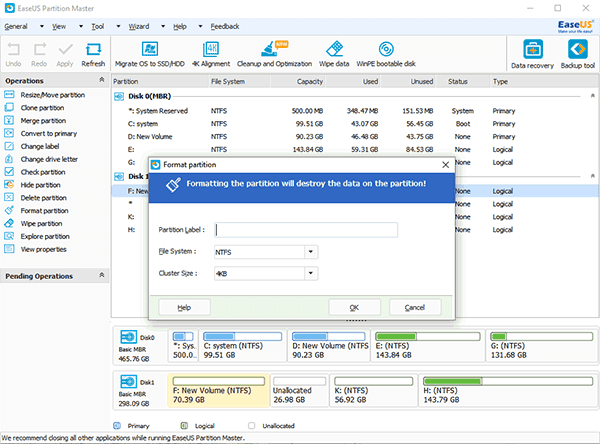 Step 3. Select a file system type to be created from the "File System" drop-down list like NTFS, FAT32, EXT2 and EXT3. If you are formatting a Lexar drive of which the volume size is beyond 32GB, don't use FAT32 file system.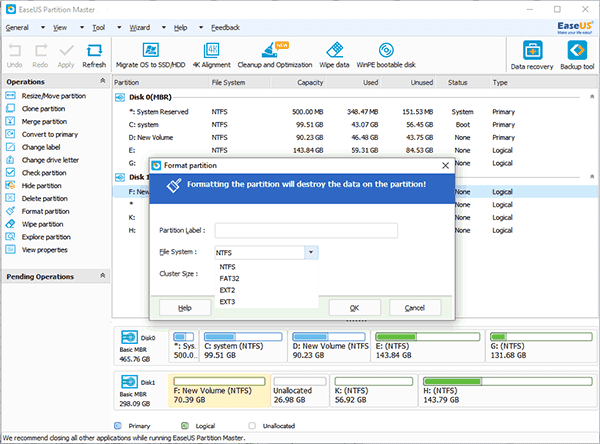 Step 4. Choose the Cluster Size (512 bytes, 1, 2, 4...64KB) from the drop-down list. Smaller cluster size makes less waste of disk space. Click "OK".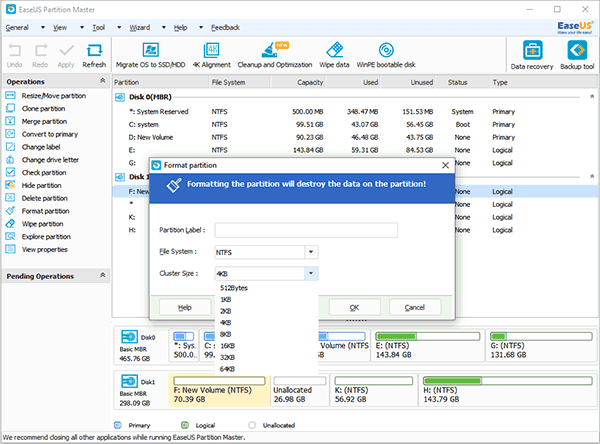 Step 5. Click "Apply" to confirm the operation of formatting your Lexar USB flash drive, memory card, HDD or SSD.