"How do I change the size of the three partitions on my hard drive? My 750GB hard drive has three partitions: C, D, E, and 75GB of unallocated space, in that order left to right. I need to increase partition size of my C drive and make minor adjustments to the D and E partitions. I just custom loaded Windows 10. Thanks!"
This is a real case which comes from social.technet.microsoft.com forum. How to increase partition size in Windows 10? As we know, Windows 10 built-in Disk Management has the ability to extend and shrink volume.
According to the customer's description, she/he needs to shrink partition D and E, and then increase partition size of the C drive. There is no problem to use Windows 10 built-in Disk Management to shrink volume D and E. After shrinking volume D and E, the Extend volume option is grayed out, how to add the disk space from partition D and E to partition C? Because of this, EaseUS Partition Master was released, it can easily move disk space from partition D and E to partition C, and then increase partition size of C drive.
Increase partition size with EaseUS Partition Master in Windows 10
Although Windows Vista/Windows 7/Windows 8/Windows 10 allows users to extend or shrink the partition with the built-in disk manager, there are too many limitations. Upon recommendations from many computer users, the best way to resize partition without losing data is to use the reliable third-party free partition resizing software - EaseUS Partition Master Free.
1. Launch EaseUS Partition Master. As the picture shown below, there is no unallocated space to extend the system partition. So firstly, you have to decrease one of the partitions to gain the unallocated space.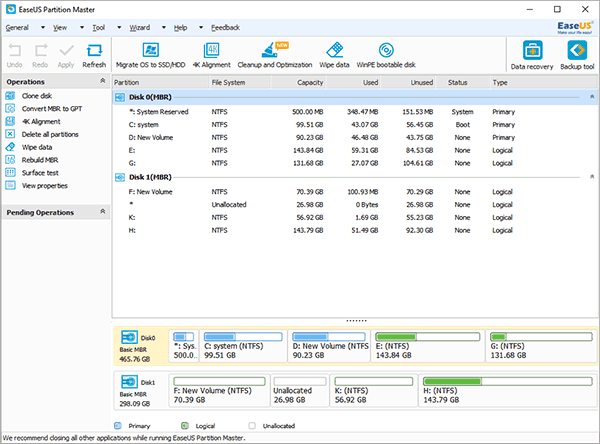 2. Select one partition and decrease it by clicking "Resize/Move partition" and then move it to let the unallocated space be behind the system partition.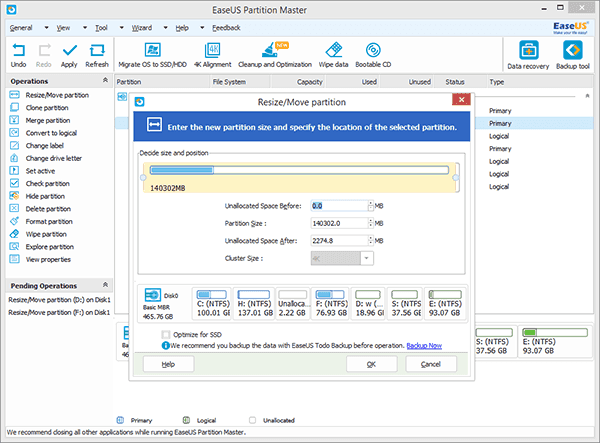 3. Then select the system partition (C: drive), right click it and select "Resize/Move partition" to extend the C: drive.
4. Click Apply.
Apart from basic and advanced partition manager features, EaseUS Partition Master, an all-in-one disk management solution, also provides powerful partition recovery wizard to recover deleted or lost partition and Copy Wizard other than handling partition management issues like extend system partition, resize/move partition, split/merge partition(s) and so on as partition manager.