MicroSD Card Not Showing Full Capacity
Hi, experts, I had a problem with my 4GB external sd card here. It was bought days ago without much use so far. However, when I plug it into my Windows 10 computer and try to do something, it shows as a drive with only 1GB capacity left. I feel certain that this SD card is not showing its full capacity, and I need to know how to full format SD card and restore SD card full capacity?
Two steps should fix SD card not showing the correct capacity issue. First, perform a low-level format on the sd card, and then reformat the card so as to regain the full 4GB capacity. If your MicroSD card manufacturer hasn't provided a sd card format software to do this, you can use a free sd card management utility called EaseUS Partition Master.
Restore SD card Full Size with Help of SD Card Formatting Tool
If your SD card with 4GB capacity suddenly turns to 1GB or less, then you need the method to make a brand new sd card, so it can be properly used on Android phone, digital camera and some other media players once more.
Note that formatting will erase all data on the sd card, so it's highly recommended to make a backup in advance. We assume that your memory card hasn't been used too much, just cut and paste the small amount of data to somewhere safe. Next, you need EaseUS free partition manager to handle the sd card.
Download and install EaseUS Partition Master on your Windows 10/8.1/8/7/XP/Vista, and correctly connect the problematic sd card to the computer with a sd card reader. Launch the program, and follow the steps to format sd card and restore its full size.
Step 1. Right-click the sd card partition showing in EaseUS Partition Master, and choose "Format partition".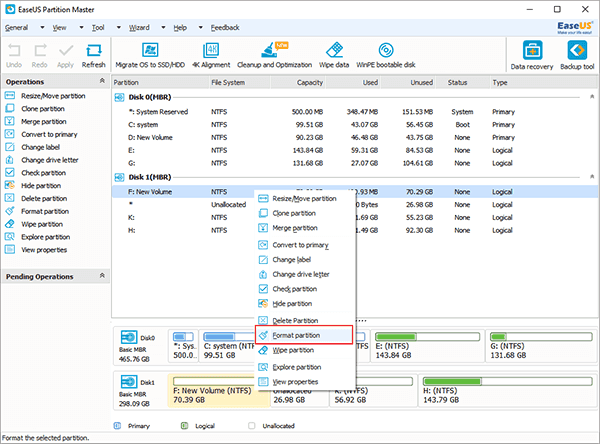 Step 2. A mini window pops out, where you can edit information on the sd card partition by adding a partition label, selecting an NTFS, FAT32, EXT2, EXT3 file system and a cluster size. Click "OK".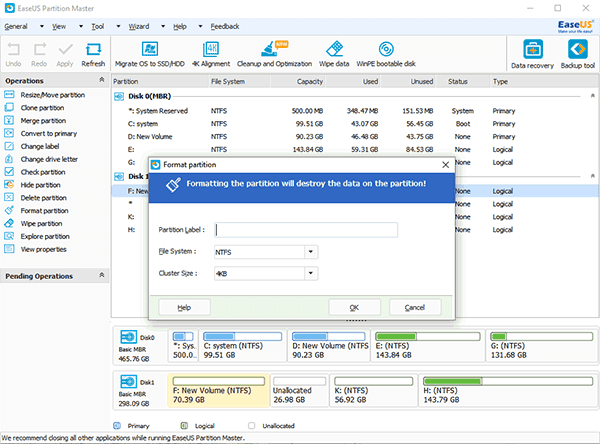 Step 3. Click "Apply" to execute all the changes you made.