Installing Windows 10 new apps to external storage devices becomes available
Have you updated to Threshold 2, the first big Windows 10 update in November? Well, hurry up if still not, because it's worth doing. Among the multiple prominent newly added features, I have to mention one which is very useful and helpful for stuffed computers, of which the system performance has largely lagged behind. As most Windows 10 users know, we can't save new applications and programs to other hard drive partitions except the default location of C drive, or system drive in another word earlier when we first upgrade Windows 7/8/8.1 to Windows 10. However, things get different this time. You can install Windows 10 apps to external drive, USB drive, SD card and other disk partitions now after updating.
How to change new apps default location of c drive to others
Earlier the new apps storage location is set by default to system drive, which occupies a considerate amount of c drive space. As a result, c drive is out of space, causing serious system and computer running problems. So it's undeniable that the availability of saving newly downloaded applications and programs to the other hard disk partitions or some removable storage devices will be of great significance.
Steps to change default location for Windows 10 new apps
1. Go to Settings > System;
2. On the left panel, find Storage option and click in;
3. Scroll down and in the second part "Save locations" you'll find "New apps will save to". This option once was grayed out, and you can only save the apps to This PC (C:). Now you can change C drive to other disk partitions like D: E: F: or plug in your external drive, USB drive, SD card and some other devices. After that, the change will be automatically done by Windows 10.
Additional information: how to move old apps on C drive to somewhere else?
The advanced setting mentioned above is only applicable for new apps installation. However, what if you desperately want to free up c drive space since it has been stuffed by system files and old applications and programs? In fact, moving the old apps is not the only way out, on the contrary, extending the drive by using EaseUS free partition manager.
How to effectively free up c drive in a safe way?
Before resizing c drive, you can also have a c drive backup by using EaseUS Partition Master Free to ensure a completely safe operation first. Learn how to copy a partition.
Steps for increasing C drive
Step 1. Launch EaseUS Partition Master. Select D: drive, right click D: and select "Resize/Move partition".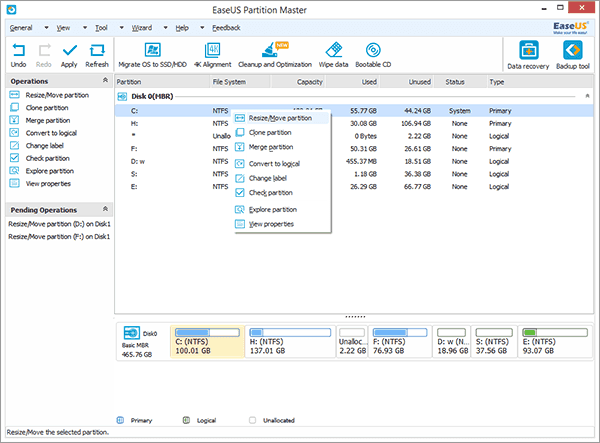 Step 2. Locate the mouse pointer on the left partition handle to shrink D: drive.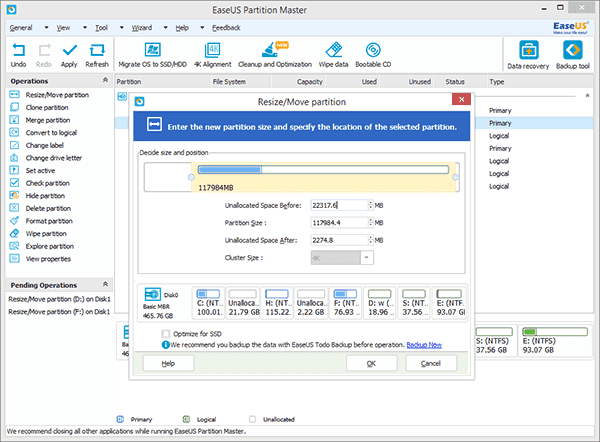 Step 3. Click "OK". Then there is unallocated space on the right side of C: drive.
Step 4. Repeat the steps above and position the mouse pointer on the right handle of C: drive to extend it.
Step 5. Click "Apply".
If there is unallocated space right beside C:, you can just start with step 4 and have a quick c drive increasing.