What should I do if EaseUS Partition Master hangs up while resizing/moving the partition
Symptoms:
After resizing/moving the partition, EaseUS Partition Master hangs up like this: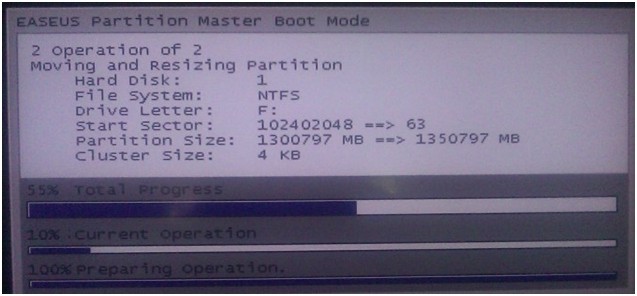 Solutions:
There are two ways for you to confirm whether EaseUS Partition Master hangs up.
You can check whether the number (partition size) is changing.
You can check whether the indicator light of the hard disk which you operated is flashing.
If so, with the type of issue, we suggest you continue to wait. The resize/move process takes a little longer under the circumstance of bad sectors/track, large data size, low memory, etc.
If not, we suggest you reboot your computer directly. If you cannot reboot your computer successfully, we recommend you use windows installation disc to repair your system at first. If that cannot fix the trouble, we suggest you connect the troubled disk to a healthy computer to recover the lost data. If you can access the original partitions, we suggest you copy the data to a safe location and then reinstall Windows.
How to avoid EaseUS Partition Master hangs up when repartitioning?
Please run CHKDSK/R and Defragment on the involved partitions before using EaseUS Partition Master. (Right-click the partitions of the original disk, and then click Properties > Tools. Choose Error-checking > Check Now. Choose both options and click Start to continue. Choose 'Defragmentation' and then click 'Defragment'.)
Please close all the other applications including the antivirus software and the firewall to ensure that our program can work smoothly.
If there is much data on the involved partitions, the resizing will take longer. In this case, we suggest you apply the operations separately.
Please retain 5~10% free space of the partition which you operate on.
Please disconnect your external device from running our product if you don't repartition it.
Back up your computer before repartition for the data security.