Generally, the SanDisk products like USB flash drives, pen drives, memory cards and SSDs are pre-formatted by the manufacturer so that you can use those storage devices in an instant. However, at times you might need to do a reformat of your SanDisk products in various circumstances. For example, you purchased an additional hard disk to expand the storage of your computer, then you have to format it before it can run functionally in your computer; Or perhaps some USB storages or SD cards are preformatted with FAT32, but now it requires to convert FAT32 to NTFS.
Why do in many cases hard disks and other storage media need formatting? Let's say formatting a SanDisk Solid State Drive. If you want to insert the drive into a computer while Windows stores information on it, you will firstly do a format to configure the drive with a file system. What's more, you have a USB external drive which comes with NTFS file system format, however, you want to use it on a PlayStation which demands a FAT32 USB format. Obviously, you have to do the format.
You may be interested in a powerful Sandisk repair tool when having trouble in use it properly.
Best Free SanDisk Format Utility for SanDisk USB Flash Drives, SanDisk Memory Cards, SanDisk SSDs
There are many attemptable ways to format a SanDisk storage media, and the best among all is to free download a third-party format tool. EaseUS Partition Master, as you've heard of, has served in the market for over a decade and cooperates with SanDisk storage devices as the same years. It's definitely the best hard drive, USB flash drive, and memory cards format software for every SanDisk customers. It's easy-to-use and requires no technical background at all. But do remember to backup the important data in advance before doing the format, because formatting will remove all data on it.
Download free partition manager and install it correctly on your Windows computer (Windows 10/8.1/8/7/XP/Vista is supported). Make sure your SanDisk storage device is connected and recognized by the computer. Now launch EaseUS Partition Master to get started.
Step 1. Right-click the partition you want to format and choose "Format partition".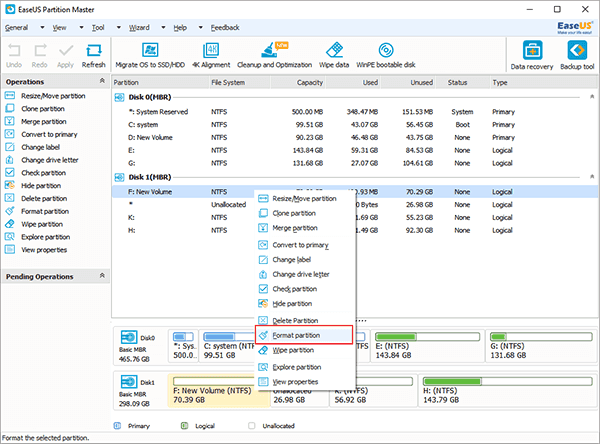 Step 2. Add a label in the Partition Label box (optional) and select the file system type to be created from the "File System" drop-down list. (FAT/FAT32, NTFS, EXT2/EXT3). If the partition is larger than 4GB, you can only choose FAT32, NTFS or EXT2/EXT3; and if the partition is smaller than 4GB, you can choose FAT, FAT32, NTFS or EXT2/EXT3.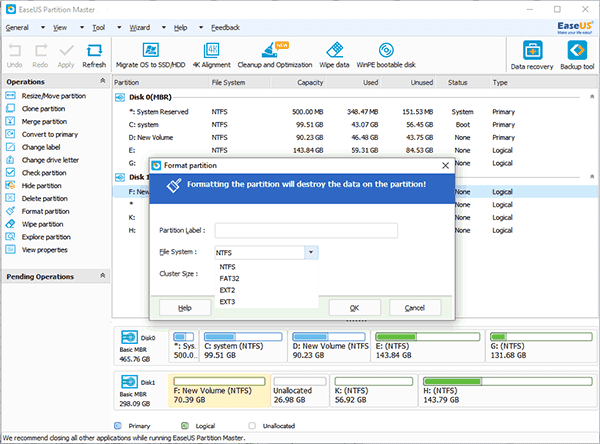 Step 3. Choose the Cluster Size (512 bytes, 1, 2, 4...64KB) from drop-down list and click "OK" to apply the format operation.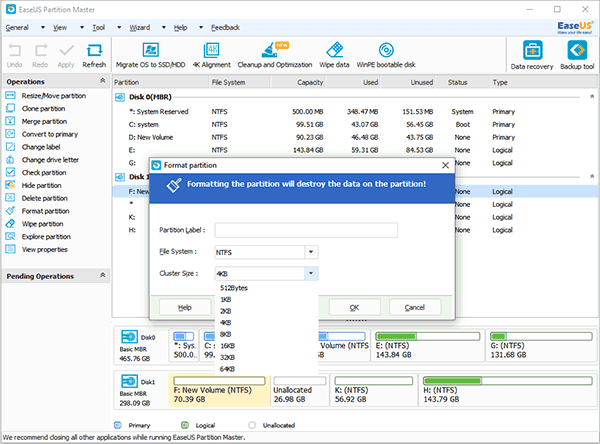 Note: Smaller cluster size makes less wasting of disk space. The smaller cluster size is, the bigger file allocation table (FAT) will be. The bigger the FAT is, the slower the operation system works with the disk.
Step 4. Click "Apply" to confirm all pending operations.