SanDisk iXpand Flash Drive Format
Only format SanDisk iXpand USB flash drive to the FAT32 file system can you use it properly on iPhone. That's why many iXpand users are confused when their iPhone was unable to read or recognize the iXpand drive, even it's new. Therefore, when you find the iXpand is not working on iPhone, and the computer says iXpand unsupported format error, do not hesitate to format your drive right now.
How to Format 16GB/64GB/128GB SanDisk iXpand USB Flash Drive?
You can simply use the built-in Windows Disk Management or a third-party free SanDisk format tool to format the iXpand drive to the desired file system. Here on this page, we highly recommend EaseUS free partition manager software. Instead of built-in Windows format program, this third-party application comes with more powerful and advanced formatting features. What's more, it offers additional iXpand management features, such as resize partitions by extending or shrinking, copy partition so as to backup files, or create any new partitions on the drive.
Tip: formatting iXpand drive will erase all data on it. Make sure that all important files in the drive have been transferred to a safe place.
Now let's follow the guide below to easily format SanDisk iXpand flash drive to FAT32 without any hassle.
Step 1. Download & install EaseUS Partition Master on your Windows computer.
Step 2. Plug the iXpand flash drive into the computer. Wait until Windows recognizes it and assigns a drive letter to it.
Step 3. Launch EaseUS Partition Master. On the disk map, right-click the external drive partition that represents your SanDisk iXpand USB flash drive. Choose "Format Partition" option.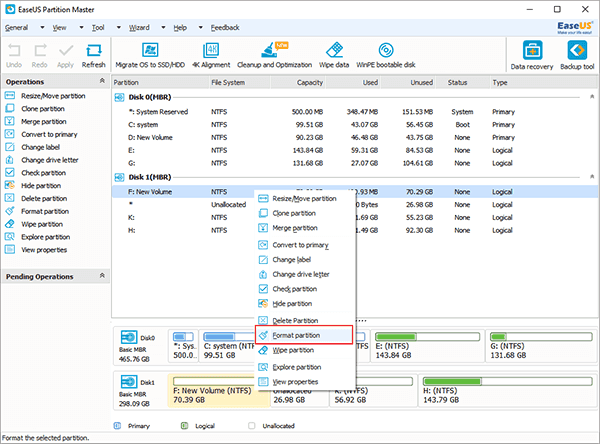 Step 4. Type the label you want in the Partition Label box.
Step 5. From the "File System" drop-down list (FAT/FAT32, NTFS, EXT2/EXT3), choose FAT32.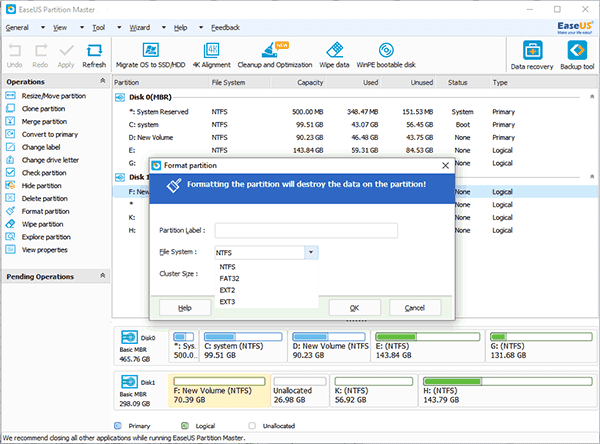 Step 6. Choose the Cluster Size (512 bytes, 1, 2, 4...64KB) from the drop-down list.
Step 7. Click OK if you choose the right file system for the iXpand flash drive. To execute the operation, click "Apply".