How can I format SD card for Raspberry Pi?
"Anyone have success to format Raspberry Pi SD card? I am using a regular SanDisk 64GB microSD card to boot into my raspberry pi 3. But now it doesn't boot with NOOBS after I formatted it with Windows formatting tool. I think the problem might be that there is no option to format the 64GB card with FAT32, only exFAT. Is there any way that I can use to format Raspberry Pi SD card without booting problems?"
Like the above case, it is quite possible for you to run into some problems when you formatting and use an SD card with a capacity of over 32GB with Raspberry Pi. The reason for this is that many SD cards format tool will format cards below 32GB as FAT32, and cards that are above 32GB as exFAT (which is not supported by Raspberry Pi) by default. Then how can you successfully format Raspberry Pi SD card? Fortunately, there is still third-party professional SD card format tool that allows you to do this job using a minimal number of steps.
How to format Raspberry Pi SD card with EaseUS partition tool
EaseUS partition tool is a safe, efficient and easy-to-use partition software that you can rely on to format Raspberry Pi SD card. It allows you to easily format SD card into FAT, FAT32, NTFS or EXT2/EXT3 in your case. Then you can completely use it to format your SD card of larger capacities with a format supported by the Raspberry Pi. Here is the detailed guide.
Step 1. Connect Raspberry Pi SD card to your computer. Launch EaseUS partition tool, select and right-click the disk you want to format and choose "Format partition" by right-clicking the mouse.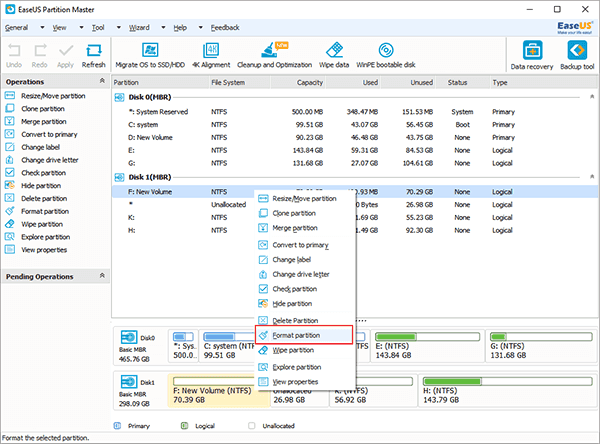 Step 2. Configure the label you want in the Partition Label box.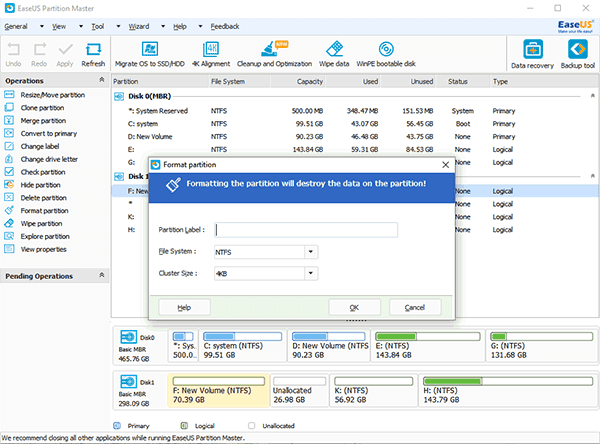 Step 3. Select the file system type to be created from the "File System" drop-down list. (FAT/FAT32, NTFS, EXT2/EXT3). If the partition is larger than 4GB, you can only choose FAT32, NTFS or EXT2/EXT3; and if the partition is smaller than 4GB, you can choose FAT, FAT32, NTFS or EXT2/EXT3.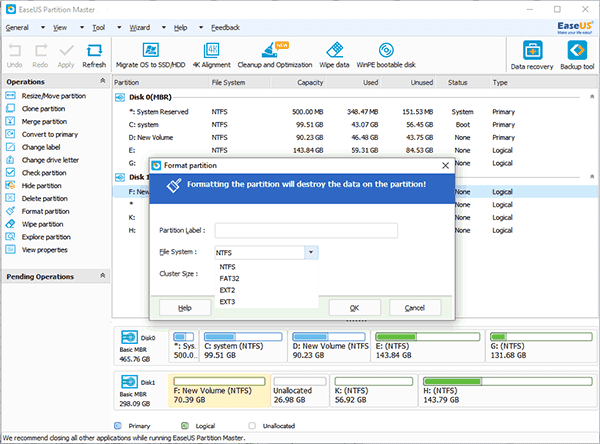 Step 4. Choose the Cluster Size (512 bytes, 1, 2, 4...64KB) from the drop-down list and click "OK" to apply the format operation.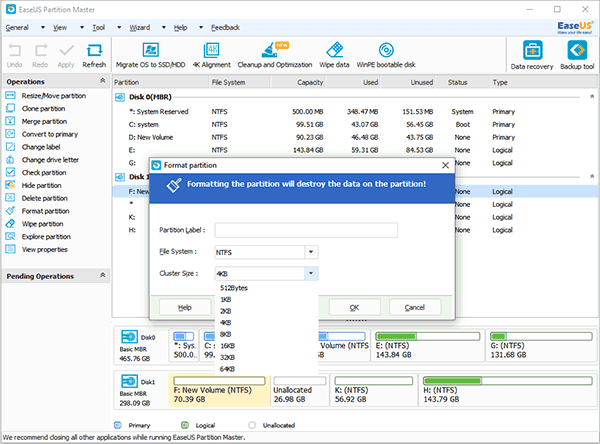 Note: Smaller cluster size makes less wasting of disk space. The smaller cluster size is, the bigger file allocation table (FAT) will be. The bigger the FAT is, the slower the operating system works with the disk.
Step 5. Click "Apply" to format Raspberry Pi SD card.
Finish all the above steps, you can successfully format Raspberry Pi SD card with ease. This solution can be also used to format USB flash drive and other storage media. Just try it whenever you need. Good luck!