Problem: Windows 10 keeps rebooting and the computer has a reboot loop, help!
"Updated Windows 10 yesterday and this morning I logged in, then the computer boot with a blue screen, telling me that it needs to restart. Then I restarted it, a problem came out. The computer stuck in a reboot circle, no blue screen, no auto recovery, no end..."
"My computer keeps warning me with an error INTERNAL_POWER_ERROR and it stuck in an endless reboot loop."
"After getting Windows 10 installed, my computer keeps restarting after I reboot it. How can I fix this error?"
Quite a lot Windows 10 users reply that their computer is all stuck in an endless reboot bug after updating Windows 10. Every time when they try to boot PC, the computer would keep rebooting. So how to fix such a problem? Relax. Here below we'll offer you two effective methods to solve Windows 10 reboot error and help you out of PC reboot loop.
Method 1. Remove bad registry entry to fix Windows 10 reboot loop
Method 2. Reboot Windows 10 from bootable disk, fix internal error and solve reboot loop
Let's see how to get rid of Windows 10 reboot loop or bug from the computer and enjoy a healthy Windows system now.
Method 1. Remove bad registry entry to fix Windows 10 endless reboot loop
When Windows registry entry gets damaged or become bad, Windows system will not be able to be loaded properly. Then an endless reboot loop might occur. This problem will also appear after Windows 10 system update. Therefore, you can remove all bad registry entries from your PC so to fix the Windows 10 reboot loop:
Note: Before you try this method, here is one more thing that you may want to understand. Removing all bad registry entries on your PC may remove and delete important files on your PC. So please think twice before trying this method.
If you've lost files after trying this method, please let professional data recovery software help. If you need a more secure method, please try Method 2.
Type: regedit in Start > Go to: HKEY_LOCAL_MACHINE\SOFTWARE\Microsoft\Windows NT\CurrentVersion\ProfileList;
Backup your registry key in case of any unexpected error (with ProfileList highlighted, click File and Export and choose a backup name);
Scan through the ProfileList IDs and delete any with ProfileImagePath found in it as it shouldn't be there;
Close regedit, reboot and the Windows 10 reboot loop error will be removed.
After all these steps, you computer will be able to reboot normally without any problems anymore. And you can then enjoy the new Windows 10 features now.
Method 2. Reboot Windows 10 from bootable disk and fix internal error
Solve Windows 10 endless restart/reboot bug by professional partition manager software
Another alternative method to fix the internal error and solve endless reboot loop or bug in Windows 10 is to reboot Windows 10 from a bootable disk with healthy Windows 10 system and scan & fix system and disk errors. How? Professional partition manager software - EaseUS Partition Master will help to fix this issue on your PC with simple steps. Free download this software and follow steps to get rid of Windows reboot loop from your computer with ease now.
Step 1. Create a WinPE bootable disk
To create a WinPE bootable disk, you need a new and healthy Windows 10 PC which can boot normally. Then follow steps to create a new bootable disk for your Windows PC.
1. Launch EaseUS Partition Master. Click Tool and choose "Create WinPE bootable disk".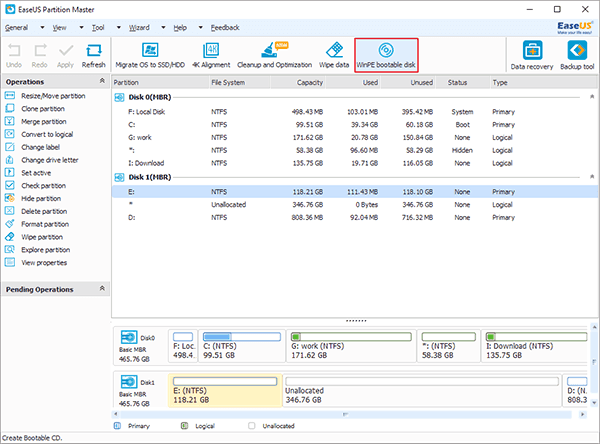 2. Then you can choose to create the bootable disk on USB, CD/DVD or Export ISO.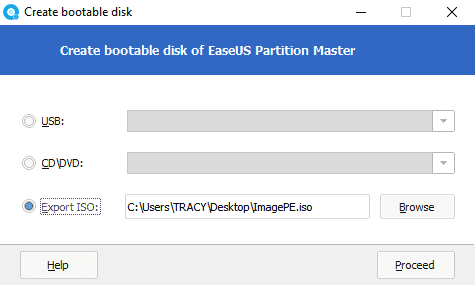 3. Click "Proceed" to finish all process.
Step 2. Reboot Windows 10 from bootable disk
1. Connect the bootable disk USB drive or SD card with computer and select to boot from the disk;
2. Select to enter EaseUS Partition Master, there you can directly perform a disk or partition copy operation so to copy partition data into a new storage device; (Do remember to connect another new drive or storage device with PC.)
Then your computer will be boot normally, but internal system error or disk may still exist in your PC. You need to follow step 3 to check and fix system boot error with EaseUS Partition Master.
Step 3. Check and fix Windows 10 system internal error and disk and get rid of reboot loop in Windows 10 PC
1. Launch EaseUS Partition Master and right-click the partition that you want to check by clicking "Check partition".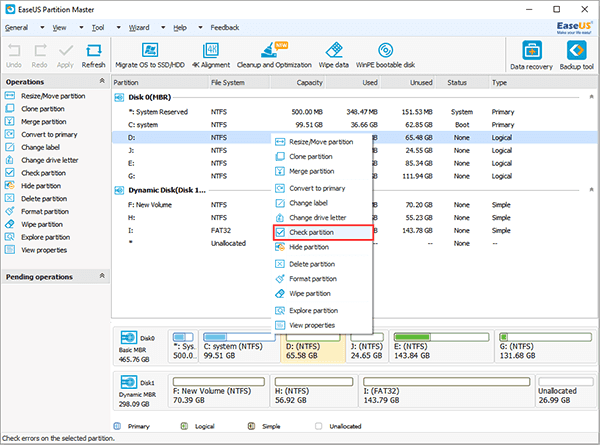 2. Choose the way that you want to use to check partition: Check Partition Properties, Call Windows Chkdsk to fix errors, Surface Test.
Click OK.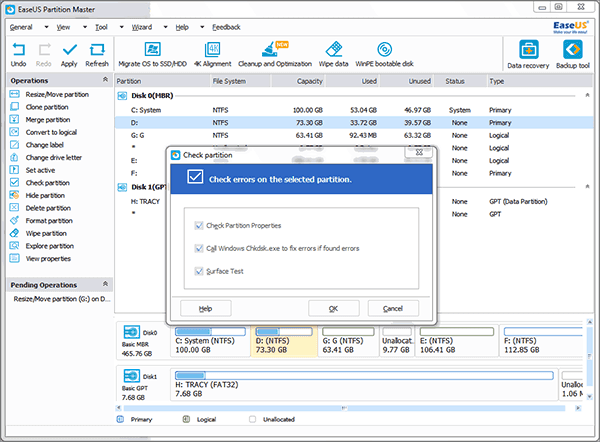 3. Let EaseUS Partition Master automatically check hard disk partition errors and repair errors for you. Click OK to finish the process.