Cannot boot your computer anymore after installing Windows 10 anniversary update? Get stuck in the boot or stuck on startup while you are trying to boot Windows 10? If you are facing with a computer stuck with Windows 10 freezes & crashes at startup after installing anniversary update issue, you may follow below-offered solutions to fix this problem on your own now.
PAGE CONTENT:
Solution 1. Reboot PC with Windows 10 bootable disk
Solution 2. Remove apps that lock Windows from booting
Solution 3. Change startup field value for the appXsvc registry entry
Solution 4. Enable HIPM and DIPM
If you prefer a simple and effective method, Solution 1 and Solution 2 shall help. Let's see the exact solutions, and you may choose the most suitable one to fix your problem with Windows 10 freeze and crash at startup error now.
Solution 1. Reboot PC with Windows 10 Bootable Disk
This method requires you to have a bootable disk with Windows 10 anniversary update ISO image on it. You can apply EaseUS Partition Master to create a bootable disk with a normal computer which installs anniversary update of Windows 10. Then you can boot your PC without any problems:
Create a WinPE bootable disk with another good computer.
Step 1: Prepare a disc or drive
To create a bootable disk of EaseUS Partition Master, you should prepare a storage media, like a USB drive, flash drive or a CD/DVD disc. Correctly connect the drive to your computer.
Launch EaseUS Partition Master, go to the "WinPE Creator" feature on the top. Click on it.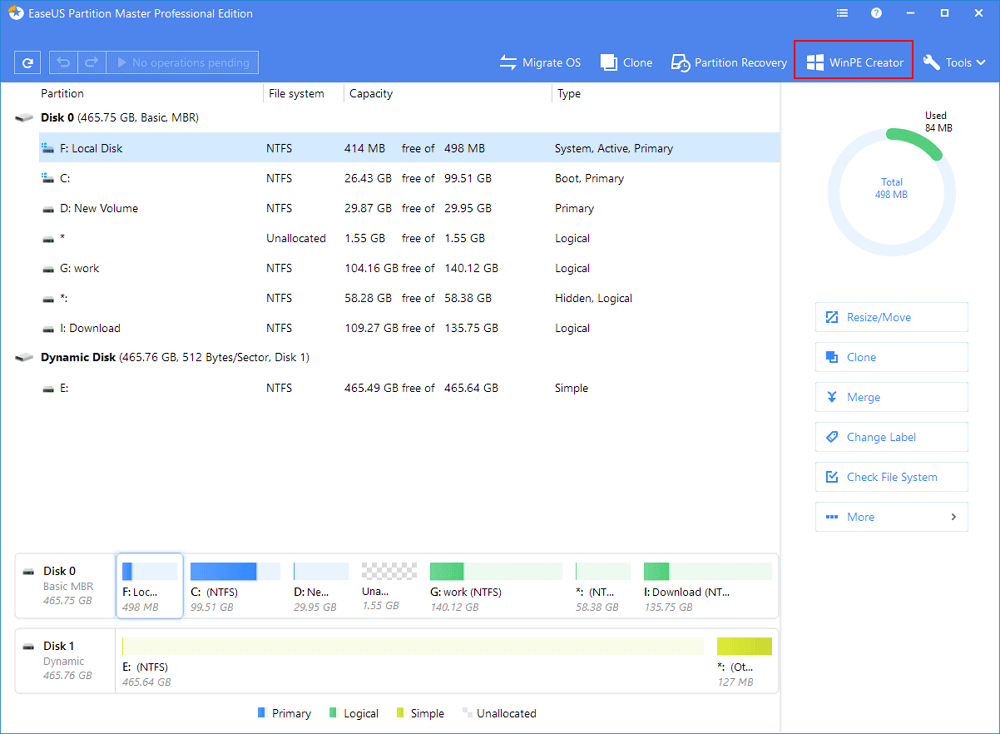 Step 2: Create EaseUS Partition Master bootable drive
You have created an EaseUS Partition Master WinPE bootable disk now. You can manage your hard disks and partitions through the bootable drive whenever the computer fails to boot normally.
If you have RAID drives, load the RAID driver first by clicking Add Driver from the menu bar, which can help you add the driver of your device under WinPE environment, as some specific device cannot be recognized under WinPE environment without drivers installed, such as RAID or some specific hard disk.
Connect the bootable disk with your computer and reboot it;
Select to boot from EaseUS Partition Master bootable disk;
Follow the on-screen guidance, and you'll get your computer to boot up then.
Solution 2. Remove Apps That Lock Windows from Booting
If you are using SSD as a boot drive for Windows 10 and set HDD as a storage drive for apps, this may lead to system freeze and crash. The best way is to remove the apps in system C:/ drive.
Solution 3. Change Startup Field Value for the Appxsvc Registry Entry
Boot PC into safe mode;
Press Win + R, type: regedit and click OK;
In the left pane of Registry Editor, go to HKEY_LOCAL_MACHINE\SYSTEM\ControlSet001\Services\AppXSvc;
Double click on "Start" and change the value data to 4, click "OK";
Restart system and boot to normal mode.
Then you can restart the computer and enjoy Windows 10 without any problems.
Solution 4. Enable HIPM and DIPM
Do make sure that your drive supports HIPM and DIPM with a SATA connection to AHCI mode which is enabled in the BIOS.
Open Control Panel and click "Power Options";
Click on "Change plan settings" and then click "change advanced power settings" link;
Double click "+" icon to expand all items under hard disk option, change the setting of "AHCI Link Power Management - HIPM/DIPM" to "Active";
Click "Apply" and "OK".