How to find solutions to fix Windows 10 boot failure issue?
"Hi guys, do you know what to do when Windows 10 fails to boot? I recently found that my computer my failed to boot to Windows 10 sometimes without any signals or reports. And it even gets stuck while booting. Do you know how to fix such a problem? Or do you have any suggestions to solve this case so to prevent other more problems? Any solutions that can help to solve this issue are all welcomed."
EaseUS software will provide you 3 effective solutions to fix this problem:
Note: All these operations should be done when Windows 10 is working properly. Please do be careful while following these provided solutions and fix system boot failure error in Windows 10 PC now.
Let's see what you can do and what to do when Windows 10 having boot failure issues:
Solution 1. Boot Windows 10 into safe mode
There are two methods that you can set Windows 10 to boot in safe mode: advanced startup and system configuration utility. Follow next methods to see how to boot Windows 10 in safe mode now:
Method 1. Open safe mode in advanced mode
1. Go to Settings > Update & security > Recovery > Advanced Startup > Restart now.
2. Your PC will automatically boot into another Startup Settings screen, press F4 to initiate the reboot into Safe Mode. You may also press F5 to boot into Safe Mode with networking.
Method 2. Boot into safe mode with system configuration utility
1. Right-click Start button and choose Run, type msconfig in the Start > Run box and hit Enter.
2. Wait for System Configuration to launch and go to Boot > Boot options > Safe boot.
Select Minimal as the sub-option. You can also enable the Network if you need to connect network in Safe Mode.
3. Click OK or Apply. Restart your PC and then it will boot into Safe Mode now.
Solution 2. Extend system drive, check and fix/repair Windows 10 fails to boot error
There are two major reasons that Windows 10 may not be able to boot: one is low space in system drive, the other one is that errors happen to Windows 10. So how to fix these problems so to help you get rid of Windows 10 boot failure case successfully. Here we'd like to introduce you EaseUS Partition Master which can help you effortlessly extend system drive, check and fix errors in Windows 10 now.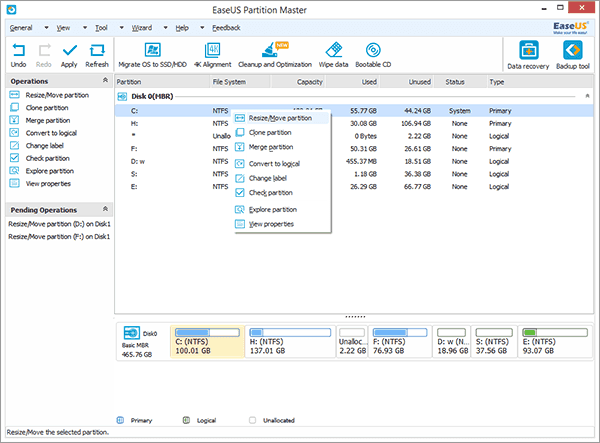 Step 1. Extend system drive or system reserved partition
1. Launch EaseUS Partition Master, drag partitions rightwards and leave unallocated space behind system drive or system reserved partition.
2. Right-click system drive or system reserved partition and choose "Resize/Move partition".
3. Drag the right handle of the system drive rightwards and then add free space to system drive or system reserved partition.
Click Apply.
Step 2. Check and fix Windows 10 boot error
1. Launch EaseUS Partition Master and right-click the partition that you want to check by clicking "Check partition".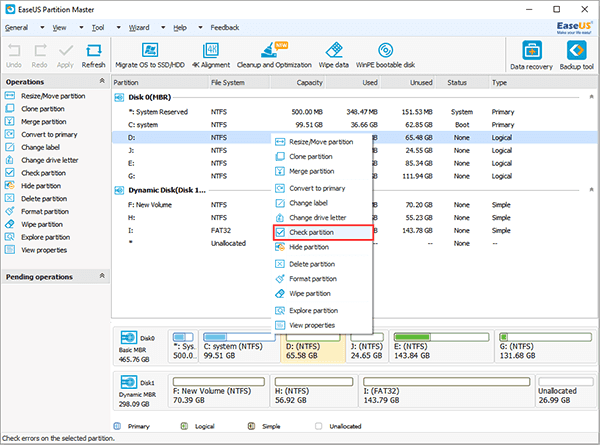 2. Choose the way that you want to use to check partition: Check Partition Properties, Call Windows Chkdsk to fix errors, Surface Test.
Click OK.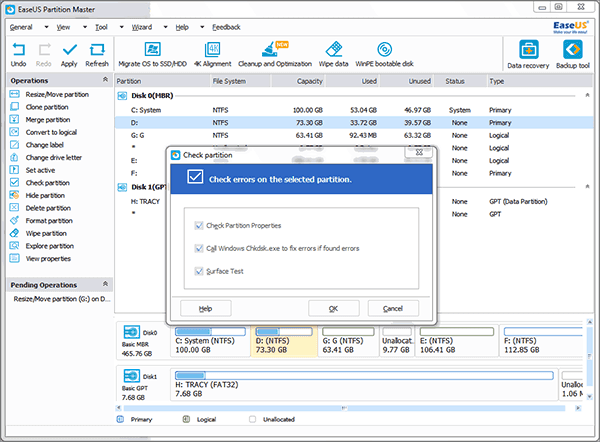 3. Let EaseUS Partition Master automatically check hard disk partition errors and repair errors for you. Click OK to finish the process.
Solution 3. Create WinPE bootable disk and resolve Windows 10 boot failure issue
This is a very useful method that you don't need to reinstall Windows 10 and all you need is to create a Windows 10 WinPE emergency bootable disk on your PC or external hard drive. When you cannot boot Windows 10 from PC, you can directly connect the bootable disk with PC and reboot it, then you'll get a health Windows 10 back again. Here below you'll see exact steps for how to create bootable disk:
1. Download and launch EaseUS Partition Master. Click Tool and choose "Create WinPE bootable disk".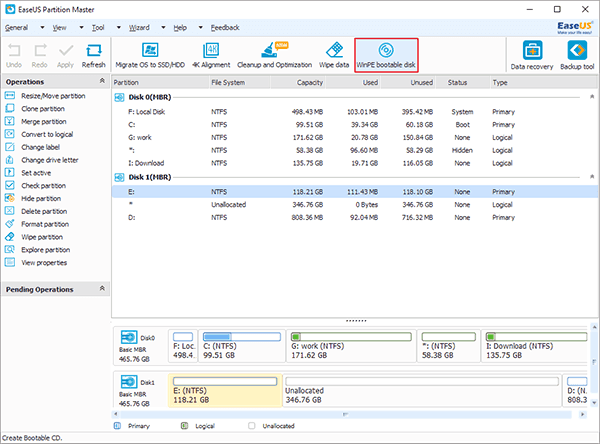 2. Then you can choose to create the bootable disk on USB, CD/DVD or Export ISO.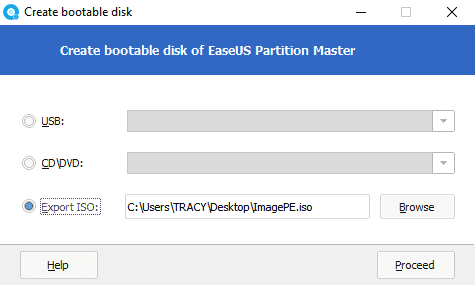 3. Click "Proceed" to finish all process.
After all these steps, you can restart PC and use it to boot Windows 10 smoothly then.