Why you need to solve low disk space in Windows 10?
Since I updating my computer to Windows 10, Windows 10 low disk warning appears every day. It reminds me that I have low disk space on my C drive (in fact no space at all). This message has annoyed me much, so I want to stop it from appearing. Is there any positive suggestion about how I can do this job?
You will receive a pop-out balloon warning from Windows system alerting you that your computer is running low, or is out of, disk space when a hard drive partition is low on free space in Windows 10. It is not only annoying but also has some disadvantages. Usually, when you meet this issue, the performance of your computer will be reduced dramatically, which would affect your working efficiency. And at the same time, you are not allowed to install or apply some programs. So it is important for you to fix Windows 10 low disk space as soon as possible.
Fix Windows 10 low disk space on C drive with EaseUS Partition software
The best way to fix Windows 10 low disk space is to extend the partition. Here you can do this hob using EaseUS partition software. The program is a powerful and easy-to-use disk management tool. It can help you deal with all disk-related job like extend system partition, copy, create, move, deleted, merge, split, format and resize partition without data loss. Now you can download this tool and try the following guide to extend C drive to solve low disk space problem in Windows 10.
Step 1. Download and launch EaseUS partition tool. Right-click the C: drive and choose "Resize/Move partition".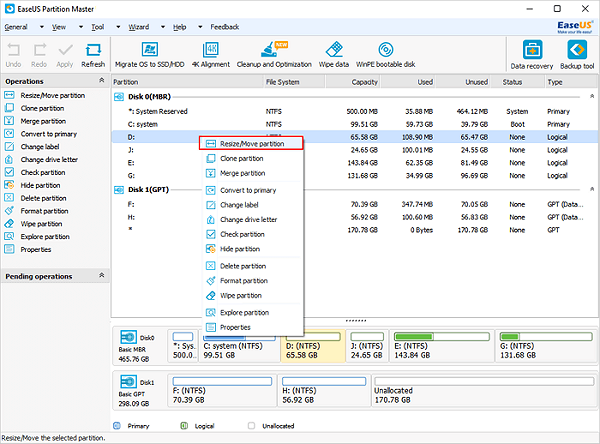 Step 2. Position the mouse pointer on the partition that you need resize and drag the handle to adjust its exact size.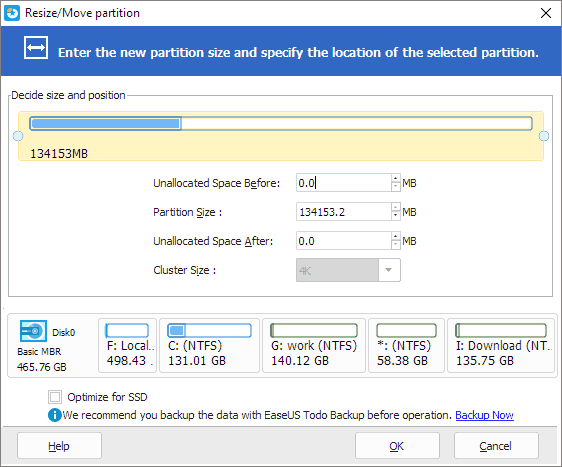 Tips: Sometimes the unallocated space is on the left of the partition you want to extend, just drag the left partition handle leftwards to the size you want.
Step 3. Click "Apply". You will have a bigger C: drive.