Too slow to execute Diskpart command clean all, how long does it take?
"Is it normal to spend one hour to remove SSD partitions and data by using diskpart command clean all? I'm still waiting, the process is too slow. What's worse, it seems that diskpart hangs there. Will you please help?"
Many errors related to diskpart commands would occur. For example, diskpart format stuck at 0 percent completed, failed to format or clean a USB stick due to dikspart has encountered an error access is denied. Among the common errors, the diskpart command clean all slow and stuck issue is also noticeable.
How to fix diskpart clean all on SSD, HDD or USB flash drive slow or stuck?
There are many factors that would bring the trouble, and make you feel worried and impatient, such as virus and corruption. Since the capacity of users' hard drives is from several GBs to TBs, just give it more time, the clean all command can take a considerable time to complete. If you can't wait anymore, or diskpart clean all got stuck at a certain percentage of completion, simply give up the attempt at once.
So, how are you going to fix the slow or stuck issue efficiently? Take a diskpart alternative solution, which is EaseUS Partition Master, a third-party free partition manager software.
#1. How can EaseUS Partition Master help?
The diskpart command clean all is used to delete all partitions and erase data on the selected disk drive, which can be perfectly replaced by the wipe partition feature in EaseUS Partition Master. Only with a totally different experience in cleaning. Using the software won't take long.
#2. How to wipe partition on SSD, HDD or flash disk?
Step 1. Right-click on the hard disk you want to clean all partitions and data on it, and select "Wipe data".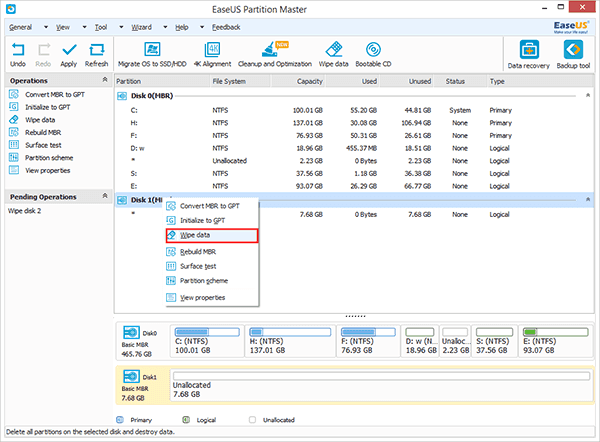 Step 2. Set the number of times to wipe the hard disk. You can set to 10 at most.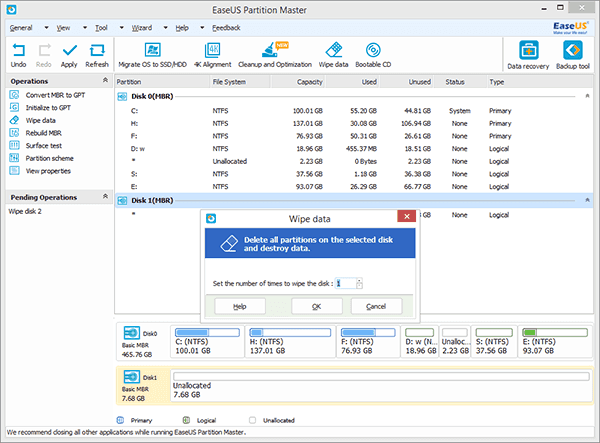 Step 3. Click "OK". If the hard disk contains system partition, your system will fail to boot after wiping the disk.
Step 4. A dialog box will pop up as "A computer restart after disk erase is recommended".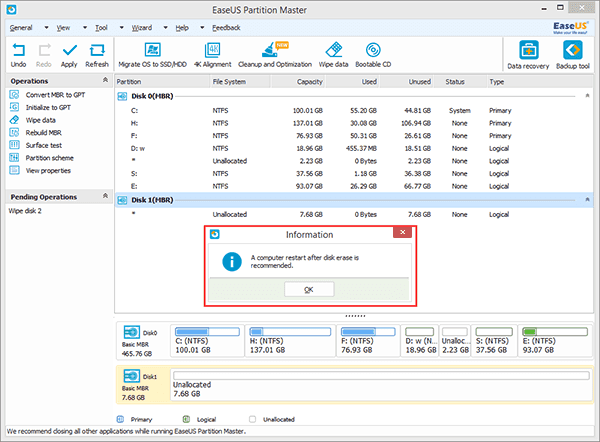 Step 5. Click "OK". You will see the wiped hard disk becomes unallocated space on the disk map.
Step 6. Click "Apply" to apply the changes.
Your worry will be immediately reduced after trying to clean all partitions and data with EaseUS Partition Master. This is the fastest way to wipe everything on a disk drive.