Extend Volume Option Is Greyed Out in Windows 7/8/10
This page explains why is the "Extend Volume" option greyed out on Windows 10/8/7 and offers practical solutions to help you get rid of this issue so as to extend, resize partitions with ease.
Why Is "Extend Volume" Option Greyed Out
Some of you probably had the experience that Windows Disk Management works faultlessly in managing hard drive volumes at times, however, sometimes it does not.
One of the commonly seen problems is that the "Extend Volume" option greyed out. For the case of unavailability of extending a volume or a partition, we've figured out why you can't extend a volume by using disk management in Windows 10/8/7, etc.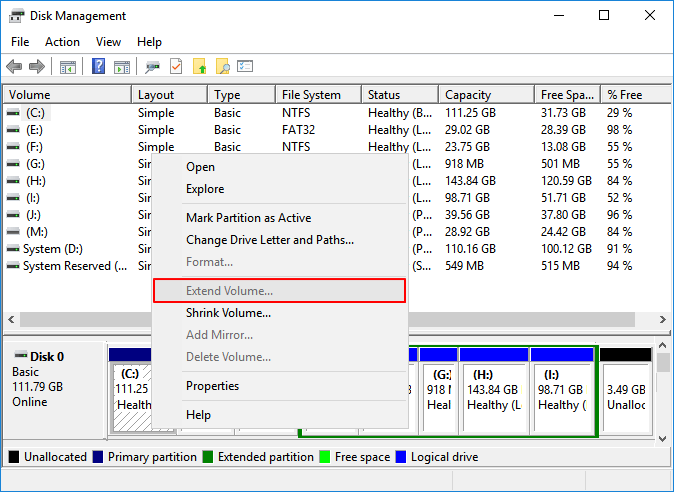 To troubleshoot the extend volume greyed out the issue, check out the causes first. The following are major causes that preventing you from extending partitions in Windows Disk Management.
1. No unallocated space on your computer hard drive.
2. The unallocated space is not behind the partition you want to extend.
3. The target partition file system is not supported or not recognized by Windows, such as FAT, EXT partitions.
Windows Disk Management (including Windows 10/8.1/8/7) only works to create, extend, and shrink an NTFS partition. 
4. There is no unallocated space or no contiguous unallocated space behind the volume on the Dynamic disk.
Method 1. Extend Partition Even When "Extend Volume" Greyed Out
Applies to: Directly extend a partition with unallocated even when the Extend Volume option is greyed out in Disk Management. 
When the "Extend Volume" option is greyed out, you may have a problem to increase or enlarge a partition by using Windows Disk Managemen. But it's not the end of this story. In this part, you will uncover three practical solutions to directly increase your partition size.
Here, we find you a perfect free alternative. EaseUS Partition Master Free helps resize partition without any hassle. 
This partition manager can extend system partition, primary partition, FAT partition, NTFS partition without any obstacle even when there is no unallocated space on your computer.
Follow the steps below and learn how to increase a partition when there is no unallocated space or continuous space behind. We'll take extend C drive as an example to show you the complete process:
Step 1. Shrink partition to free up space to extend partition.
If the hard drive has enough unallocated space to extend the target partition, jump to Step 2, and continue. If not, free up space first:
Right-click on a partition next to the target partition and select "Resize/Move".
Drag the partition ends to free up space, leaving enough unallocated space behind the target partition, click "OK".
Step 2. Extend target partition.
Right-click on the target partition and select "Resize/Move".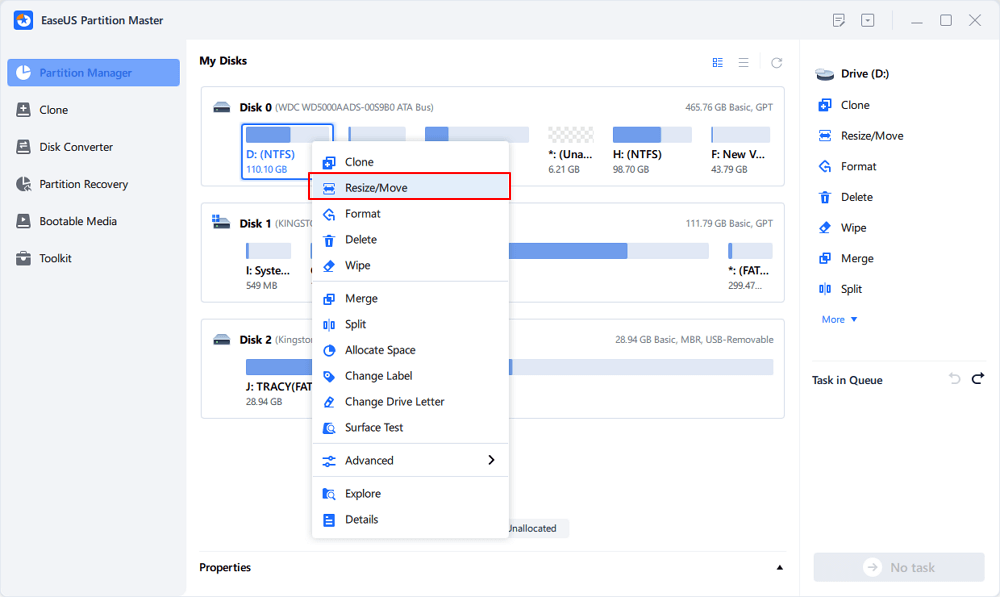 Drag the target partition handle into the unallocated space to extend partition.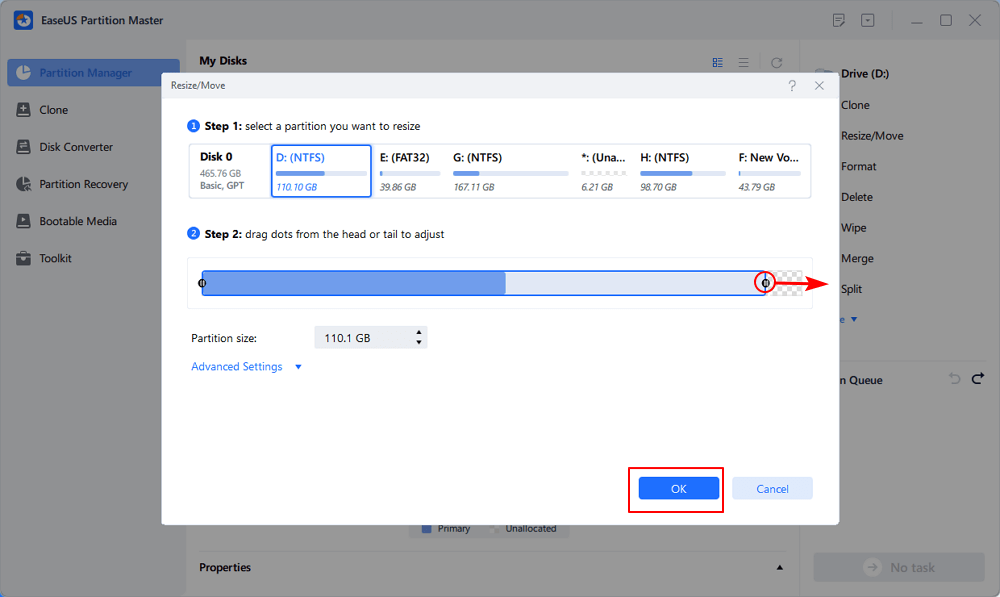 Step 3. Keep all changes.
Click the "Execute Operation" button and click "Apply" to keep all changes.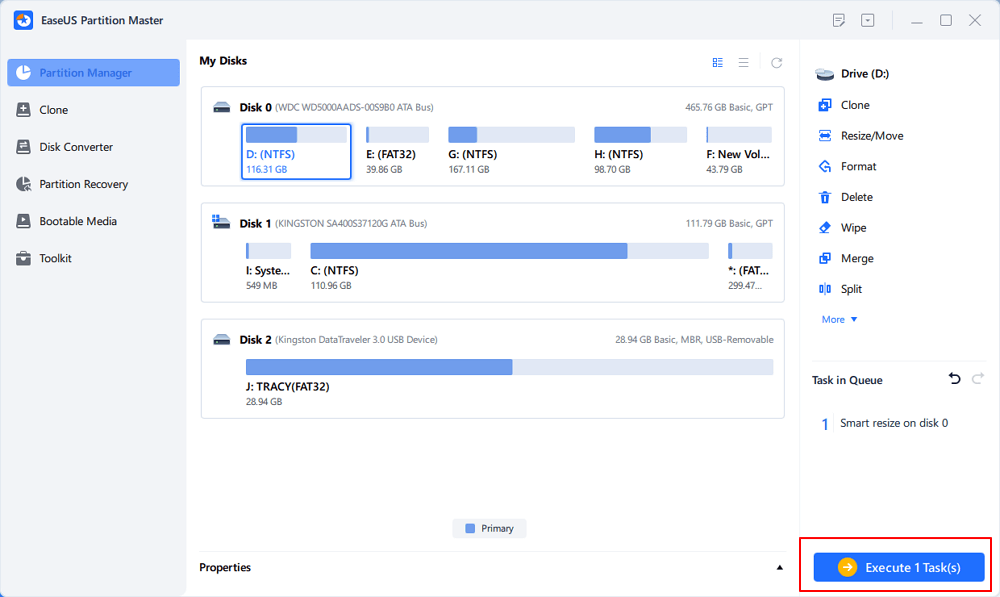 This video guide covers all cases that relate to extending partition. Follow this video guide to solve your problem.
Method 2. Extend Volume with Disk Management Alternative
Apples to: Increase partition size without unallocated even though "extend volume" greyed out on the computer using Disk Management alternative. 
EaseUS Partition Master is a perfect Windows Disk Management alternative tool. If there is no unallocated space at all on your computer, and you don't want to delete a volume or manually shrink an adjacent partition, let EaseUS Partition Master Professional help.
You can flexibly move free space from one partition to your target partition with its Allocate Space feature using this software. No data loss nor complex operations.
Follow the steps here to extend volume without using Disk Management:
Step 1. Locate the Target Partition
To start extending partition, you should first locate the target partition and select "Resize/Move".
Step 2. Extend the Target Partition
Drag the partition panel rightward or leftward to add unallocated space into your current partition and click "OK" to confirm.
Extra Option: Get Space from Another Drive
If there is not enough unallocated space on your disk, right-click on a big partition with enough free space, select "Allocate space ".
Then select the target partition that you want to extend at the allocate space to column.
Step 3. Execute Operations to Extend Partition.
Drag the dots of the target partition into the unallocated space and click "OK".
Then Click the "Execute Operation" button and click "Apply" to keep all the changes. 
Method 3. Manually Extend Partition using Disk Management
Applies to: Make "Extend Volume" available and increase partition size in Disk Management by deleting or shrinking volume.
The other way that works to fix the "Extend Volume" not available error on Windows computer is using Disk Management to delete or shrining a neighbor partition.
Step 1. Open Disk Management by right-clicking "This PC" or "My Computer" >"Manage" > "Disk Management".
Step 2. Create an unallocated space behind the target volume.
If the partition behind your target volume is not empty but contains large free space, right-click on it and select "Shrink Volume" so as to free up a certain amount of space.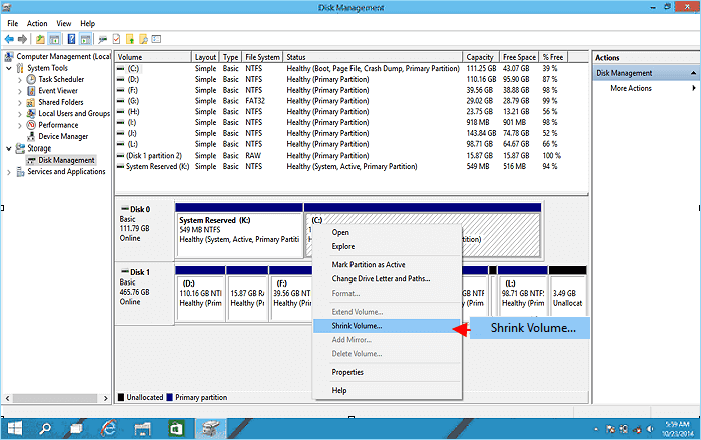 If the partition behind your target volume is empty, right-click on the partition and select "Delete Volume", click "OK" to confirm.
Step 3. Extend the target partition by right-clicking on it and select "Extend Volume".
The "Extend Volume" option should be able to work by now.
Step 4. Follow the onscreen instructions and finish the extending partition process.
Method 4. Make "Extend Volume" Available by Formatting Unsupported Partition
Applies to: Make the Extend Volume option available in Disk Management by formatting unsupported partition to a compatible format.
If your computer volume displays as RAW, FAT, EXT, exFAT, Windows Disk Management won't work on them. Extending or shrinking volume options will not be available.
The best way to thoroughly resolve this issue is to format your target volume to a recognizable file system, such as NTFS. Here we'll use EaseUS Partition Master Free to help you out. It will detect and format all unsupported file system to a recognizable one for Windows PC:
Step 1. Right-click the hard drive partition and choose the "Format" option.
Step 2. In the new window, set the Partition label, File system, and Cluster size for the partition, then click "OK".
Step 3. You can see a warning window, click "OK" to continue.
Step 4. Click the "Execute Operation" button in the top-left corner, then click "Apply" to start formatting the hard drive partition.
After this, you can retry to extend the target volume using Disk Management again. If Disk Management doesn't work, revert to Method 1 or Method 2 and apply EaseUS Partition Master for help. It won't let you down.
Conclusion
On this page, we covered 4 practical methods to help you resolve the "Extend Volume" greyed out issue on Windows 10/8/7. No matter what causes this issue, you can all easily increase a partition size with or without unallocated space using EaseUS Partition Master.
If you prefer a manual way, Disk Management with Method 3 will help. Note that the provided solutions also work to fix extend volume greyed out issue on Windows Server 2016/2012, etc.
No matter what reason stops you from extending partition, apply the four methods on this page to help yourself out.
Updated by Tracy King 
Tracy joined in EaseUS in 2013 and has been working with EaseUS content team for over 7 years. Being enthusiastic in computing and technology, she writes tech how-to articles and share technical solutions about Windows & Mac data recovery, file/system backup and recovery, partition management and iOS/Android data recovery.

Author Jean has been writing tech articles since she was graduated from university. She has been part of the EaseUS team for over 5 years. Her special focuses are data recovery, disk partitioning, data space optimization, data backup and Mac OS. By the way, she's an aviation fan!
I love that the changes you make with EaseUS Partition Master Free aren't immediately applied to the disks. It makes it way easier to play out what will happen after you've made all the changes. I also think the overall look and feel of EaseUS Partition Master Free makes whatever you're doing with your computer's partitions easy.

 Read More

Partition Master Free can Resize, Move, Merge, Migrate, and Copy disks or partitions; convert to local, change label, defragment, check and explore partition; and much more. A premium upgrade adds free tech support and the ability to resize dynamic volumes.

 Read More

It won't hot image your drives or align them, but since it's coupled with a partition manager, it allows you do perform many tasks at once, instead of just cloning drives. You can move partitions around, resize them, defragment, and more, along with the other tools you'd expect from a cloning tool.

 Read More
About EaseUS Partition Master
All-round disk & partition management software for personal and commercial use. Let it manage your storage drive: resize, format, delete, clone, convert, etc.
Video Tutorial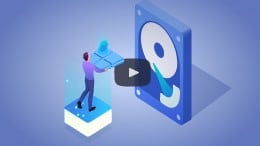 How to Partititon a Hard Drive on Windows 10/8/7
Was This Page Helpful
How Can We Help You
Find answers to common questions below.