Some of you probably had the experience. Windows Disk Management works faultlessly in managing hard drive volumes at times, however, sometimes does not. One of the common seen problems is that "Extend Volume" option is greyed out. For the case of unavailability of extending a volume or a partition, we've figured out why you can't extend volume by using Windows 10, Windows 8 and Windows 7 disk management tool and how to troubleshoot the issue with ease.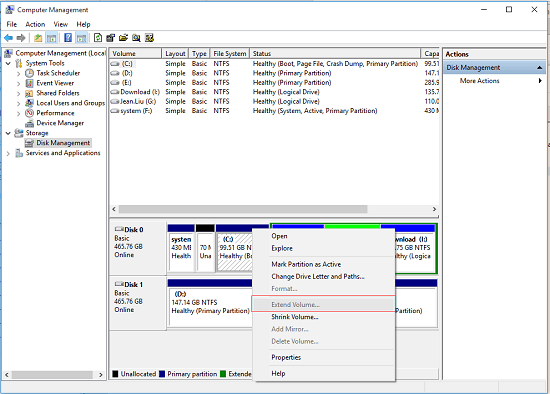 Why is "Extend Volume" option greyed out?
The following three major reasons are responsible for the case of not being able to extend volume in Windows Disk Management.
1. There is no unallocated space on your computer hard drive. Or even if there is such free space, it's not next to the partition you want to extend.
2. The target partition is a FAT partition. Windows Disk Management (including Windows 10/8.1/8/7) only works on NTFS partitions.
3. The partition needs enlarging is about a primary partition or a system partition that contains crucial boot files.
Solution: Windows Disk Management alternative makes "Extend Volume" available
Seeing that the issues discussed above can't be solved by Windows Disk Management, here we find you a free alternative. EaseUS Partition Master helps resize partition without any hassle. This free partition manager can extend system partition, primary partition, FAT partition, NTFS partition... Following are solutions for how to increase a partition when there is no unallocated space or the space is not continuous with EaseUS Partition Master Free. Let's choose C drive as the target partition and give an example.
1. Launch EaseUS Partition Master.
* If there is no unallocated space behind the target partition, please follow the guide step by step. If there is unallocated space on hard disk, just drag the space showing in white next to the C drive, and please directly go to step 5.
2. Right click D: and select "Resize/Move partition".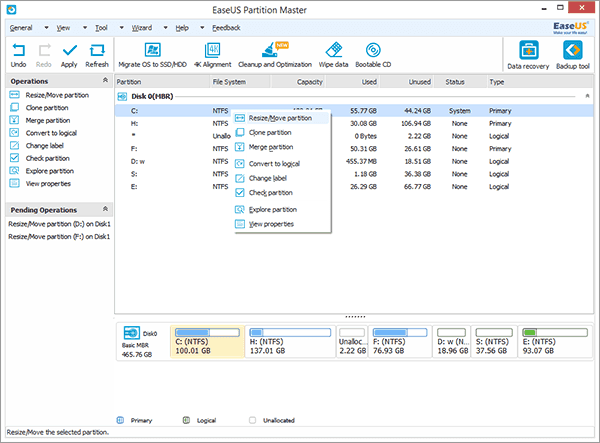 3. Position the mouse pointer on the left partition handle to shrink D: drive.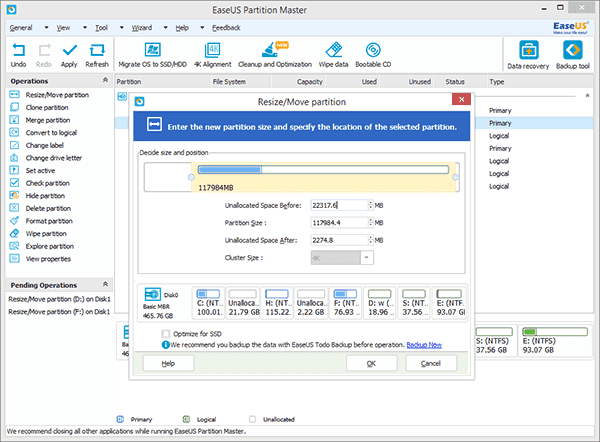 4. Click OK. Then there is unallocated space on the right side of C: drive.
5. Repeat step 2 and 3. Position the mouse pointer on the right handle of C: drive to extend it.
6. Click Apply.