What is GPT and why need to extend/enlarge GPT disk partition
How to extend/enlarge GPT disk partition? Before answering this question, we would like to introduce GPT disk partition and why we need to extend/enlarge GPT disk partition first.
GPT is the abbreviation of GUID Partition Table. It is a disk partitioning scheme parallels with the widespread MBR partitioning scheme, while MBR imposes limitations on the use of newer hardware, Intel, therefore, developed a new partition-table format in the late 1990s as part of what eventually became UEFI. The GPT as of 2010 forms a subset of the UEFI specification.
Why do we need to extend/enlarge GPT disk partition? Here is a scenario - you may think a 20 or 40 GB for a system or data partition is big enough when first partitioning the hard disk, but after a while, the daily usage of applications may eat up these space. And therefore, to upgrade a hard drive by using a reliable partition manager software to extend/enlarge the disk partition can be a cost-effective solution.
This case may happen both on MBR disk partition and a GPT disk partition. EaseUS Partition Master, as GPT partition manager, supports GPT disk partitioning, initialize hard disk as GPT disk, manage/resize/move GPT partition, copy GPT partition, wipe and recover GPT disk partition data etc. Of course, it's a good choice to extend/enlarge GPT disk partition.
How to extend/enlarge GPT disk partition with EaseUS Partition Master
The Windows built-in disk management provides limited features for GPT disk partition management and it's not simple to resize GPT partition. The third party free GPT partition manager software - EaseUS Partition Master, on the other hand, works perfectly to extend/enlarge GPT disk partition.
Step 1: Download EaseUS Partition Master and install it. After that, launch EaseUS Partition Master. Right click the partition, choose "Resize/Move".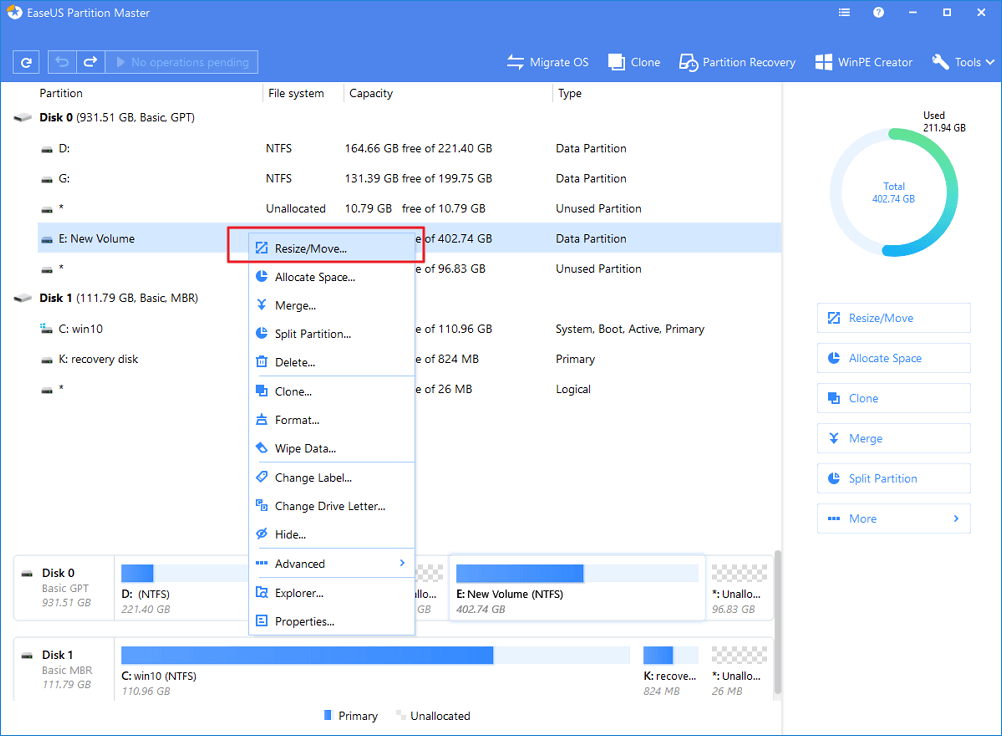 Step 2: Drag the partition to resize the drive.
If there is unallocated space right after the GPT disk partition which you want to extend/enlarge, you may point your mouse on the right board and drag it toward the right side to the size you prefer; if there is no unallocated space adjacent, you can first shrink the adjacent GPT disk partition to crave space for it, and then do as the above said.
Step 3: Apply the pending operation to resize the GPT partition.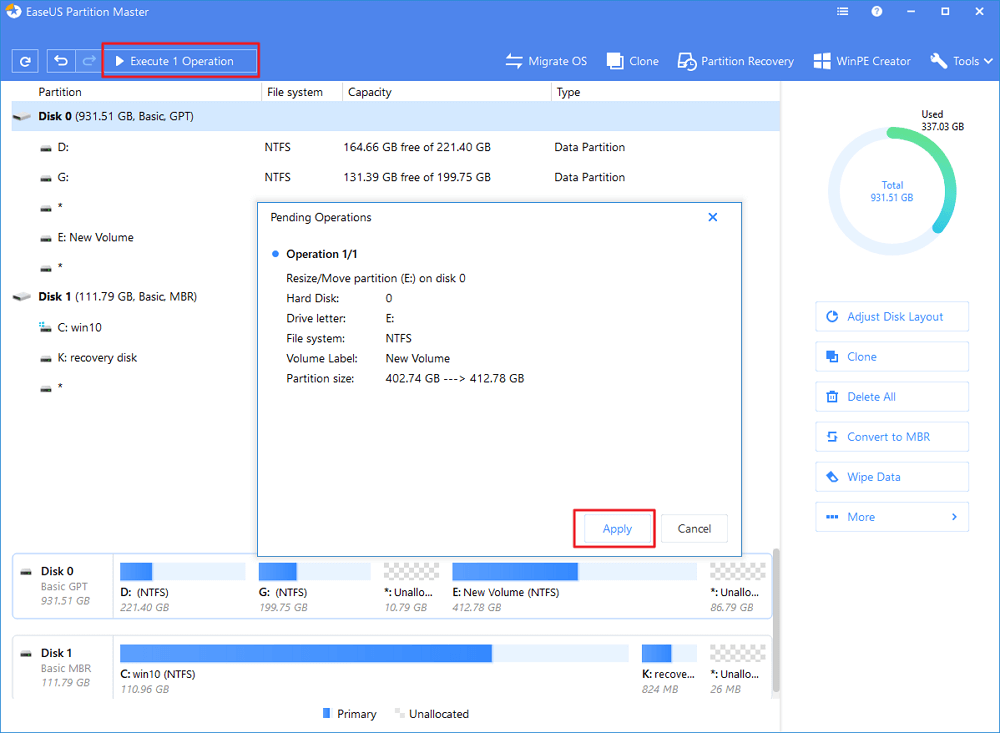 Other features in EaseUS Partition Master
EaseUS Partition Master, as leading MBR disk partition manager and GPT disk partition manager solution, other than handling partition management issues such as extend/enlarge MBR and GPT disk partition, resize/move partition, split/merge partition(s) and so on. This partition manager also provides powerful partition recovery wizard to recover deleted or lost partition. Copy feature which can do MBR disk partition copy and GPT disk partition copy.