Error Details
"Trying to use the command prompt to format an external hard drive, it's a WD My Passport which I bought a year ago. When comes to the stage DISKPART> format fs=ntfs, after taking a long time, it shows 0 percent completed. What's going on there?"
Through command prompt, by running as administrator, Windows users can easily manage their many types of disk storage devices with diskpart commands, such as create, delete, clean or format partition. Instead of giving an instruction about how to perform diskpart utility, here in this page, we're about to assist users to tackle the problem of diskpart was unable to complete the format, hours and hours later, it's still 0% completed.
Causes
As the screenshot displays, there is no difficulty in cleaning the disk as well as creating the specified partition, however, when comes to format the disk to ntfs, or sometimes fat, fat16, fat32, etc., the command failed.
That's mainly because the hard drive you're formatting has developed bad sectors. The more bad sectors, the greater chance that the hard drive is about to corrupt, damaged and broken down in the end.
Troubleshooting
Once diskpart failed to format the selected partition and won't proceed after reaching 0 percent, there are 2 steps to check and repair, but only with an essential tool called EaseUS Partition Master.
It's a free partition manager that can be easily applied in Windows XP, Vista, 7, 8, 8.1 and 10. When diskpart format stuck and cannot perform its task, simply download the recommended diskpart alternative software. First, check the health of your hard drive, after then try to format in a simpler way without bothering yourself to learn cmd knowledge.
Step 1. Check disk errors and repair
It's easy and quick to check disk errors in Windows with EaseUS Partition Master software.
1) Right-click the drive partition you want to check errors on it and select "Check partition";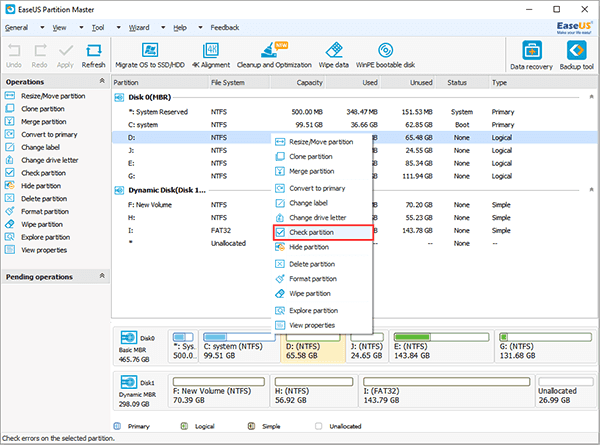 2) Now you got 3 options to go.
Check Partition Properties: for checking file system errors.
Call Windows Chkdsk.exe to fix errors if there are errors; Call windows Scandisk application to fix these found errors.
Surface Test: Make detection of a disk or partition for sector errors. After the test completes, a report will be produced.
3) Check the boxes you think it's necessary. Click "OK".
Step 2. Format a hard drive partition
This piece of partition magic software is selected as the best corrupted hard drive format software, which can be used to format corrupted micro SD card, USB flash drive, pen drive, external HDD and more. So, when diskpart format stuck at 0, the best way to go through with the format is to ask help from it. What's more, it also works as a perfect solution when diskpart has encountered an error access is denied, or the parameter is incorrect.
1) Right-click the drive partition and choose "Format partition".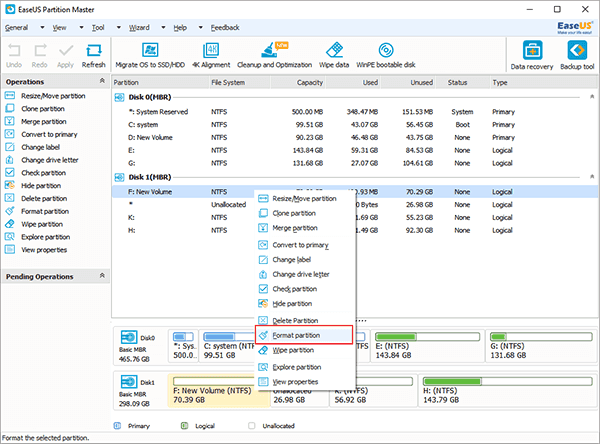 2) A mini window pops out, on which you can type a partition label, select a file system from the drop-down list and choose a cluster size. Click "OK".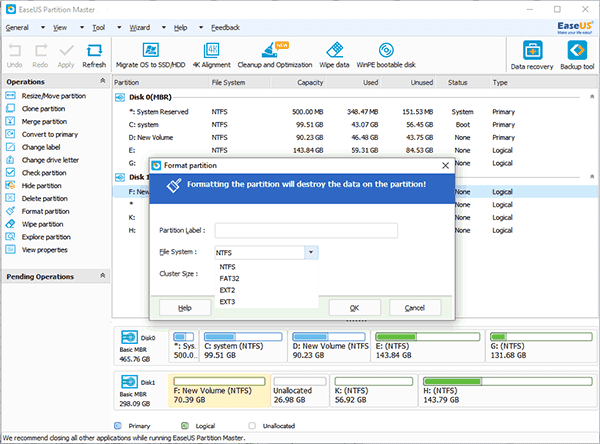 3) Click "Apply" after returning to main interface.