The methods of deleting partitions are also applicable in Windows 10/8.1 and Windows 7/XP, etc. even older OS.
With the release of Windows 8, many Windows users want to experience this brand new system and even run dual boot systems with Windows 7 and Windows 8. What if you want to remove Windows 8 partition on your computer? This article is going to teach you how to delete Windows 8 partitions.
To delete a partition in Windows 8 with Disk Management
Like Windows 7, Windows 8 built-in Disk Management has the ability to delete the volume. You can delete partitions on Windows 8 using its own Disk Management.
Step 1: Right-click the Start screen and you can open all apps, right-click Computer and choose Manage.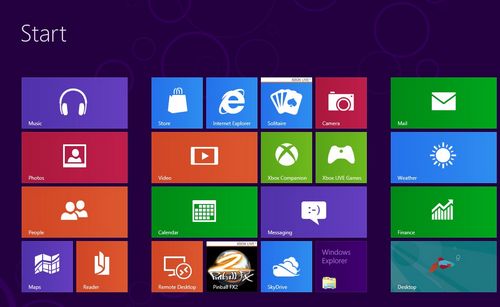 Step 2: Then you can click and open the Disk Management in Windows 8 under the Storage.
Or you can start the cmd.exe in administrative mode! And enter the command "diskmgmt.msc" to open the Disk-Management in Windows 8.
Step 3: Under Disk Management, you can right-click the volume and select "Delete Volume" to delete any partitions you like (not including system partition).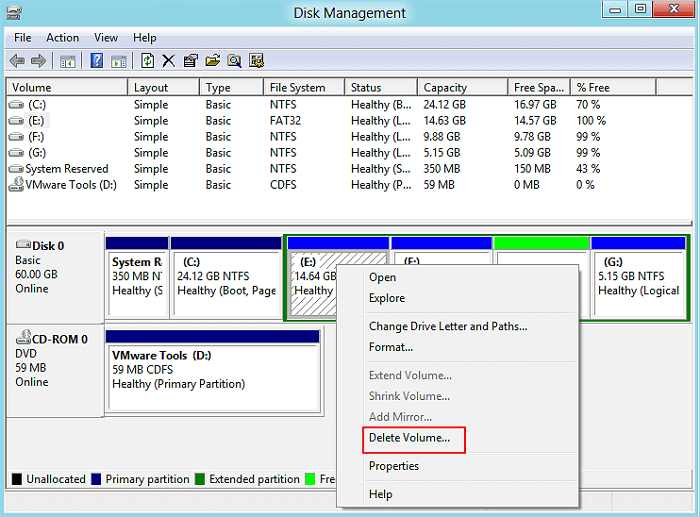 Although, disk management can help to manage most partition issues in Windows. Windows 8 built-in Disk Management still has many limitations:
It can't delete system partition.
It can only extend volume when there is some unallocated space behind it, otherwise, the "Extend Volume" option is not available.
It can't change partition location: Windows 8 built-in Disk Management doesn't provide "Move partition" feature.
So you have to seek Windows 8 partition magic alternative software to help you resolve more advanced partition management issues.
Delete partition with Windows free partition manager software
EaseUS Partition Master Free Edition, a comprehensive free partition software, specializes in system optimization for Windows-based administration, works well with Windows 8. It is a perfect Disk Management alternative software, supporting to delete partitions in Windows 8 in only 3 steps.
 Notice:

If you saved important data in the partition which you want to delete, move and save those data to another secure location in advance.
Step 1: Install and launch EaseUS Partition Master on PC
On the main window, right-click on the hard drive partition which you want to delete and select "Delete".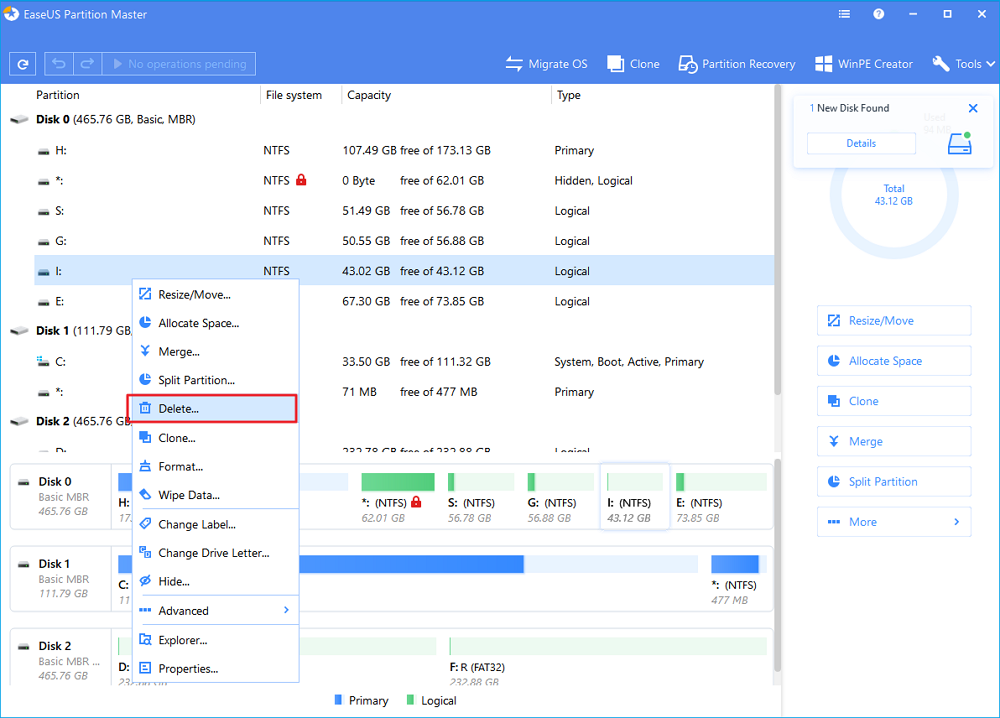 Step 2: Confirm the deletion
Step 3: Execute to delete the partition
Besides, you can also apply other fantastic features in EaseUS Partition Master to manage Windows 8 partition, for example: