Can I delete the recovery partition on my new HP Windows 10 laptop?
"I bought a new HP laptop but the hard drive space has been eaten a lot by a drive called recovery drive. What exactly is the recovery drive or recovery partition on a hard drive and how can I delete it? Will it cause a major issue of Windows 10 starting up? This drive appeared out of nowhere after installing Windows 10 and I desperately want it removed to increase C drive space. However, in Windows 10 disk management I found the recovery partition is between the unallocated space and the C drive. If deleting is possible, what's your best advice to safely delete recovery partition Windows 10 to expand the Windows drive?"
If you're not advanced computer users, we suggest you leave Windows 10 recovery partition behind for a better sake. This recovery drive is necessary in case you need reinstall the operating system when it get corrupted or damaged or in case you require a factory restore or system repair when you experience poor Windows 10 performance. In a nutshell, once you delete the Windows 10 recovery partition, you throw away the reinstallation media.
Best and safest way to delete recovery partition Windows 10
A fine partition manager can do a great favor if users claim a safe Windows 10 recovery partition deletion, and we suggest EaseUS free partition software. As the best Windows disk management alternative, this partition tool is with powerful features which allow users to take a full control of their computer hard drives. Most of all, it's extremely user-friendly that average users can cope well with it. Now let's learn how to safely delete recovery partition Windows 10 and make use of the free space by using EaseUS Partition Master Free.
Step 1. Copy recovery partition to the USB drive as a backup
Connect a USB drive with your Windows 10 computer. Launch EaseUS Partition Master Free, and locate the mouse pointer at the recovery partition. Right-click and choose "Copy partition". For a detailed guide, please refer to partition copy.
Step 2. Delete recovery partition
With the backup on the USB drive, now you will feel worry-free to delete the recovery partition by choosing "Delete partition".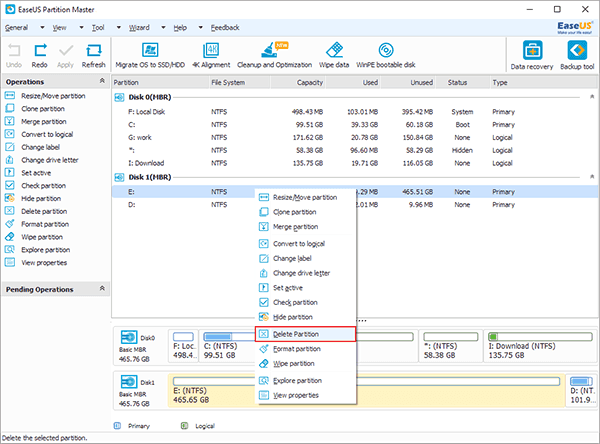 Step 3. Allocate the free space to the system drive
After deleting the recovery partition, you got a free space. To make full use of the free space, you can merge unallocated space to system partition in Windows 10 or any other partitions like D: and E:.
If you need more tutorial guide about Windows 10 disk management, follow this tutorial video provided by EaseUS and start to manage your Windows 10 partitions now: