"I have a USB flash drive with 2 partitions on it, and now I want to remove partitions on the USB drive to make the device back to unallocated space. I have tried to do it in Disk Management but failed. I can't delete the partition on USB flash drive since the "Delete Volume" button is grayed out. I don't know why it happened. Is there any way can solve this problem and allow me to deleted partition from my USB flash drive?"
Delete Volume greyed out the issue that prevents you from removing partitions happened in Windows 10/8/7 largely because your SD card or USB flash drive is regarded as a removable device. Even Windows does have a Disk Management tool for simple disk management operations. But for USB drive, SD card or logical drive, if the drive already has more than one partition, Disk Management will not allow you manage extra partitions on removable storage devices unless you deleted all of the partitions and make a new, full-size partition. The built-in utility will not provide delete partition option for extra partitions on USB drives if more than one partition is detected. Well then, does it mean there is no way to delete volumes on USB flash drive when Disk Management can't do it? It is of course not. Here, we will introduce 2 solutions.
Remove partition on SD card/USB drive with EaseUS partition software
EaseUS partition software is a powerful Windows USB partition tool with the friendly user interface. To remove the partition on USB flash drive or SD card in Windows 10/8/7 using this program, please run it to get the starting interface, then choose "Launch Application" and finally follow the steps below:
 Notice:

1. Connect your SD card, USB or external hard drive to PC before the deletion.
2. Save important data from the external storage device to another secure location in advance.
Step 1: Launch EaseUS Partition Master on your PC
On the main interface, right-click on the partition of the SD card, USB or external hard drive and select "Delete".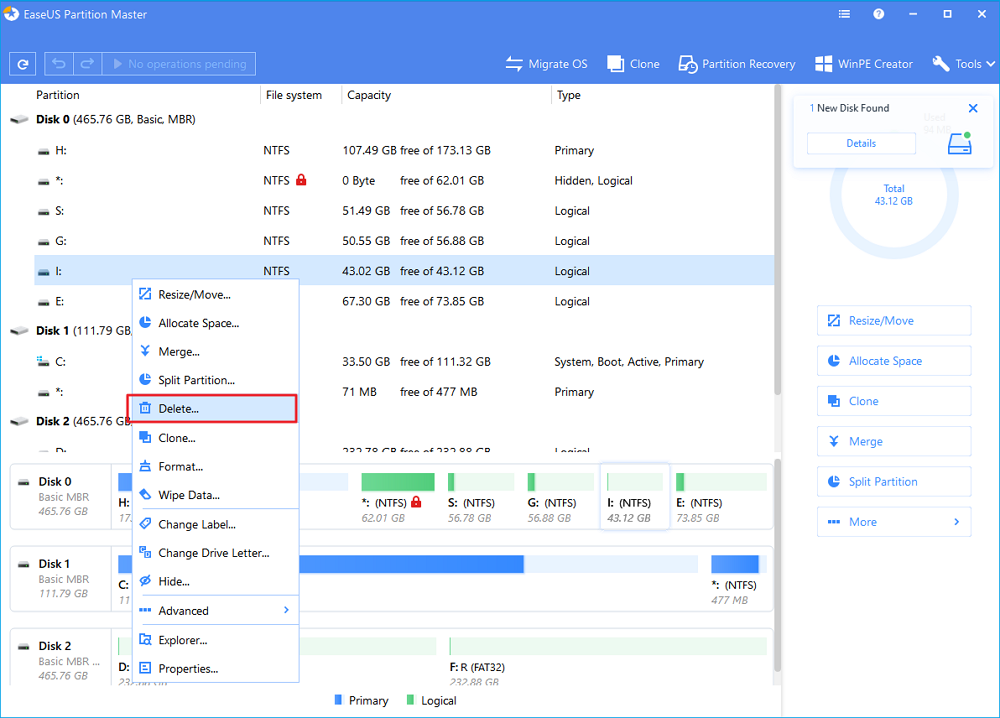 Step 2: Confirm the deletion
Step 3: Keep changes
Remove partition from SD card/USB flash drive with Diskpart
DiskPart is a command-line utility contained in the Windows operating system, which can help partition both external and internal device. To remove partitions on SD card or USB drive in Windows 10/8/7 with this program, you can take the following steps:
1. Click Start Menu and then type diskpart in the search box
2. At the Diskpart prompt, type list disk
3. Type select disk n ( n stands for the disk where you plan to delete the partition)
4. Type list partition
5.Input select partition n (n is the partition you want to delete)
6.Type delete partition (then the partition can be deleted)