To make a 2nd, 3rd, even a 4th partition on a sd card, you have multiple ways to go. No matter which way you choose to start, these are the essential elements you're going to have.
1. A Windows XP/Vista/7/8/8.1/10 PC or laptop;
2. Micro sd card/ card with capacity 2gb/4gb/8gb/16gb/32gb;
3. MicroSD card adapter or card reader;
4. EaseUS Partition Master Free.
What are the suggested ways to make more volumes for external memory cards?
EaseUS free partition manager includes rich partitioning, formatting, resizing and other managing features for external storage devices. sd card users of Samsung, SanDisk, PNY, Raspberry Pi, Sony, Transcend, Kingston, Lexar, etc. have applied for the program in many scenarios: format sd card, resize sd card, wipe sd card, partition sd card...
Here the suggested ways to create a second partition on some sd card are commonly adopted by those sd card brands' consumers, and you have to go through this procedure beforehand. First, download and install EaseUS Partition Master Free on your computer; second, use the card adaptor or card reader to correctly connect the card with the computer; then check the card drive letter that shows on your computer, for example, G:
How to apply EaseUS Partition Master properly and produce one more volume on the sd card?
NO 1. for a brand new sd card with only one partition on it
Step 1. Launch EaseUS Partition Master Free. Right-click the whole sd card partition, and choose "Delete partition";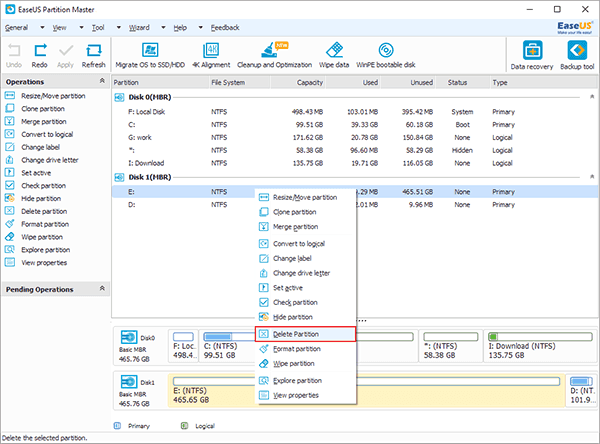 Step 2. Done with deleting the partition, then the whole partition will show in the form of unallocated. Right-click the unallocated space, and begin with "Create partition".
Step 3. During the process of creating a partition, you can now decide to make one or two or three partitions by allotting the storage wisely. Just drag the green bar leftwards or rightwards, you can finish the space allocation easily. Moreover, it's flexible to create the drive as Primary or Logical, with file system NTFS, FAT32, EXT2 or EXT3, with the drive letter you'd like and a cluster size.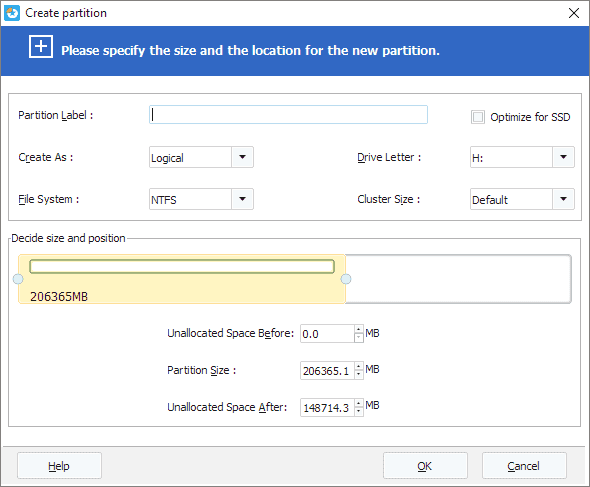 Step 4. After creating the partition is over, now you have a sd card partition that is ready to use and another unallocated space. Just repeat the step 3, you'll successfully make the 2nd partition on the sd card without a hitch.
NO 2. for a used sd card with a certain amount of data on it
Step 1. Launch EaseUS Partition Master Free. Right-click the SD card partition, and choose "Resize/Move partition".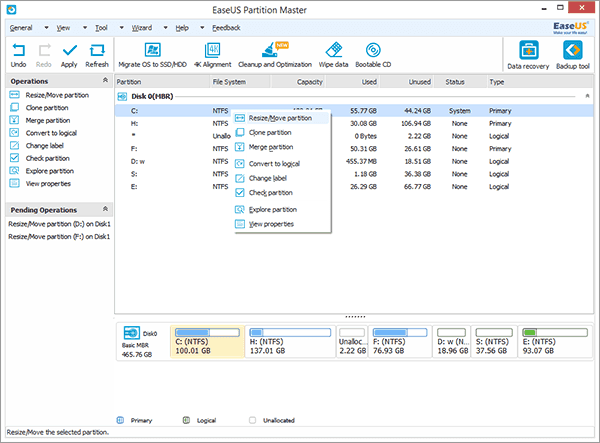 Step 2. Position the double-arrow mouse pointer at either end of the partition handle to shrink the partition.
Step 3. Click "Ok", then there is new unallocated space next to the partition containing data on it. Follow the steps "create partition" in case 1 and create a second partition on the unallocated space of the sd card.