PAGE CONTENT:
Solution 1. Convert FAT32 to NTFS via EaseUS Partition Master
Solution 2. Convert FAT32 to NTFS Using CMD in Windows XP and Windows Vista
Solution 3. Format FAT32 to NTFS Using Disk Management
FAT32 VS NTFS - Which Is Better NTFS or FAT32
FAT32 and NTFS are two basic data file systems generally used in the Windows Operating System. FAT32 was used in the earlier versions of Windows Operating Systems, including Windows 95/98/ Windows ME. NTFS is the preferred file system for Windows Operating Systems. It is packed with modern features not available to FAT32. NTFS supports file permissions for security, shadow copies for backups, encryption, disk quota limits, and hard links. Many of these are crucial for an operating system drive, especially file permissions. It has many advantages over the earlier FAT32 file system, including:
The capability to recover from some disk-related errors
Improved support for larger hard disks
Better security
Faster access speed
You can learn more details on this table:
| Comparison | NTFS | FAT32 |
| --- | --- | --- |
| Compatibility | Works with all versions of Windows, but read-only with Mac by default | Works with all versions of Windows, Mac, Linux, game consoles, and practically anything with a USB port. |
| Limits | No realistic file-size or partition size limits | 4 GB maximum file size, 8 TB maximum partition size |
| Fault Tolerance | Automatic troubleshoot | No provision for fault tolerance |
| Encryption | Yes | No |
| Ideal Use | Use it for your Windows system drive and other internal drives | Use it on removable drives |
How to Convert FAT32 to NTFS (3 Solutions)
Since NTFS has superseded FAT32 and has become the preferred file system, to convert FAT32 to NTFS seems to be the trend. There are three ways to break the 4GB file barrier and 2TB partition barrier of the FAT32 file system. Only two ways are safe to convert FAT32 to NTFS without losing data. One is using EaseUS free partition software, the other is using CMD. If you don't mind data loss, you can also use Disk Management.
Solution 1. Convert FAT32 to NTFS via EaseUS Partition Master
Here I list EaseUS Partition Master as your first choice. This software is not only easy to use but also can convert FAT32 to NTFS without losing any data. What's more, It is a comprehensive disk management tool that allows users to resize, copy, convert, explore, create, delete, format partition, etc.
Best of all, its free edition is free for home users. With this partition freeware, you can convert FAT32 to NTFS in Windows 2000/XP/Vista/Windows 7/8/10 easily and safely. It also enables you to do other more partition management operations like removing GPT disk partition, resize the NTFS partition and partition external hard drive, etc. Follow the guide and convert to NTFS with the best FAT32-to-NTFS Converter:
Step 1: Install and launch EaseUS Partition Master on your computer.
Step 2: Select a FAT32 partition, right-click on it and select "Convert to NTFS". If you need to convert a storage device such as SD card or USB flash drive to NTFS, insert it into your PC first and repeat the previous operation.
Step 3: Click "OK" on the pop-up dialog box to continue.
Step 4: Go to the upper left corner, click the "Execute 1 Operation" button and you will see the operation details. Click "Apply" and "Finish" when the process completes.
Solution 2. Convert FAT32 to NTFS Using CMD in Windows XP and Windows Vista
As I have mentioned before, you can also convert FAT32 to NTFS without losing data using command lines.
1. Convert FAT32 to NTFS in Windows XP
Click "Start > Run".
Enter "cmd" into the text field labeled "Open". Click "OK". Then, enter the command below:
d: is the drive that you want to convert to NTFS.
2. Convert FAT32 to NTFS In Windows Vista
Click the "Start" sphere.
In the Start Menu search box, enter cmd and hit "Enter". Then, enter the command below:
d: is the drive letter that you want to convert to NTFS.
Solution 3. Format FAT32 to NTFS Using Disk Management
It is impossible that every computer user knows the way to convert partition format from FAT to NTFS in Windows XP and Windows Vista. Even though some of them know how to convert FAT32 to NTFS by convert.exe in Windows XP and Windows Vista, the operation also seems to be a big problem since it is somehow difficult for common users.
You can convert FAT32 to NTFS on an external hard drive or internal drive in Windows 7 using Disk Management. But you must take the risk of losing data. And the largest partition size it helps to create/format is 32GB. Then, you can follow the steps below:
Step 1. Press Windows + R to start Run. Type diskmgmt.msc and hit "Enter".
Step 2. Right-click the partition you want to convert and select "Format…".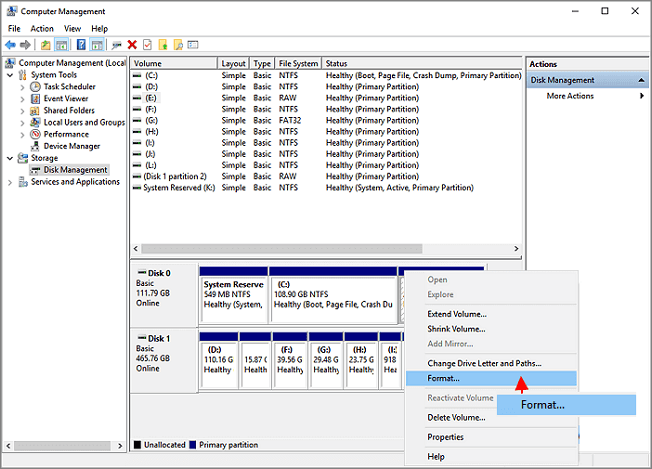 Step 3. Specify the volume label and select the NTFS file system. The "Allocation unit size" can be changed. Then click "OK". By default, it will perform a quick format.
After the process, your partition will become NTFS. Nevertheless, you will lose all the data after the conversion. As I have said, I list EaseUS partition tool in the first place not only because it can convert a FAT32 partition to NTFS without data loss, but also because it can overcome the limitations of Disk Management when formatting FAT32 partitions.
Bonus Tips - How to Back Up Data in Advance
To protect your data and avoid data loss, the best choice is to back up data in advance. You can manually copy your data to another drive or sync data to the cloud drive. If you need to back up data on a schedule, you'd better use professional file backup software. And EaseUS Todo Backup is my recommendation. EaseUS Todo Backup offers reliable solutions to assist you in selectively backing up files or backing up the entire disk automatically. Read on to learn more details:
Step 1. Open EaseUS Todo Backup and select "File Backup".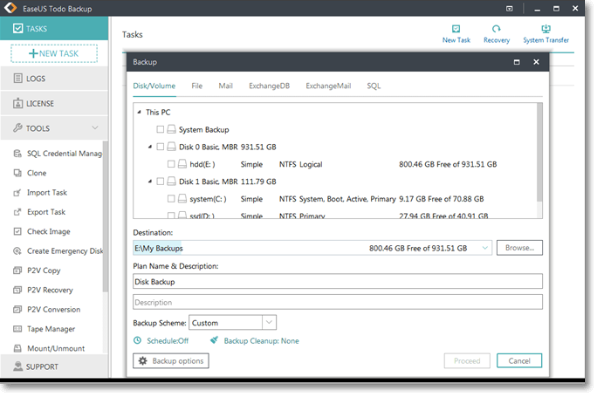 Step 2. Select the files to backup and select the backup destination.
You can choose specific files that you want to back up by browsing the left pane and click "Browse" to select a destination for saving the file backup.
You'd better create the backup file in some other storage media or in some other drive in case of getting the backup file corrupted or destroyed.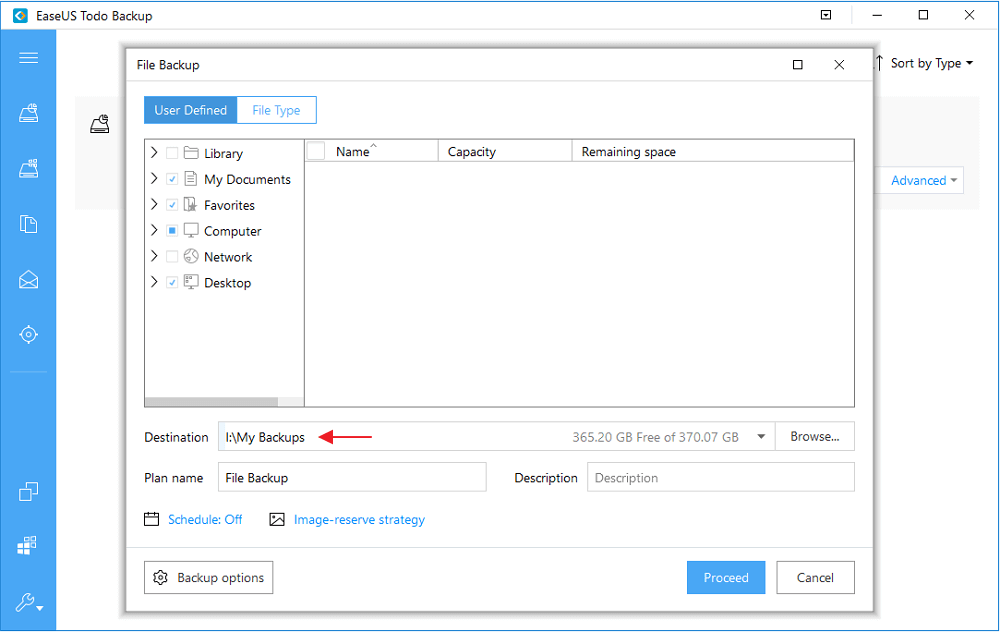 Step 3. Create a backup plan to automatically back up selected files.
1. Click "Schedule: off" to create a flexible and automatic backup plan.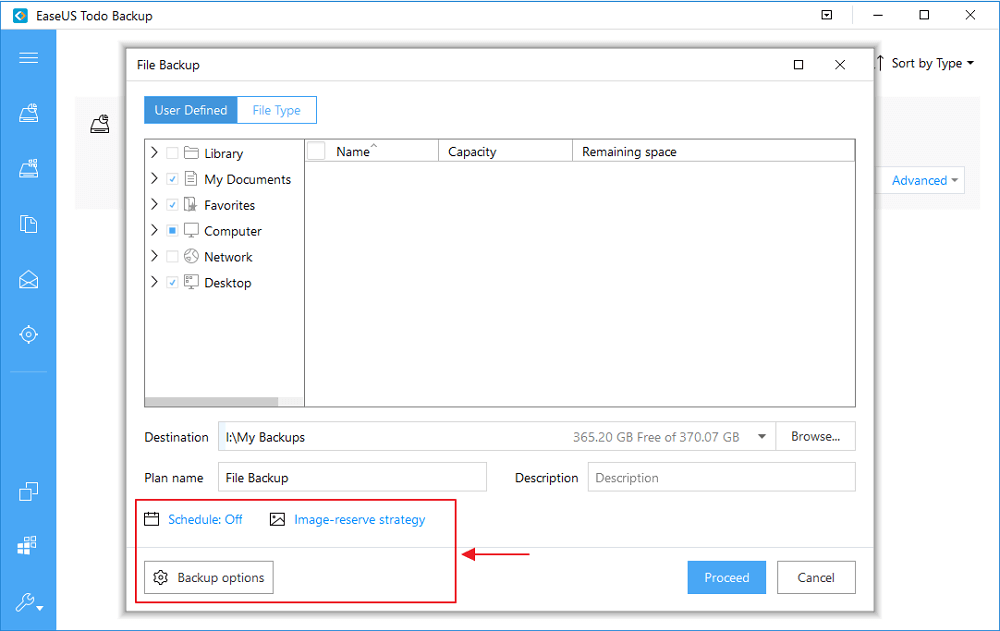 2. Set the automatic backup schedule by day, by week or by month and click "Save" to keep the changes.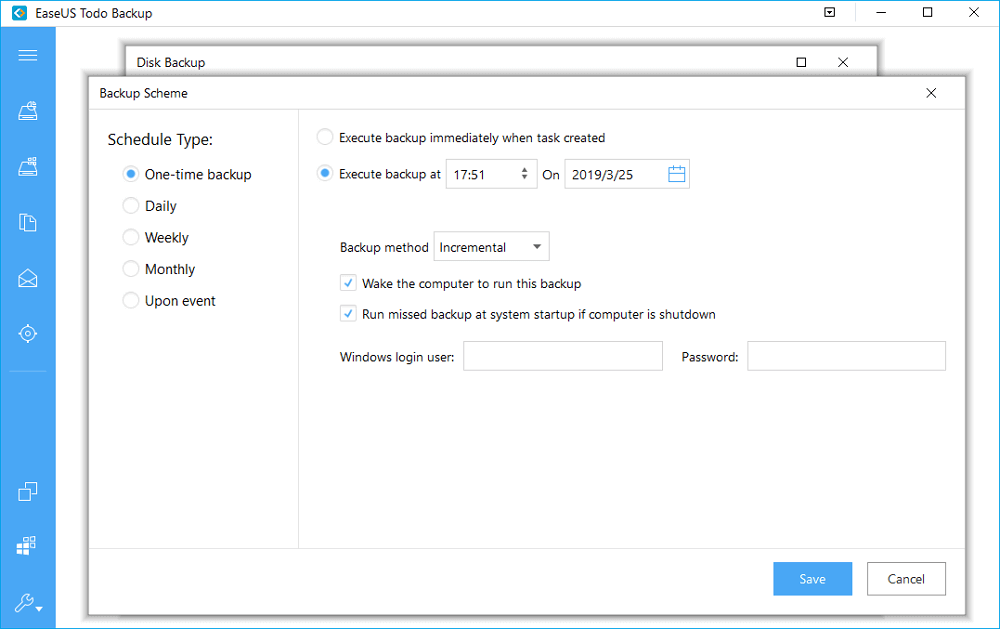 If you can also click "Backup options" at the left bottom to set more advanced parameters for the plan.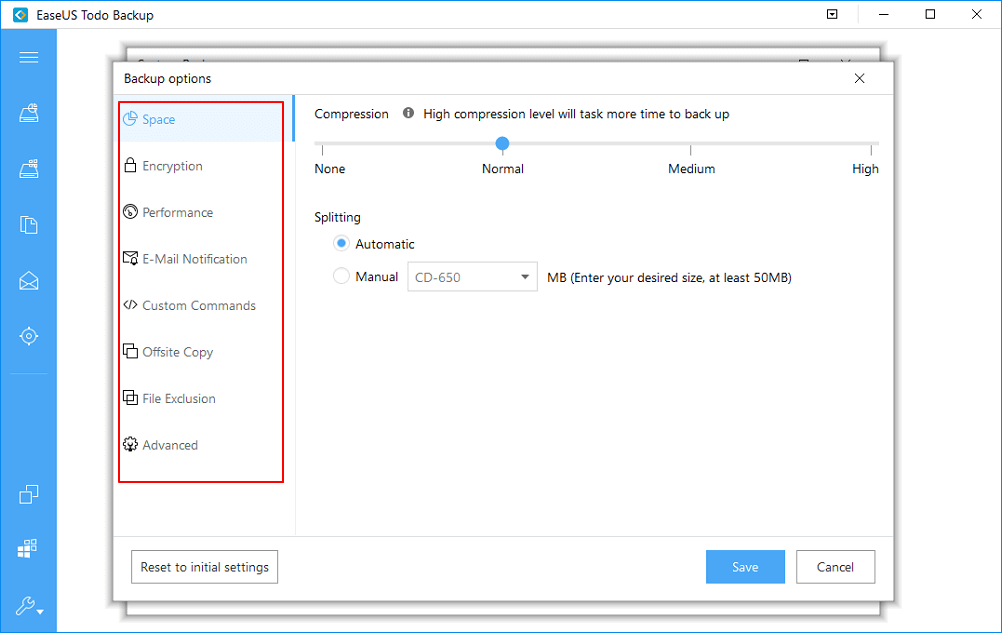 And the Image-reserve strategy will help you to keep the backup image as per image retention rule.
Step 4. Click "Proceed" to execute your operation.
Conclusion
EaseUS FAT32 to NTFS converter is your best choice to convert to NTFS without losing data in Windows XP or Vista. If you try other solutions, back up data in advance. Having a backup can always do you a favor in data recovery.
100% of people found this article helpful.
Frequently Asked Questions
Why Choose EaseUS Partition Master?

"I've used Partition Master Professional many times to create, delete, format, move, rename, and resize partitions." —PCWorld

"Partitioning tools have come a very long since the days of complicated command line utilities and EASEUS Partition Master is one of the most advanced programs available." —TECH ADVISOR

"I love that the changes you make with EaseUS Partition Master Free aren't immediately applied to the disks. It makes it way easier to play out what will happen after you've made all the changes." —Lifewire
Will the "Migrate OS" feature transfer the Windows system files only or the whole C drive?

To ensure that the migrated system will boot normally, the Migrate OS feature will transfer all the files in the system and the boot partitions. Generally, the boot partition is the C drive so the transfer will include all the files in C.
Does EaseUS Partition Master license apply to multiple computers?

The license of Partition Master Professional and Server editions can be used on 1 computer only, while that for for the Technician and Unlimited editions can be used on multiple machines.
What is the difference between EaseUS Partition Master Trial version and the Free version?

Free is for home users only, with most basic functions available such as partition resize and clone. While trial can help you understand how this product works and test what a full license can do on a business or server OS machine.
Will it cause any data loss after resizing the partition in EaseUS Partition Master?

Generally, it will not cause any data loss or boot issue by resizing a partition. However, in order to protect your data, we suggest that you backup the partition before resizing, in case of any unexpected situations such as power outages, computer hardware failures, etc. You can use EaseUS Todo Backup to backup the partition and its trial version is fully functioned for 30 days.
What should I prepare before resizing the partition?

On the partition that is going to be operated, there might be some files being occupied by other programs. To ensure a successful operation, we suggest that you close all the unnecessary software before resizing that partition. Otherwise, EaseUS Partition Master will detect the partition being locked by the other software and require a reboot to resize the partition under boot mode.
About EaseUS Partition Master
All-round disk & partition management software for personal and commercial use. Let it manage your storage drive: resize, format, delete, clone, convert, etc.