This page is applicable to cloning, upgrade and resizing dynamic disk in Windows 10/8/7/XP.
"I have a project coming up in which I will need to clone a dynamic disk for backup and precautionary reasons. This pc is running windows 2003 small business server. It has two disks that are dynamic and have been mirrored in the windows disk management software interface. What would be the best way to clone a disk for the reasons given in this setup? The system is fragmented extremely badly, and the customer is worried that defragmenting may cause a system failure or data loss. So they have requested I do the above and then defrag the system. That's the madness behind the method.
Thanks in advance for the input."
Needs of Dynamic Disk Copy/Clone
Have you met the problem that your dynamic disk is out of space? Have you come across the situation that there is a bad disk among dynamic disks and want to replace it without data loss?
The above is a case of dynamic disk copy demand in the forum. Just search "copy dynamic disk" in Google, and you will find multiple different needs to copy their dynamic disk for different reasons, like replacing with a larger one, backing up data by cloning dynamic disk to a basic one or an external hard drive. Here is a collection of reasons why people need to copy or clone dynamic disk:
Dynamic disk is out of space
Dynamic disk is dying or failing to function well
Bad sectors exist on dynamic disk
Upgrade or replace dynamic disk to SSD/bigger HDD
Back up dynamic disk data
Solutions for dynamic disk copy/clone & resize dynamic disk
There are many ways that can help you copy the dynamic disk. Here are methods of copying dynamic disk methods:
1. Copy and paste: It's an old way to back up the data on the dynamic disk by copying the entire disk data.
Shortcoming: It is too slow which will not be adopted by most of the people.
2. Copy/Clone dynamic disk: It allows you to clone the entire dynamic disk data to SSD/HDD.
Shortcoming: Some of the software provides a slow sector-by-sector clone.
A time-saving and secure way is to apply a third-party partition manager software with disk clone or partition copy feature to effectively clone the dynamic disk or copy dynamic volume to upgrade dynamic disk or back up dynamic disk data.
Professional partition magic software - EaseUS Partition Master Professional Edition may help you realize both copy and resize dynamic disk problems to solve low disk, backup or disk replacement problems.
If you are a business owner, trying to clone dynamic disk on your Windows Server computers, please refer to this page and download EaseUS Partition Master Server for help.
How to Clone/Copy Dynamic Disk or Even Resize It
There are two ways to copy and clone Dynamic disk by using EaseUS Partition Master. One is to clone dynamic disk, and the other one is to copy dynamic disk. It's basically based on your needs of choose which way for cloning or copying the disk.
Clone Dynamic Disk
As a Windows user, the computer may pop up a low disk warning which means it is too small to store more data and information. To replace it by cloning dynamic disk to a larger disk might be the right way.
 Notice:

If the dynamic disk that you want to copy contains mirrored volumes, you need to break the mirrored volumes by using Disk Management.
Also, you are not allowed to directly copy one dynamic disk to another disk. So you need to convert dynamic disk to basic first to gain a smooth process of cloning and upgrading dynamic disk.
Step 1: Select the source disk.
Step 2: Select the target disk.
Step 3: View the disk layout and edit the target disk partition size.
Step 4: Execute the operation.
After cloning the disk to another bigger SSD or HDD, you can then apply EaseUS Partition Master to convert the new disk to dynamic disk. Then, you've completed the whole process of cloning dynamic disk to a new disk.
Copy Dynamic Volume as Backup
If you want to copy single dynamic volume data as backup, you can refer to this method for a guide.
Step 1: Locate the volume
Step 2: Resize the volume
On the new pop-out window, use your mouse to drag one of its ends into unallocated space. Click "OK".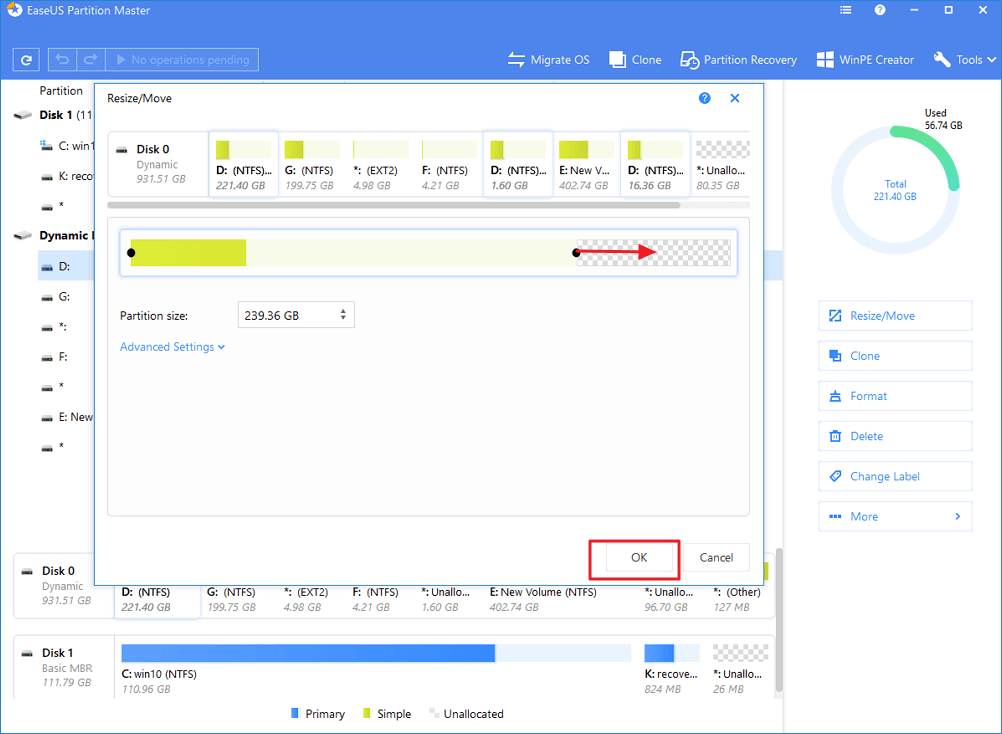 Step 3: Apply changes
The selected volume has been decreased. To save the changes, click "Execute Operation" and then "Apply".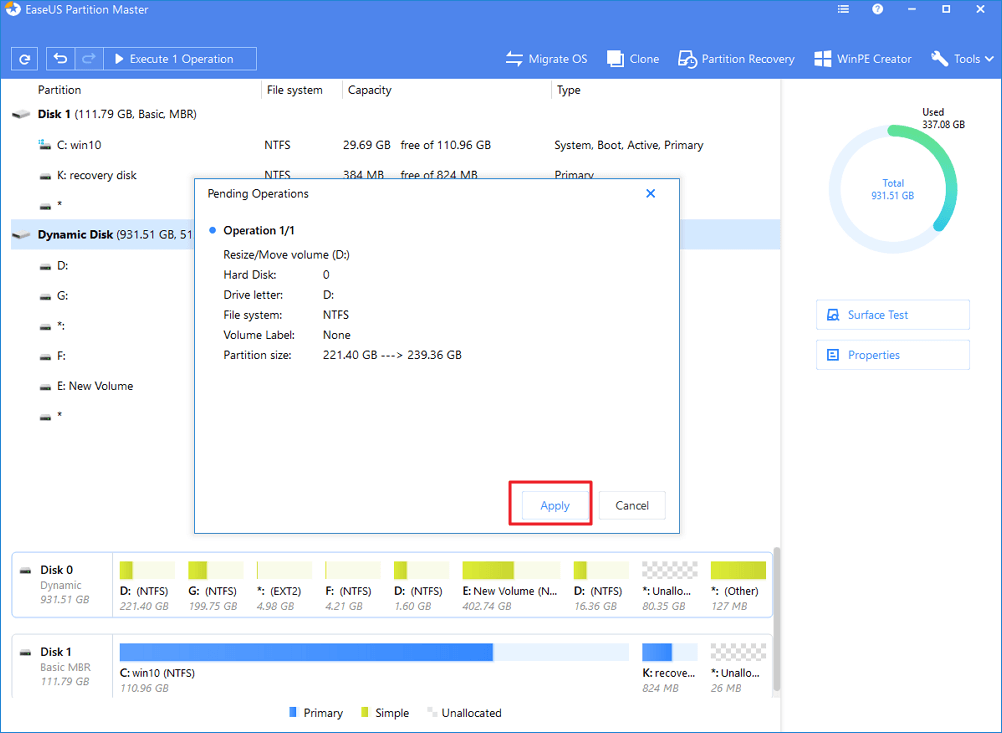 To extend a volume, for example, you need to follow the three steps to decrease a volume for unallocated space first. Next, use the same "Resize/Move" feature to drag your mouse to merge the unallocated space into the volume you wish to enlarge.
After this, you can fully trust the protective backup of your dynamic disk or upgrade the original dynamic disk with the larger disk.
Resize Dynamic Volume
There are two ways that you can resize dynamic volume with the help of EaseUS Partition Master.
1. You can resize the disk partition on the basic disk after cloning the dynamic disk, then convert it to a dynamic one if it is needed.
2. You can also resize dynamic volume directly on the dynamic disk.
EaseUS Partition Master, as an all-in-one disk management solution, also provides powerful partition manager functions like resize/move partition, extend system partition, split/merge partitions, partition recovery wizard to recover deleted or lost partition and Clone Wizard.