Best alternative for Any Drive Formatter
Any Drive Formatter, as the name suggests, it's developed to format any portable drive to the desired file system including NTFS, FAT12, FAT16, FAT32, EXT, etc. A very handy piece of format software, undoubtedly, offers format feature exactly like the built-in Windows Disk Management program.
Any Drive Formatter tool should have been better because one of its alternative format software works far greater than it is formatting a memory card, USB flash drive, pen drive, and external HDD/SSD when Windows was unable to complete the format error happens.
EaseUS Partition Master Free, the best alternative for Any Drive Formatter, can still be used to format a drive when it is corrupted, damaged, unrecognized or write-protected. None of Any Drive Formatter tool or Windows Disk Management could compete.
EaseUS Any Drive Formatter Software Guide
Download EaseUS free partition manager and install it on your Windows computer (all operating system is supported). It's any drive formatted tool that can be applied to format any internal and external disk drive, memory stick or flash drive with several clicks. As soon as the drive is correctly connected to the computer, it'll be immediately detected by the software, even under the circumstance external hard drive not showing up on the computer.
1. Right-click the partition you want to format and select "Format partition".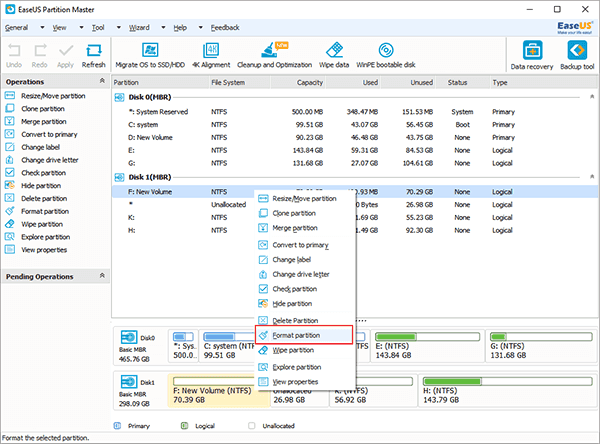 2. Type the label you want in the Partition Label box.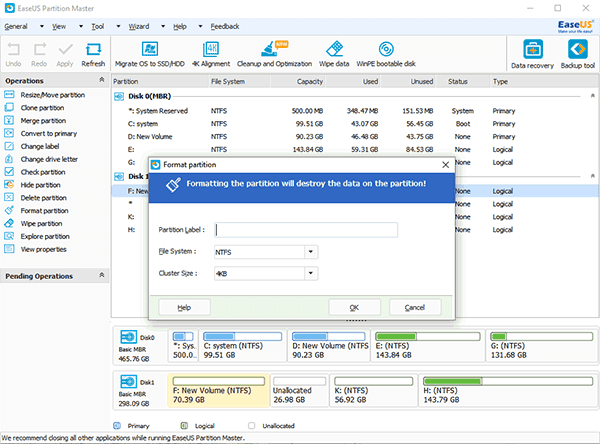 3. Select the file system type to be created from the "File System" drop-down list. (FAT/FAT32, NTFS, EXT2/EXT3). If the partition is larger than 4GB, you can only choose FAT32, NTFS or EXT2/EXT3; if the partition is smaller than 4GB, you can choose FAT, FAT32, NTFS or EXT2/EXT3.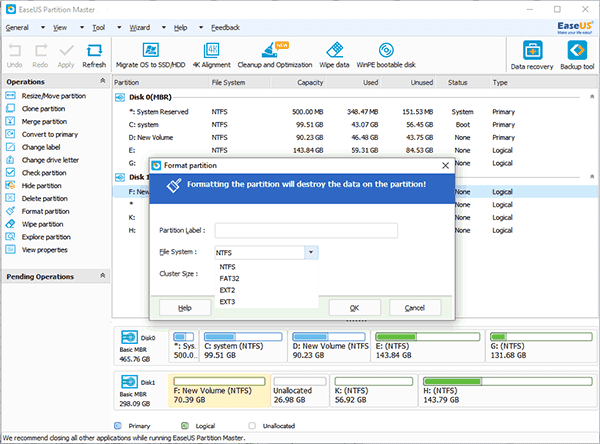 4. Choose the Cluster Size (512 bytes, 1, 2, 4...64KB) from the drop-down list.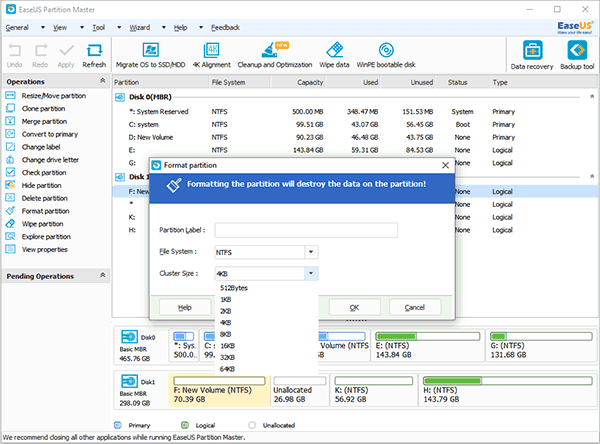 Note: Smaller cluster size makes less wasting of disk space. The smaller cluster size is, the bigger file allocation table (FAT) will be. The bigger the FAT is, the slower the operating system works with the disk.
5. Click "OK" to apply the format operation.
6. Click "Apply" to apply all pending operations.