What Can Android Partition Manager Do
Usually, an Android phone has limited internal memory and space can be quickly filling up with various applications & data files. So most users use an SD memory card to store data. It's a normal way to reduce the burden of the internal storage on an Android device. But you may find that this method is not so helpful especially when you do more of these devices. That's because SD card can only be used as an external storage device that saves files like pictures, videos, documents, etc. And you can not install applications on it.
But is there any way to fix this problem and make MicroSD card as internal memory? Yes, a powerful Android Partition Manager is a solution. Android Partition Magic tool can help you partition the SD memory card for your Android device. So you can use it to create a second partition on SD card and migrate your applications to the card using Link2SD to preserve internal memory. By this way, it can help you enhance your disk efficiency and greatly speed up the Android operating system.
How to Find the Best Android Partition Manager/Magic/Tool
Partition Android SD card can be easy or difficult. It all depends on whether you have a reliable Android partition manager or not. So how can you find the best Android partition manager tool? Here we recommend you EaseUS Android partition tool, a partition magic tool that enables you to create, copy, flash and delete partitions on your Android SD memory card. Coming with lots of advanced and flexible features, it can make Android SD card partitioning job much easier.
EaseUS Android partition manager supports all types of SD memory cards like full SD card, mini SD card, and micro SD card from Matsushita, SanDisk, Toshiba, and many other companies. Now you can download EaseUS Android partition manager and try it to partition your Android SD card in Windows 10/8/7XP/Vista.
How to Partition SD Card with Android Partition Manager
Before partitioning SD card with Android partition manager, here are two warnings. First, the Android partition manager will format your SD card. So, make sure all the important files you currently have saved are backed up. And second, your Android phone should be rooted in this job. For a step-by-step guide to partition SD card with Android partition manager, refer to the following guides.
 Notice:

If you want to create a partition on an empty USB, SD card or external hard drive, connect it to your PC in advance.
Step 1: Launch EaseUS Partition Master
On the main window, right-click on the unallocated space on your hard drive or external storage device and select "Create".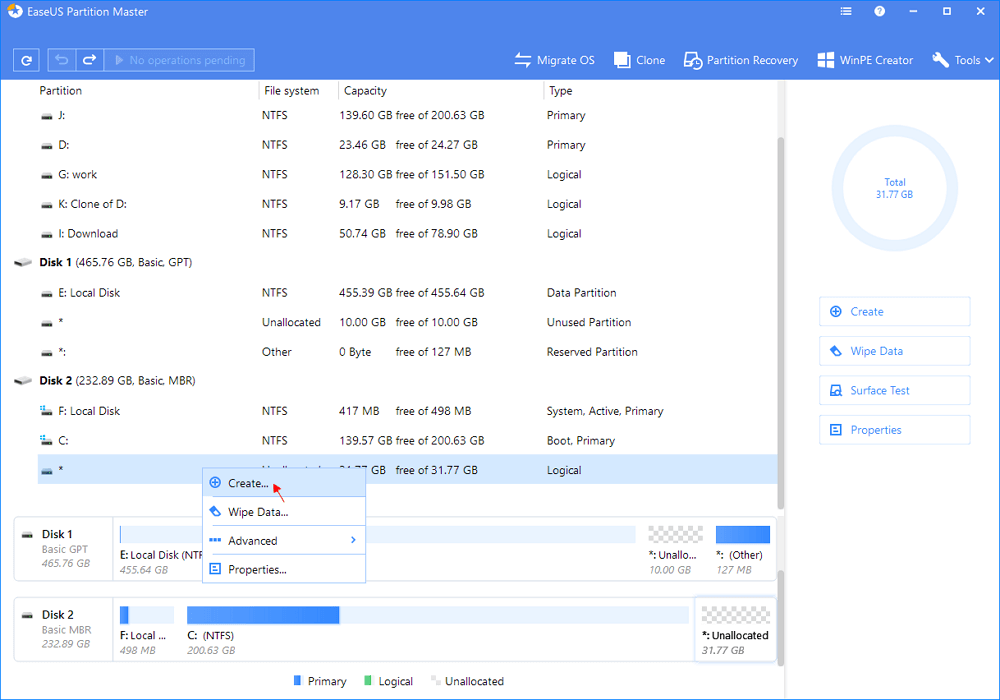 Step 2: Adjust the new partition size, file system, label, etc.
Set the size, partition label, drive letter, file system, etc. for the new partition and click "OK" to continue.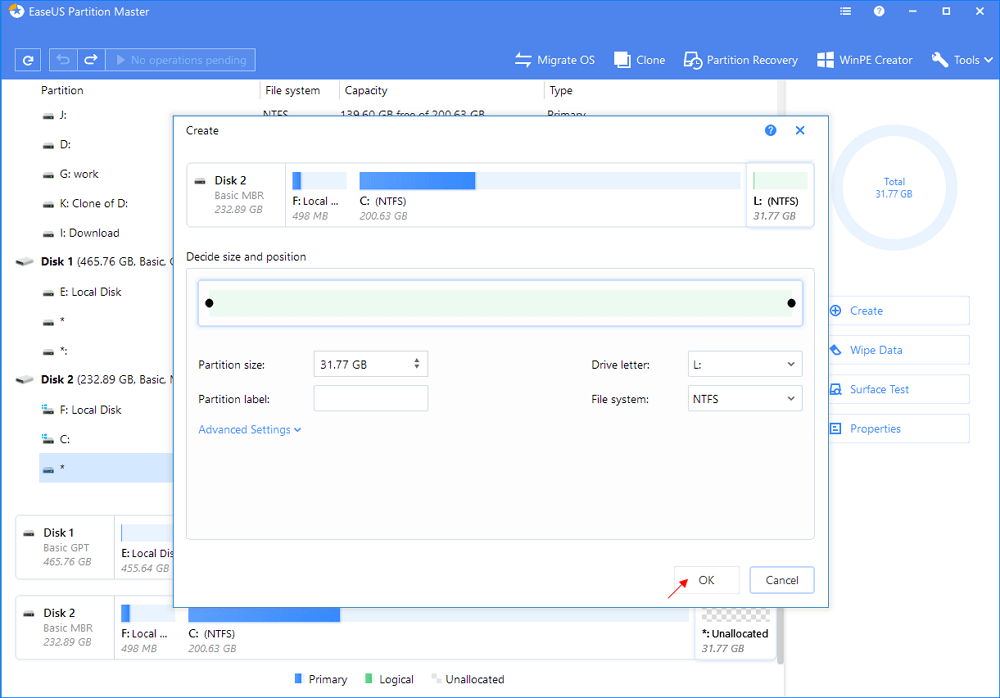 Step 3: Confirm to create a new partition
After successfully partition your SD card with EaseUS Android partition manager, you can transfer apps to the Android SD card using Link2SD to save internal memory.