Automatic Repair error: your PC did not start correctly
Here's the screenshot that displays an error message, which I believe most of Windows 10 users had encountered at least once. As usual, when you turn on your machine and boot into system, all of a sudden, the booting process was forced to halt for a while, and then you're facing the trouble.
Automatic Repair
Your PC did not start correctly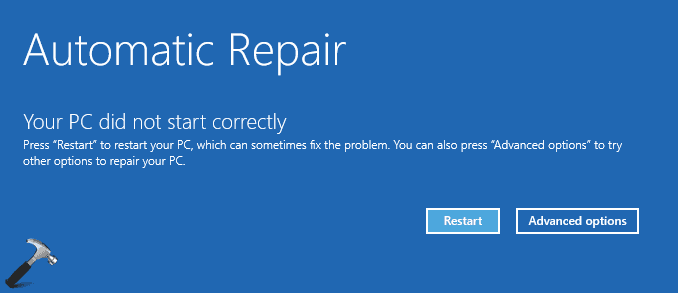 And additional information is given: Press Restart to restart your PC, which can sometimes fix the problem. You can also press Advanced Option to try other options to repair your PC. Luckily, even your PC can no longer boot itself normally, there are 2 troubleshooting options, either Restart or click Advanced Options.
How to fix 'your PC did not start correctly' in Windows 10?
When 'Automatic Repair, your PC did not start correctly' error appears, simply hit Restart button so that you can fix the problem automatically. Otherwise, try to fix corrupted MBR in Windows 10 by following the easy method here.
By using third-party MBR repair software - EaseUS Partition Master, you can easily rebuild MBR in Windows 10. You must know that 'your PC did not start correctly' error message indicates a corrupted or a damaged Master Boot Record. Only repair MBR can you boot the computer without any hassle.
To use EaseUS partition magic software to fix MBR in Windows, you have to prepare another healthy computer without booting problem. Now, follow the troubleshooting steps to rectify the problem and boot your PC as wish.
Step 1_ Connect the corrupted computer's hard drive to another PC.
Step 2_ Download EaseUS Partition Master and install it.
Step 3_ After that, launch EaseUS Partition Master in the healthy computer.
Step 4_ Right-click on the disk and select Rebuild MBR, and then choose the proper Operating System version.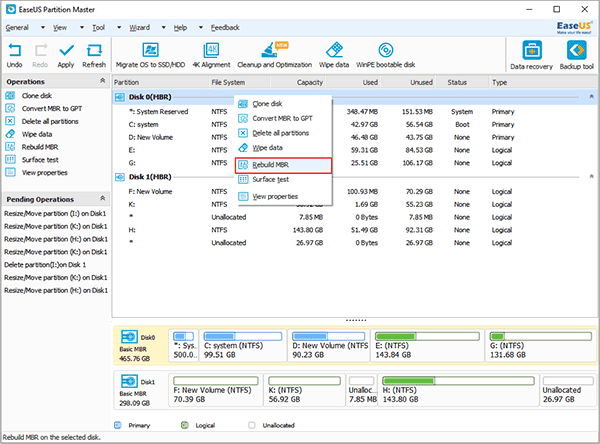 Step 5_ Apply the operation. After that, connect the repaired hard drive to original computer and boot from it.