PAGE CONTENT:
Option 1. Use Disk Cleanup to free up space
Option 2. Choose another drive or attach an external hard drive with the required GB of free space
You got two options when there is not enough disk space for Windows 10 update/upgrade, provided with the error message "Windows needs more space". The screenshot below displays what the problem is. And each recommended solution is provided.
In general, the "Windows needs more space" error reminds users of insufficient free disk space on C drive, and as a reference, it will give the exact figure of how much free disk space is required to install the update files on your computer successfully. For example, the latest Windows 10 Fall Creators Update asks for free hard disk space of 16 GB and 20 GB, for Windows 32 bit and 64 bit respectively.
Option 1. Use Disk Cleanup to Free up Space
Step 1. Press Windows + R and type cleanmgr in the Run box and click OK.
Step 2. You'll be asked to select the drive you want to clean up. Select C: drive and Disk Cleanup will start immediately calculating how much space you will be able to free on C:.
Step 3. After the calculating, it will tell you how much disk space on C: you can free up, for example, 5.37 GB. Just select files to delete and click "OK".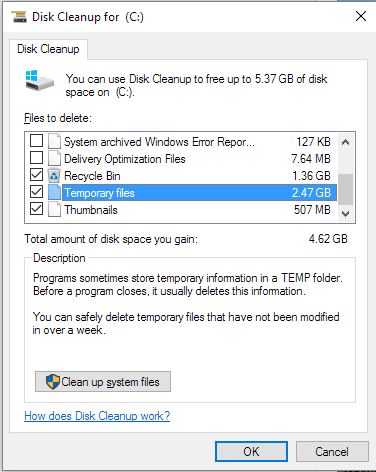 Option 2. Choose Another Drive or Attach an External Hard Drive
Step 1. Attach an external hard disk or USB thumb drive with enough free space to your computer.
Step 2. Click the list box on the Windows update pop-up that says Windows needs more space. And then choose the drive to install Windows 10 on the external drive.
Step 3. Now Windows setup will get ready to install. Click Install.
Extra Solutions to "Windows Needs More Space"
When you're faced with "Windows needs more space" error while installing the Windows 10 update, the given two options should fix the insufficient disk space issue. Besides, you have another better choice.
First of all, when it comes to free up disk space, you can rely on some third-party free partition manager software, such as EaseUS Partition Master, which allows users to easily free up Windows 10 disk space by cleaning the junk files and large files.
Step 1: Launch EaseUS Partition Master. Select "Tools" and click "System Optimization".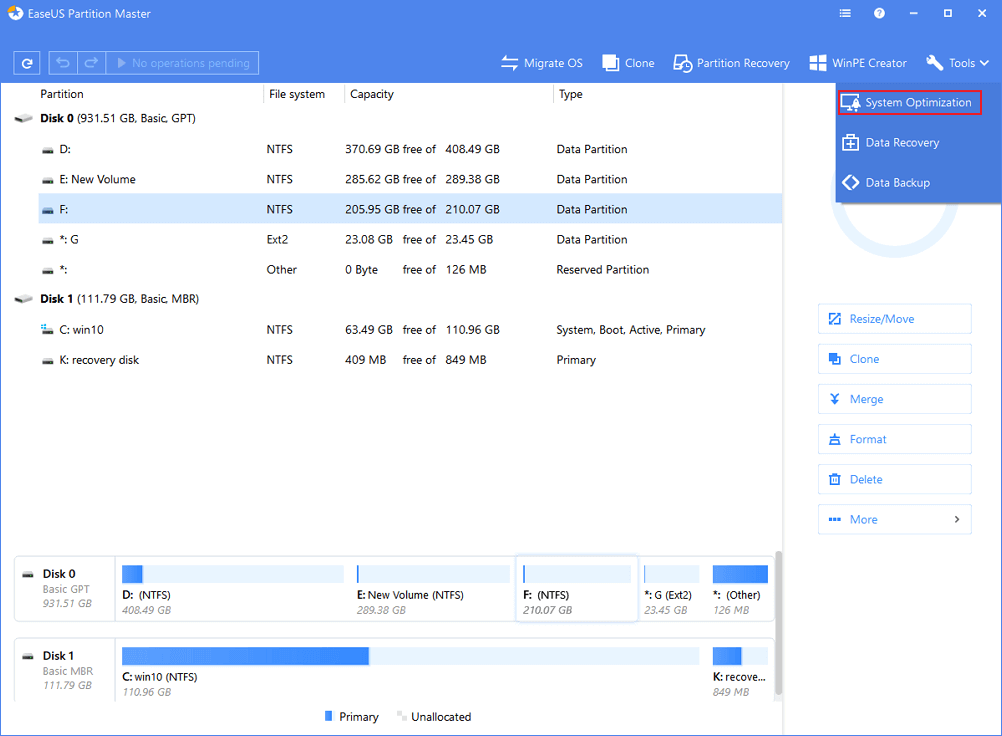 Step 2: Click "Junk File Cleanup". Then you can click "Analyze" to let EaseUS Partition Master find junk files on your PC.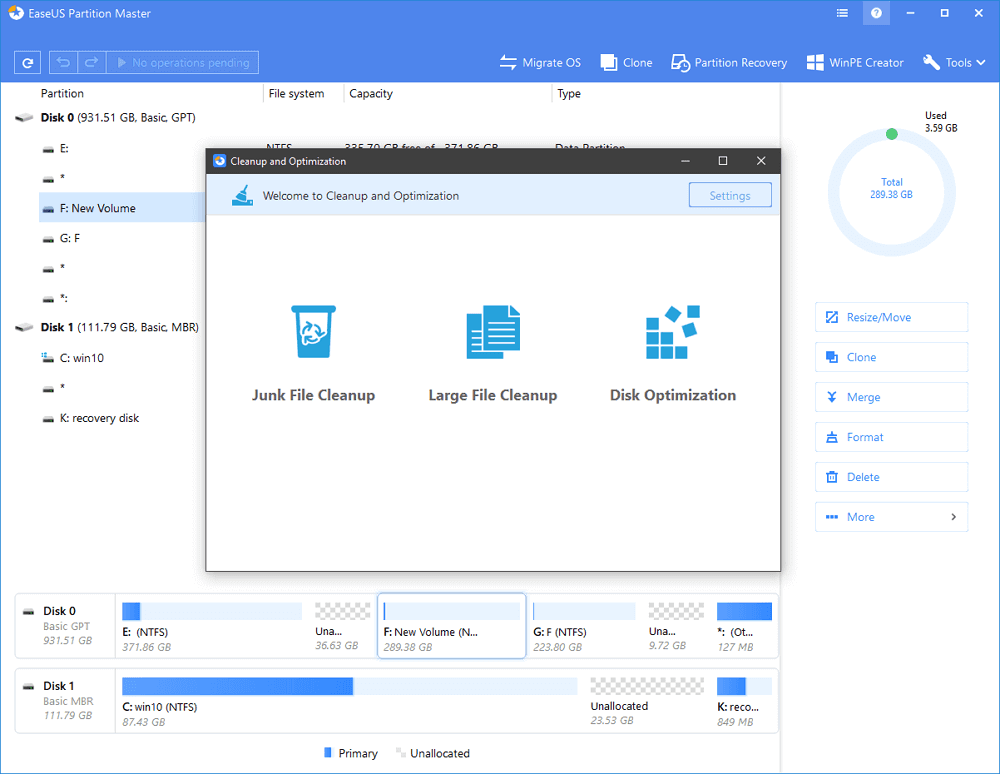 Step 3: You can check and choose junk files and click Clean up. All of the selected junk files will be cleaned and deleted from your PC. Click "Yes" to clean up junk files.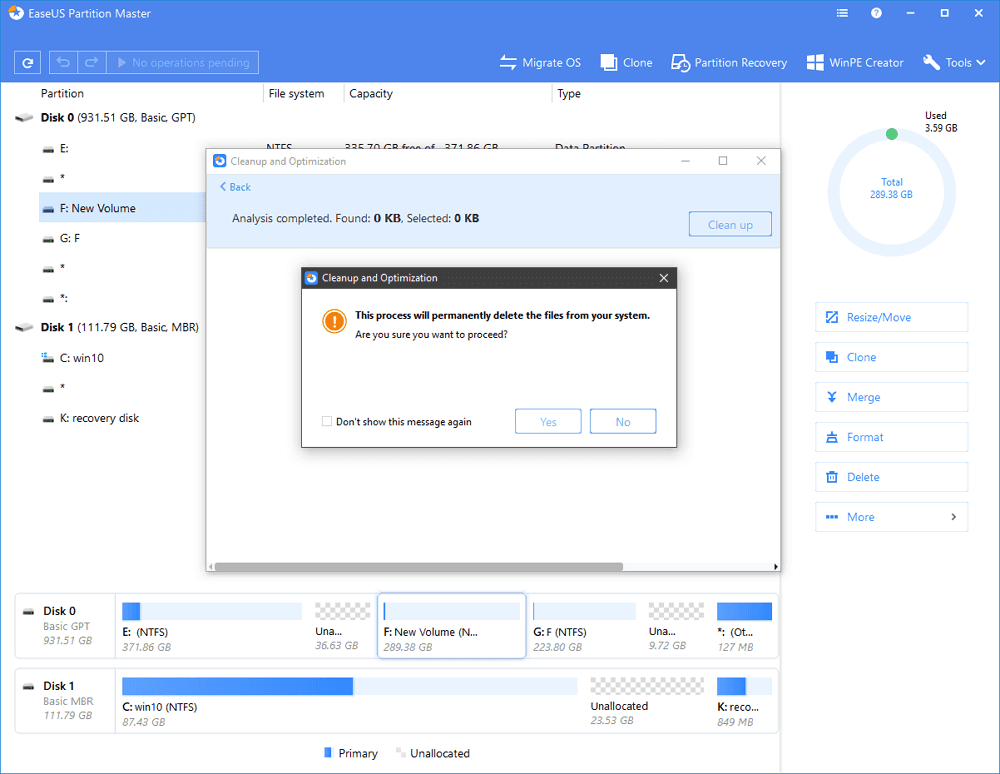 Sometimes, freeing up disk space doesn't help eliminate the source of the problem. If you have 5 GB free disk space out of the 50 GB C drive, and all you can clean up is only 5 GB, but the Windows 10 update installation requires 15 GB free space. What should do now? In the same way, use EaseUS Partition Master to extend system drive space, for example, by adding another 5 GB free space from drive D, E or F to the C!
Finally, when Windows needs more space and choose another drive to install, the external hard drive will not show up as expected! Try to refresh the drive for the first attempt. Otherwise, you need to check the file system of the external hard drive. Windows only recognize a hard drive with the two major file systems, including FAT and NTFS. Perhaps you need to format hard drive to NTFS or FAT32 with the help of EaseUS Partition Master's format partition feature.