Windows 10 becomes very slow and unresponsive, how to fix?
"My Windows 10 becomes really slow after installing the new system. The boot time gets prolonged, and sometimes it even gets stuck with 4 or 5 programs running at the same time.
The system also likes to remind me that the running program is not responding, and then the whole Windows 10 becomes unresponsive.
I'm tired of this situation, and I also don't want to rollback Windows 10 to a previous state.
So what else can I do to resolve Windows 10 very slow issue on my computer? How?"
When your computer becomes extremely slow, do you know what causes your Windows 10/8/7 very slow to respond? Here in the below is a list of common problems that most Windows 10 users have experienced. And if you are having one of those issues, just relax and you'll find a reliable method for the problems now:
No matter which problem is annoying you, your Windows PC will somehow undoubtedly become slow and even unresponsive. Here in the below, you'll see multiple solutions to resolve different problems that are troubling you and make your computer running fast again.
RECOMMEND: Improve Windows 10 Speed and Performance by using partition manager freeware
When your computer is becoming slow and even unresponsive, don't bother for having any effective methods for resolving such a problem anymore.
Right now, we'd like to recommend you try a comprehensive-reliable and secure-effective way to improve your Windows 10 running speed and performance by using powerful and free partition manager software - EaseUS Partition Master Free.
You can just install this software on your PC and apply it to improve Windows 10 performance with its Cleanup and Optimization feature now:
Step 1. Clean up the computer to speed up Windows 10
1. Launch EaseUS Partition Master Free and click Cleanup and Optimization. Then choose Junk File Cleanup or Large File Cleanup.
2. Then you can click Analyze or select the slow-to-respond external hard drive and click Scan to let EaseUS Partition Master find junk files or large files in the drive.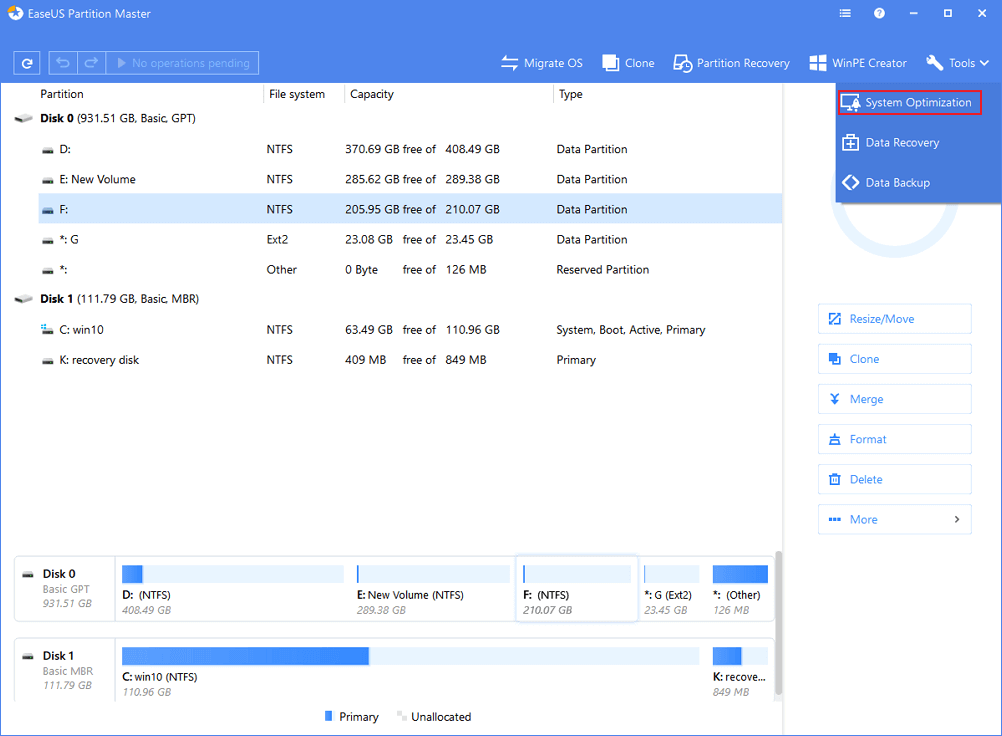 3. You can check and choose junk files or useless large files and click Clean up.
All selected junk files will be cleaned and thoroughly deleted from your external hard drive then.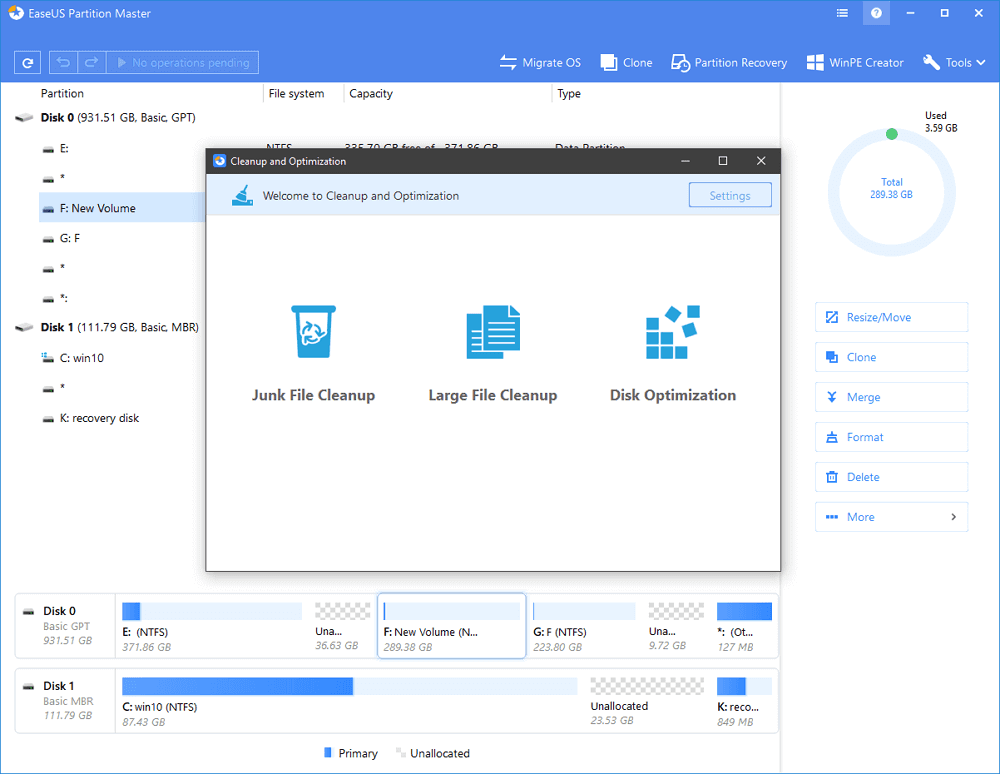 Step 2. Optimize Windows 10 performance
You can also choose to optimize PC disk so to optimize your Windows 10 performance with these guidelines below:
1. Launch EaseUS Partition Master and click Cleanup and Optimization.
2. Choose the slow external hard drive on your PC and click Optimize.
After this, your computer should be able to run faster with a better performance by then.

If you are facing such a problem on your Windows PC, relax, follow below-provided solutions to resolve them on your own now:
#1. C drive gets full with no reasons - two methods available
According to many Windows 10 users, it seems that 'C drive gets filled with no reason', 'C drive filling up for no reason' and 'C drive gets full automatically', etc. problems are a major reason causing your PC slow.
So how to resolve this issue? Two solutions available to help:
1. Clear C drive useless files with free partition manager software
2. Manually disable system protection to save C drive space
The detail operating steps are available here now: Fix C Drive Gets Full Automatically Error.
Notice: Cleaning up C drive will remove some saving files on your PC, please do remember to backup useful files in advance.
#2. System Disk is running out of space in Windows 10 - Clear C drive/Add space to C drive
When the C drive is full and running out of space in Windows 10, 8 or 7, Windows system will slow down and warns users to resolve this issue. So how to resolve such a problem? You may also have two solutions:
1. Add space to C drive/increase C drive space
2. Run DiskCleanup in Windows 10 top free up C drive space
One more thing that you should also notice is that the DiskCleanup will also remove files on your C drive. So please make sure that you've backup C drive files in advance.
#3. Windows 10 takes long time to boot up
- Speed up Windows 10 boot time/start time
When Windows startup time lasts very long on the computer, it's also a Windows 10 slow issue. So how to resolve this issue?
You can refer to Best 5 Free Tricks to Speed UP Windows Boot/Start Time for a guide now.
#4. High CPU Usage in Windows 10
When the computer CPU is in a high usage situation, Windows 10 will inevitably become extremely slow.
So how to fix this issue?
You can follow to Clear Memory and Increase RAM to resolve Windows 10 slow with high CPU usage issue now.
#5. 100% Disk Usage Error in Windows 10 Task Manager
Another problem which may cause your Windows 10 computer extremely slow is 100% Disk Usage error in Task Manager.
And this is a top problem that many computer users may have encountered. For example, when you are running multiple programs and software on your PC, the computer will become slow and even stuck with no response.
Right now, you can refer to this page to fix Windows 10 100% disk usage in Task Manager issue on your own now.