When do you need a free Windows 10 partition tool?
Habitually store anything (data, files, applications and Internet downloads) in system partition causing most of the space stuffed so that the Windows 10 computer runs extremely slow.
The space of partitions is not efficiently allocated;partitions are not clearly labelled or classified in a logic way, which are totally messed up.
To create one or two more partitions, change MBR status to GPT.
Anything else? As long as you want your Windows 10 computer to perform at the utmost, you need a partition tool. Of course, a free one is much more preferred. What is the highest recommended free Windows 10 partition tool?
The answer goes to EaseUS Partition Master Free. This software meets all the partitioning needs of Windows 10 computer. Besides, it's very user-friendly and you won't get lost in it.
What does EaseUS free Windows 10 partition tool look like?
Free download and then launch EaseUS Partition Master Free. You may have a thorough grasp of its main features. You can easily use the software to handle operations like resize/move partitions, delete/merge/format/wipe partitions, convert into GPT/MBR/logic/dynamic and many more.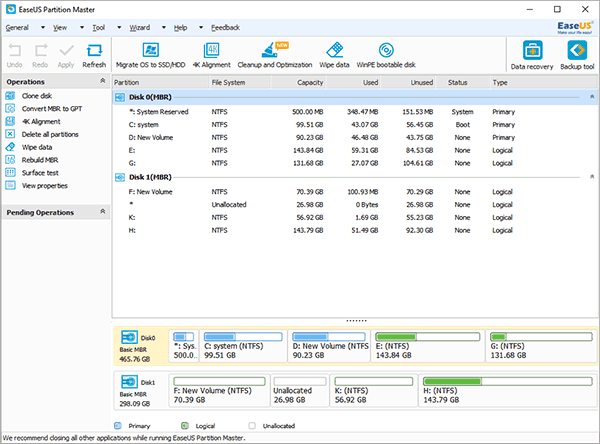 Learn details, please go through EaseUS Partition Master Free User Guide. If you have any question about the product, feel free to contact us in "Support and Community" at the foot of the page.