Announcement: Windows 10 May Freeze After Installing the Anniversary Update
On August 11, Microsoft Community made an announcement, saying Windows 10 may freeze after installing the Anniversary Update on systems with the operating system stored on a solid-state drive (SSD) and apps and data stored on a separate drive.
After a second, thousands of customers are participating in the discussion. They all experienced the problem of starting their PCs awkwardly. To help fix Windows 10 system freeze after installing the Anniversary update, we gathered the workarounds provided by Microsoft technicians, software giants and experienced users who solved the problem by using some third party repair software.
Confirmed Solutions to Fix Windows 10 Freezing Issue on PC's Solid State Drive
Solution 1. Rollback to previous build or version of Windows
Since Windows 10 freezing issue does not occur when starting Windows 10 in Safe Mode, Microsoft suggests users signing into Windows 10 using Safe Mode to move apps and data to the same drive as operating system. Installation of the Anniversary Update does include the ability to "go back" or return to the previous version of Windows within 10 days of the update. If you are unable to log into Windows 10 and choose to uninstall the Anniversary Update, here are two methods that can be used:

If you're reluctant to uninstall Windows 10 Anniversary Update and downgrade Windows 10 version 1607 to 1511, some software giants gave the following troubleshooting methods.
Solution 2. Clean up your disk
Download and install EaseUS Partition Master and use the free partition manager to clean up junk files and unwanted large files to free up some disk space. It's necessary to leave ample disk space on SSD to boot Windows 10 operating system fast and speed up Windows 10 performance.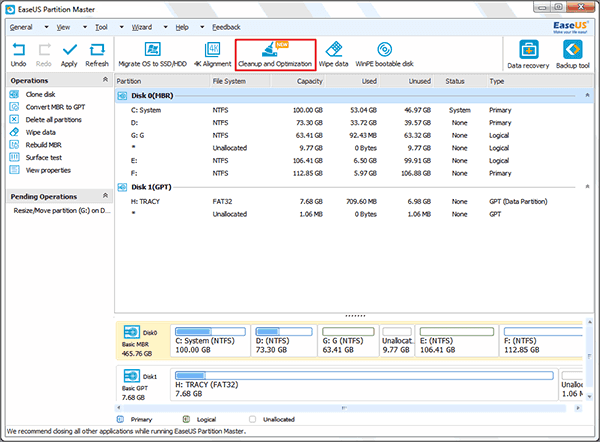 Solution 3. Optimize SSD
If you're experiencing system and screen freezing issue on an SSD, the most direct way to solve it is to do SSD optimization, and EaseUS partition magic software, the paid version of EaseUS Partition Master can help you do the job. Find "Migrate OS to SSD/HDD" option and use the feature to upgrade your current SSD to a larger one; or you may try the other option "resize/move partition" to add some space to the system drive partition.
Video guide: How to use EaseUS Partition Master to Migrate OS to SSD/HDD to optimize Windows 10 performance?
Solution 4. Turn off unneeded system services
Turning off unneeded system services is another technique for improving overall Windows 10 performance. Some services you can safely disable are ASP.NET State Service, Portable Device Enumerator Service and Windows Media Player Network Sharing Service, to name a few.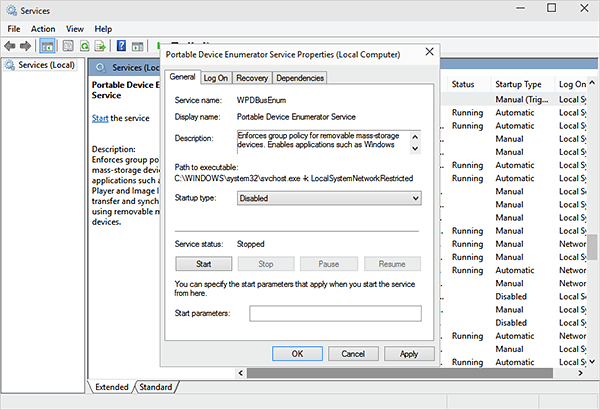 Enter services.msc in the Run box -> open the Services console -> right-click the service you want to turn off and select Properties -> in the properties dialog box, click the Stop button and then select Disabled from the Startup Type drop-down list.
Solution 5. Restore factory settings
When PC isn't working well and it's been a while since you installed an app, driver, or update, go to restore factory settings. Factory restore is helpful to fix Windows 10 freezing problem after installing Windows 10 Anniversary update, however, you'll lose every file you saved on the PC.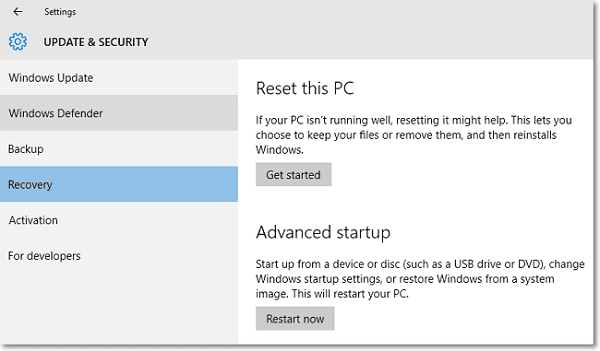 Navigate to "Settings" -> select "Update & security" -> Click "Recovery" in the left panel -> Click "Get started" under "Reset this PC" -> Click either "Keep my files" or "Remove everything" -> Select "Just remove my files" or "Remove files and clean the drive" -> Click Next -> Click Reset when prompted -> Click Continue when prompted.
More fixes for Windows 10 freezing problems after installing Windows 10 Anniversary Update? Some users also recommend to fix sluggish performance and boost overall Windows 10 system speed by disable programs that run on startup, disable shadows, animations and visual effects, launch Windows troubleshooter, get help from the performance monitor, kill bloatware or adware that takes up CPU and system resources.