Your laptop, tablet or computer got a black screen while trying to update/install Windows 10 Creator or downgrade Windows 10 Creator to the previous system? Or the computer screen just turn black when you tried to boot your computer? Detail tutorial steps are available to help you fix the black screen issues in Windows 10/8/7 now.
How to fix Windows 10 Creator black screen problems?
"I performed a factory reset on my computer which runs Windows 10 Creator but it warned me with an error message when the factory reset process was at 52%. It just came up with a black screen. I turned off my computer and restart it again, it was is black. What can I do to fix such a problem?"
"I upgraded my computer from Windows 10 to Windows 10 Creator. It worked just fine at the fist two months. But the computer recently got a black screen. How can I solve it?"
"I think it's a bug that when I boot up the Windows 10 Creator which runs on AMD CrossfireX graphics cards, a black screen would show up and the boot time will last at least 5 minutes. Then it continues the Windows login screen. But next time, the problem will happen again. Is it possible to solve it on my own?"
Black screen problem under Windows systems is really a problem that quite a lot users don't really know how to fix such a problem. Some inexperienced users even tried to reinstall system to fix the black screen problem under Windows 10/8 or 7. Don't worry anymore. Here bellow, effective methods are ready to help you fix the Windows 10 black screen problem now.
Method 1. Check and fix system error before updating or downgrading system
This method is designed for helping prevent Windows 10 Creator black screen problem or fix black screen issues when users can login their devices. Checking and fixing system error will greatly help Windows users to smoothly upgrade or downgrade Windows system so to avoid unexpected black screen case. EaseUS Partition Master Free make it free and easy to help you thoroughly fix system errors with ease.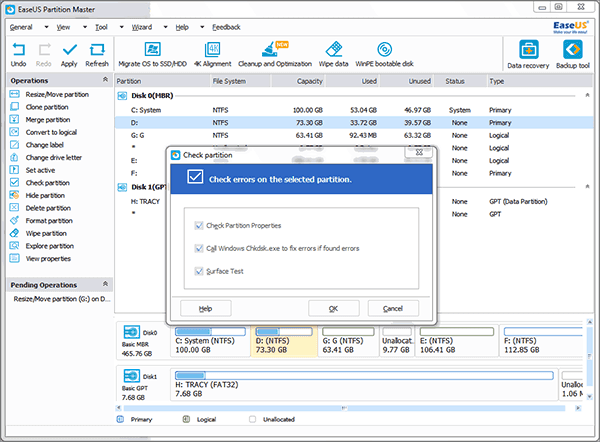 Method 2. Use Automatic Repair tool to fix black screen issue under Windows Creator/10/8/7 etc.
Automatic Repair can fix system problems that may prevent Windows from starting. You can run Automatic Repair tool to repair the black screen issue now:
1. Follow the instructions till the Install Now screen and then Click Repair your computer.
2. Click Advanced Options.
3. Click Troubleshoot.
4. Click Automatic Repair.
5. Follow the on-screen instructions.
You are also recommended to change the boot priority in BIOS order and allow the computer to boot from CD/DVD or USB.
Method 3. Disable ULPS to fix slow boot black screen issues
This method is very helpful to fix the system slow boot and temporary black screen issue. Follow below steps to disable ULPS and fix slow boot black screen issues under Windows system now:
1. Login as Administrator > Press Win + R and type: regedit.exe, click OK.
Or you can also type regedit to Cortana or the search box.
2. At the top of Registry Editor, click Edit > Find the menu and input: Enable ULPS and click Find Next button.
3. Double click Enable ULPS to edit it and change its value data from 1 to 0.
4. Reboot the system to apply all changes.