How to upgrade Nintendo Switch memory card with all games?
It's no longer a new problem for all game players to upgrade storage devices such as memory SD card, USB drive or external hard drive which contains all their game files into a new and bigger device.
So it is still a problem to Nintendo Switch players for upgrading memory SD card without losing game files.
If you are having exactly the same problem of having no idea about how to completely upgrade Nintendo Switch memory card with all games to a bigger SD card, just relax. Right here below, in this article, we'll show you how to effectively replace Switch memory card to a bigger one without losing any games. Just follow to see how to upgrade your game memory card or device now:
Step 1. Get both new and old Switch memory card ready
Before you start cloning or moving game files from old card to new memory card, there are some preparation jobs that need you to do in advance:
1. Format new memory SD card first;
2. Turn off Switch completely: hold on Power button and wait for the Power option pops up;
3. Select Turn off and then take the old memory or micro SD card out of Switch box;
Step 2. Upgrade Nintendo Switch memory card with all game files to a bigger card
Here you have two methods to try and you may follow either offered methods to upgrade Switch memory card and transfer all game files to new bigger SD card now:
Note: If you need a quick and reliable way to upgrade the Switch card, Method 1 shall be your best shot;
If you prefer to manually copy files and replace Switch memory card, just follow Method 2.
Method 1. Upgrade Switch card and clone all files to a bigger card in 3 steps
Professional disk clone freeware - EaseUS Partition Master Free will allow you to effectively clone all Switch memory card data and files into new and bigger card in 3 simple steps. Just free download, install and run it on your PC to start upgrading your Switch card now:
 Notice:

To clone SD/USB/external hard drive with data to a new device, connect the external storage device that you want to clone and a new removable device (SD/USB/external hard drive) with bigger capacity to your PC in advance.
Step 1: Run EaseUS Partition Master on PC
Step 2: Clone external storage device (SD/USB/external hard drive)
1. Select a new device (SD/USB/external hard drive/hard drive) as target disk, click "Next".
2. Click "OK" to continue.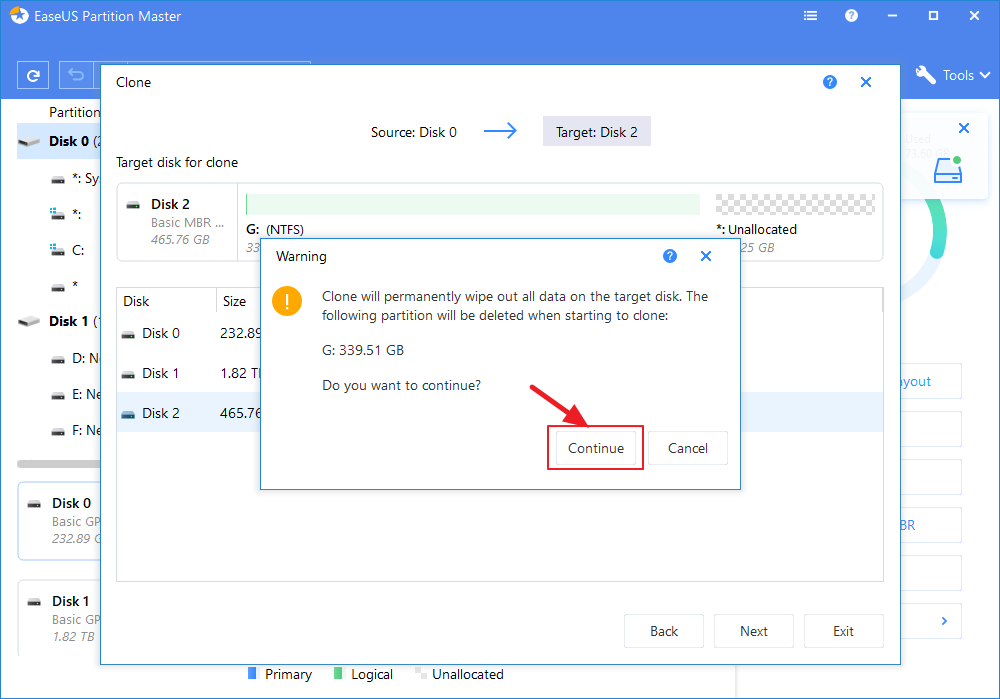 Step 3: Keep all changes
Method 2. Manually upgrade Switch memory card and move all files
1. Plug in SD/micro SD card to PC and create a new folder on the Desktop of your PC;
2. Drag all memory or micro SD card files to the new folder created on your Desktop;
3. Add the new card to PC, copy and move the files from newly created folder to the new card.
Step 3. Add newly upgraded memory SD card to Switch and make it work normally
After this, you can then connect new Switch memory card to Nintendo Switch game box and make it run and work normally again:
1. Insert the newly upgraded card with all files to Switch game box;
2. Turn on Switch and perform a new download update with the card:
Click on System Update > Update > OK.