Can I split system partition in Windows 10?
I have a Dell laptop and two days ago, I upgraded it from Windows 7 to Windows 10. There are only two partitions one is C drive and another is D drive. You know, It is really not so convenient. So I want to partition my C drive. Is that possible?? If yes, how can I do it? I need your suggestion, please!
Usually, you can easily split a partition with the Disk Manager built into Windows 10. But the system partition seems to be an exception. If you have ever tried it, you might know that during the process, Disk Manager always ask you to create a dynamic drive. It's really not a good idea. So you have to find another way. Ok, it doesn't matter. You can try EaseUS partition tool. It is a reliable solution to split the system partition in Windows 10 without converting the disc to a dynamic drive.
Simple steps to split C drive in Windows 10 with EaseUS partition manager
EaseUS partition manager is a good program for making general changes to hard drive partitions while Windows is running. It is available for creating, deleting, formatting, and resizing partitions. So whenever you failed to split system partition in Windows 10 using Disk Management, you can try it. Just simple steps are needed.
Step 1. Launch EaseUS partition tool. Choose the partition you want to change and select the right option to extend, shrink, move, copy or merge the partition.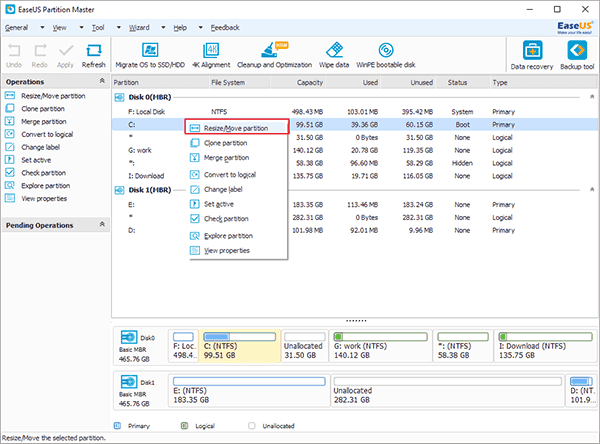 Step 2. Drag the arrow towards right hand to resize the partition.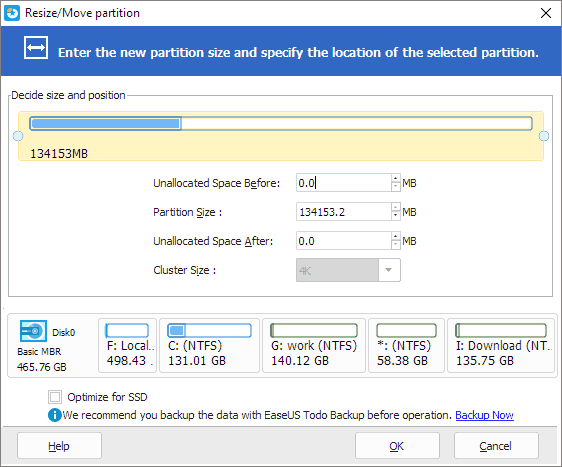 Step 3. Then click Apply to confirm all your operations;